The Chilling Way Alcohol Tied Into Jeffrey Dahmer's Murders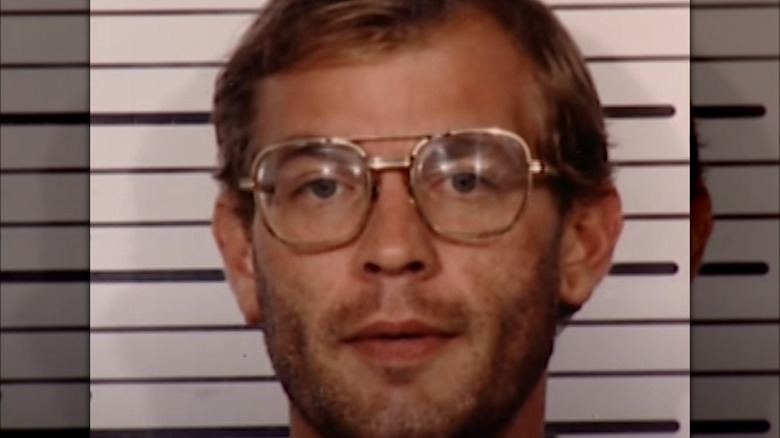 Milwaukee Police Department
When Jeffrey Dahmer was arrested in 1991, the nation was shocked to learn the extent of his crimes. Police discovered several body parts hidden in different parts of his apartment including the freezer and cabinets. Dahmer eventually confessed to murdering and dismembering 17 boys and men between 1978 and 1991. As reported by ATI, Dahmer's interest in death and killing started early. As a young boy, he collected animal carcasses and bones, and his fascination escalated to animal cruelty.
Dahmer was a loner, but he did his best to fit in with his peers by pulling practical jokes in school or by being funny. He was such a jokester that his classmates coined the term "doing a Dahmer" to refer to someone pulling off a good prank. One of his classmates, John Backderf, said that Dahmer provided entertainment in the rural Ohio town where they lived. "He was a little bit dangerous, he was a little bit unpredictable, and that was fun for us," Backderf told the Independent. Apart from his practical jokes, Dahmer was also known to use alcohol. He started drinking in his early teenage years, and his classmates recalled how he sometimes showed up drunk to school. He brought alcohol to class and kept bottles of liquor in his locker. It was a means to cope with his struggles with his sexuality.
He was discharged from the Army due to alcoholism
After graduating high school, Jeffrey Dahmer committed his first murder at 18 years old. In an interview with Inside Edition, he recalled how he picked up an 18-year-old hitchhiker named Steven Hicks who was on his way to a concert. Dahmer convinced Hicks to have drinks in his home, and that was when he attacked the young man. Dahmer enrolled at Ohio State University, but he dropped out due to his drinking. He then decided to join the U.S. Army in 1979.
As reported by The Akron Beacon Journal, Dahmer enlisted as a medical specialist and was sent to Germany as a combat medic. Platoon leader David Goss said Dahmer had no issues with alcohol during his first year in the Army. By the end of his second year, however, his superiors noticed that he had been using alcohol as a means to get out of service. The Army placed Dahmer in an alcohol abuse program, which wasn't successful. He was deemed "unsuitable for military service due to alcohol abuse" and was discharged in 1981.
If you or anyone you know needs help with addiction issues, help is available. Visit the Substance Abuse and Mental Health Services Administration website or contact SAMHSA's National Helpline at 1-800-662-HELP (4357).
A psychiatrist's take on Jeffrey Dahmer's alcohol use
Dr. Park Dietz (pictured above) is a forensic psychiatrist who has interviewed several murderers, including Jeffrey Dahmer. As noted by UPI, Dr. Dietz testified for the prosecution during Dahmer's sanity trial, and he revealed his insights about how the serial killer used alcohol when he committed heinous acts. He said that Dahmer most likely wouldn't have resorted to murder if he found a person who wanted to have homosexual relations with him. During his interview, Dahmer told the psychiatrist that he did not enjoy killing his victims, but it was "a means to an end," his ultimate goal being sexual satisfaction.
Based on his 18-hour interview, Dr. Dietz concluded that Dahmer drowned himself in alcohol before killing in order to push forward with the act, as he wasn't thrilled by it. "His drinking more alcohol to overcome his inhibition against killing is very important evidence that there was no compulsion to kill and no impulse to kill and that he could conform his behavior," Dr. Dietz stated. This proved that Dahmer was sane and used alcohol as a way to overcome his distaste for murder. In 1992, Dahmer was found guilty and sane and was sentenced to 15 life terms. Two years into his sentence, a fellow inmate by the name of Christopher Scarver bludgeoned Dahmer to death (via Biography).