Queen Elizabeth's Last Official Photo Is Going Viral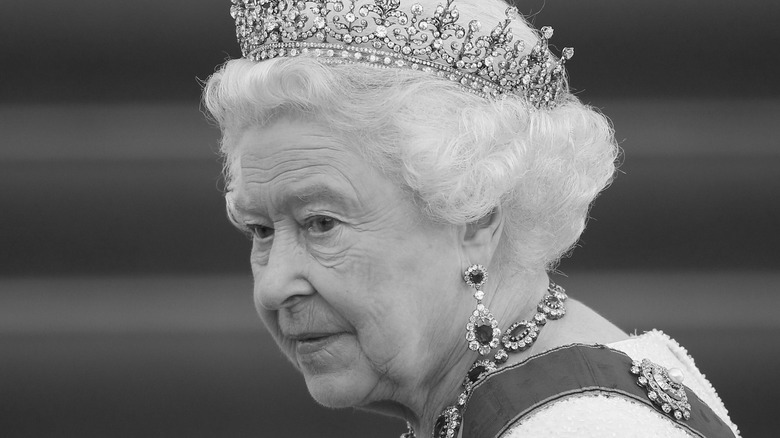 Usama-Abdullah Designer/Shutterstock
Queen Elizabeth II's funeral on September 19, 2022, marked the national farewell to the beloved monarch. As New York Times says, thousands of people showed up to pay respects, some of which were world leaders, such as President Biden. The funeral took place at Westminster Abbey, where the queen was given "The Lord's Prayer," then the procession made its way to Windsor Castle, where she was buried beside her husband, Philip, at the King George VI Memorial Chapel, per The Royal Family. A few reverends, such as Cannon Paul Williams of Sandringham and Kenneth Mackenzie of Crathie Kirk were there to deliver the prayers (via Yahoo News).  
But before the queen's death, she had one last photograph of herself taken. As The Guardian explains, the photo was taken back in May 2022 at Balmoral. The photo, capturing the queen's look in her final days, has since gone viral. In the photo, the queen is seen with some of her favorite jewelry: pearl earrings and a three-strand pearl necklace. However, there is more info about the photo that some readers might not know about. 
Queen Elizabeth's nod to her parents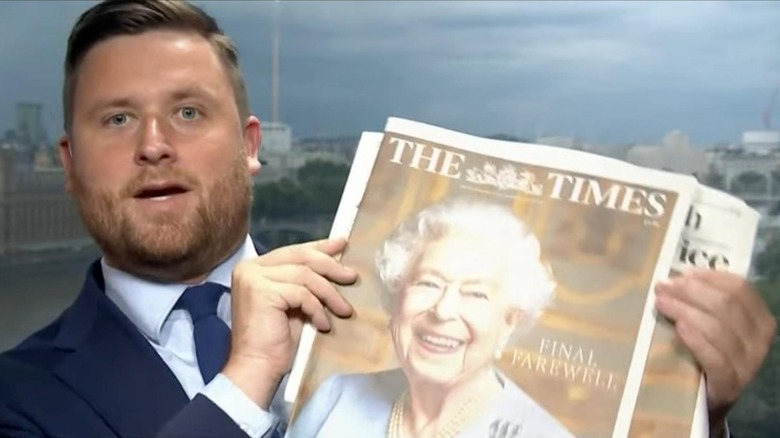 Washington Post
Photographer Ranald Mackechnie has had some very important history with the royal family. As Insider explains, Mackechnie was responsible for other previous photographs for the royal family. He had shot reference photographs for the queen's 2013 painting done by painter Nicky Phillips. Mackechnie had also taken several more photos of the queen and royal members over the years, with one in 2015, featuring Prince George, Prince William, Prince Charles, the queen, and King Charles. Mackechnie was also the one who photographed Queen Elizabeth II ahead of her Platinum Jubilee, which was her 70th anniversary as monarch. According to Yahoo News, he is also responsible for the now viral aquamarine brooch portrait of the queen as well. 
As The Guardian explains, the photo shows the queen wearing a beautiful blue suit, pearl necklace, and her 18th birthday gift from her parents, King George VI and Queen Elizabeth the Queen Mother. The set of two aquamarine brooches were among her most cherished jewels, per The Guardian. The photo was revealed on September 18, by the royal family.