The Tragic 1921 Death Of Virginia Rappe
On September 5, 1921, Smithsonian Magazine writes that Virginia Rappe attended a Labor Day party hosted by Roscoe "Fatty" Arbuckle at the St. Francis Hotel in San Francisco. Four days later, she would be dead in a case that has all the making of a Hollywood film. Born in 1895, the Independent reports that Rappe was a silent film actress, designer, and model. Smithsonian Magazine adds that she was also a well-known "party girl." In 1917, Rappe starred in an uncredited role in "His Wedding Night" alongside Arbuckle. PBS notes that Arbuckle was one of the biggest stars of the 1910s.
By 1921, Arbuckle was on top of the world and enjoying the success of his latest film "Crazy to Marry" (via PBS). In fact, the Labor Day Party was held to celebrate the film and Arbuckle signing a million-dollar contract with Paramount Studios. Per Smithsonian Magazine, his friend Fred Fischbach planned the event. He rented three hotel rooms and clandestinely provided guests with alcohol — these were the prohibition years. As fate would have it, his former co-star, Rappe was invited to the function where the two reportedly drank together.
Another guest, Maude Delmont, later told police that she witnessed Arbuckle pull Rappe into room 1219 and utter "I've waited for you five years, and now I've got you" (per PBS). Shortly after, Delmont claimed that she heard screaming. When Arbuckle opened the door, Smithsonian Magazine explains that Rappe was on the bed and in pain.
What really happened in room 1219?
When Delmont walked into the room, Rappe stated "Arbuckle did it" (via Smithsonian Magazine). Per PBS, Rappe also reportedly said "I am dying, I am dying." The young starlet was then moved to a different room and cared for by a hotel doctor. Although she was eventually taken to a hospital, Rappe remained in pain and never recovered. On September 9, 1921, Virginia Rappe died of a ruptured bladder. Almost immediately, scandal followed Arbuckle. It was surmised that he had sexually assaulted Rappe and his 266-pound frame had resulted in her death. A day later, he turned himself in to San Francisco police, who charged him with manslaughter.
According to Smithsonian Magazine, Arbuckle's account differed vastly from Delmont's. He said he was never alone with Rappe and that she "complained she could not breathe and then started to tear off her clothes" after having too many drinks. He simply believed that she was sick from all the alcohol that she had drunk. Arbuckle added that he had tried to help Rappe. The Independent states that Arbuckle had three trials as the first two ended in mistrials. Here, the defense tried to paint Delmont as an unreliable witness and a questionable woman.
PBS reports that the hotel doctor testified that Rappe had told him that Arbuckle had not assaulted her. Per Smithsonian Magazine, the defense also smeared Rappe's reputation and painted her as a salacious woman with loose morals. Moreover, there were claims that she had been in pain for weeks before the ill-fated party and had long suffered from bladder infections.
Fatty Arbuckle's reputation never recovered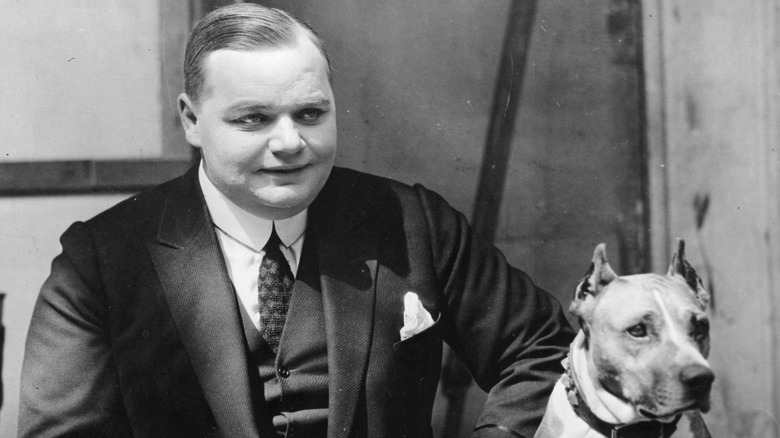 Hulton Archive/Getty Images
Smithsonian Magazine reports that the defense presented the jury with Rappe's autopsy report which explained that there "were no marks of violence on the body, no signs that the girl had been attacked in any way." Additionally, Delmont was never asked to testify because of her disgraceful reputation. In April 1922, Roscoe "Fatty" Arbuckle was acquitted of manslaughter at his third and final trial. With this, the jury released a statement that read "We wish him success and hope that the American people will take the judgment of 14 men and women that Roscoe Arbuckle is entirely innocent and free from blame" (via PBS).
The public, however, was not convinced of his innocence. The Independent explains that Arbuckle often changed his version of events of what occurred in that San Francisco Hotel Room. Ultimately, Rappe's death and the subsequent trial ruined Arbuckle's career. He was banned from working in the film industry for eight months and lost millions. He later changed change his name to William B. Goodrich to direct films (per PBS). By 1933, it seemed that Arbuckle's career was on the rise again.
However, he never lived to see any more success as Smithsonian Magazine states that he died on June 29 of that year. Sadly, Rappe's brief life is overshadowed by her death and the ensuing scandal (via Hollywood Forever Cemetery). More than a century later, it's unknown what really led to her demise and what role, if any, Arbuckle played in it. Per Find a Grave, her final resting place is Hollywood Forever Cemetery in Los Angeles.