Inside The 19th Century Execution Of 'Yankee Jim' Robinson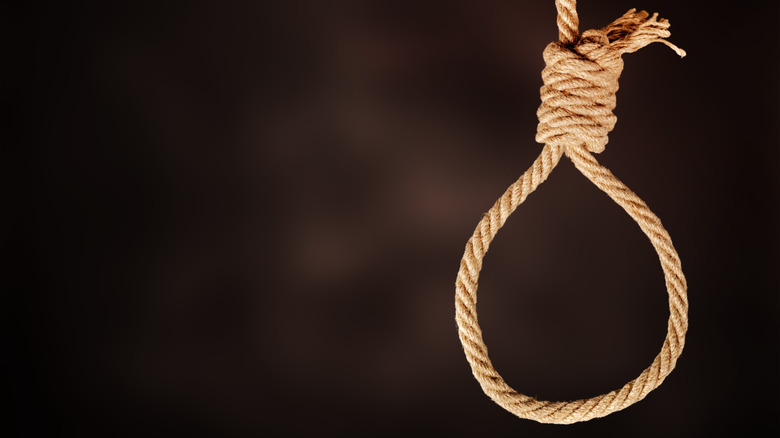 Billion Photos/Shutterstock
Readers who know the city of San Diego, California may have ventured to Old Town, the historic heart of the city. On its hill between downtown and Mission Bay, Old Town has maintained its colonial and frontier spirit, with plastered adobe houses, mariachis on restaurant verandas, and cowboy-themed bars for tourists. 
But the most evocative site in Old Town is El Camp Santo, the cemetery. Dating back to 1849, it's a small, sandy plot hemmed in with cactus, an island of melancholy amid the garish colors of Old Town. As Hidden San Diego reports, a surprising 477 people were buried in and around El Camp Santo — the city would build roads over some of the graves, shrinking the size of the cemetery. The marked graves often tell the stories of the deceased: old people and children, Catholics and Protestants, Anglos and Mexicans alike.
For much of the 19th century, the cemetery also doubled as an execution yard. According to the San Diego History Center, murderer Antonio Garra faced the firing squad there in 1852, forgiving his executioners with his last breath. But the most famous execution to be held in El Campo Santo was undoubtedly that of James Robinson, alias "Yankee Jim."
Laughing at death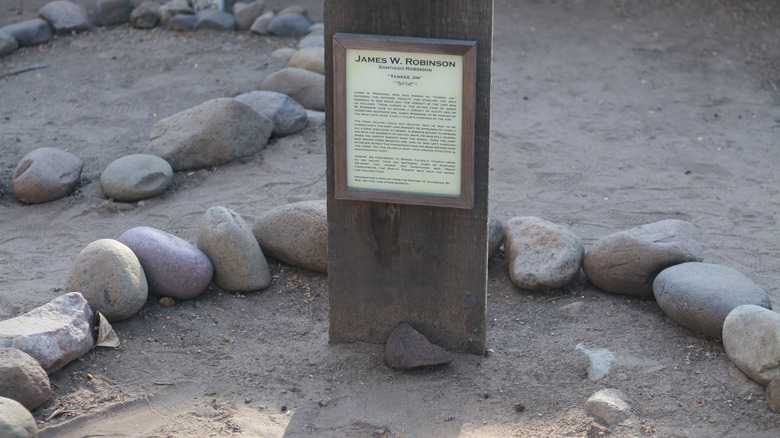 S and S Imaging/Shutterstock
The Los Angeles Herald recounted that despite his name, Yankee Jim (his grave is pictured) was a French Canadian. He had come to San Diego to try his luck as a miner, and quickly earned a bad reputation around town. The Herald noted that he was a big fellow: six-foot-three- or four.
In 1852, Yankee Jim and two other men stole a rowboat in the San Diego Harbor. They were arrested, and Jim was tried for grand larceny. The punishment, fixed by the jury (which included the two men who owned the boat), was death. That night, Jim laughed at the verdict. He believed it was a prank, a trick to scare him straight. Who on Earth would hang someone over a rowboat? Two Catholic priests pleaded with him to consider his immortal soul, but Jim brushed them off. He wouldn't actually hang, he said.
The next morning, when he was lead to the gallows in El Campo Santo, it slowly dawned on Yankee Jim that this was no joke. The police let him give a speech to the bystanders, claiming that he'd "given piles of gold to help poor men." Then they stood him up on a mule cart with the noose about his neck. He struggled to stay on his feet as the mules drove off, but fell. On account of his height, the fall didn't break his neck, and he slowly choked to death, with his boots grazing the sand. Adding insult to injury? He was too tall to fit into the standard coffins, so his legs were broken to accommodate him (per Explore San Diego).
Haunting San Diego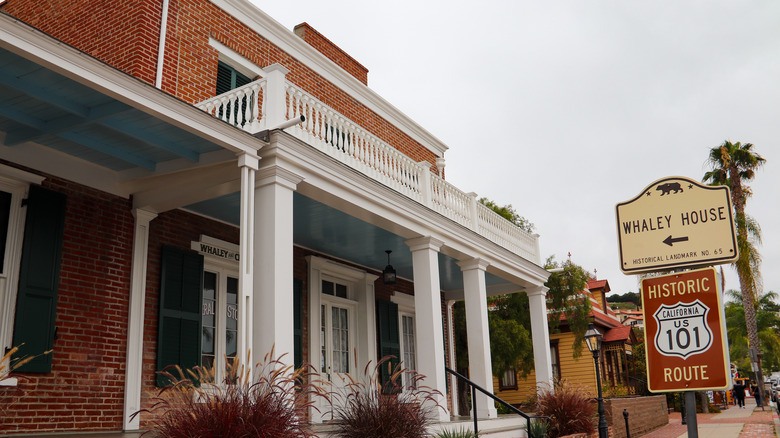 Roaming Panda Photos/Shutterstock
It's no surprise that El Campo Santo is reputed to be haunted; it's even less surprising that the unhappy Yankee Jim should be one of the most commonly reported visitors. Next door to the cemetery stands the Whaley House, built by the prosperous Whaley family. It is reputed to be one of the most haunted buildings in the United States. Visitors sometimes hear a child laughing when no one is near, or smell phantom cigar smoke or a lady's old-fashioned rose scent wafting through empty rooms. Yankee Jim also appears in the Whaley House, according to Explore San Diego, creaking the upstairs floorboards with his heavy steps.
The house was built in 1855, three years after Yankee Jim had died, but on the spot where his gallows had stood. The blog Weird U.S. claims that Thomas Whaley, who first built the house, had been warned by superstitious locals that the spot was inauspicious. Like Yankee Jim, he laughed at the idea. Ghosts indeed! But when he started hearing the thump, thump of footsteps in his empty upper floor, Whaley seems to have changed his tune. Yankee Jim was the Whaley House's first ghost. That makes him an elder statesman of America's undead.