How A WWII Ship Turned Into A Floating Forest In Sydney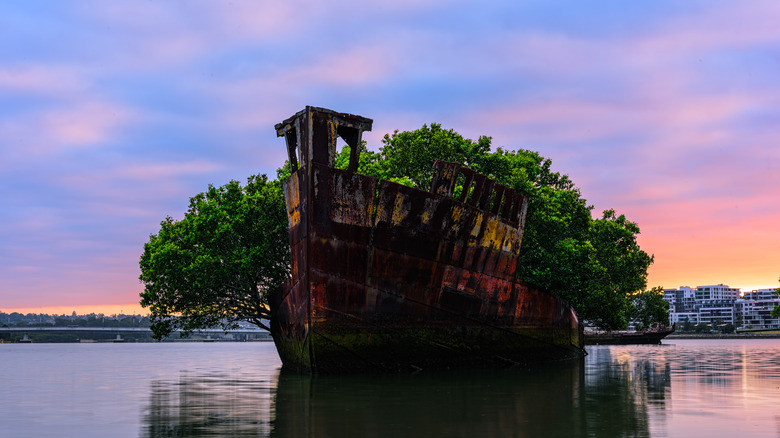 RRong/Shutterstock
The ocean floor is literally littered with shipwrecks. There are an estimated three million of them, according to Popular Mechanics, most just waiting to be discovered. Some are hauled out of the water to be researched on dry land, while many others are left in place to become home to fish and sea life. According to a study published on Plos One, artificial reefs can provide homes for more fish than their natural counterparts do, (via Smithsonian Ocean). But in Homebush Bay, near Sydney, Australia, an old ship dumped in the bay and left for dead is serving an entirely different purpose, one that's attracting visitors from all over who come to photograph the beautiful and unusual sight. It's called the Floating Forest of Homebush Bay.
The century-old ship named the SS Ayrfield has sprouted a lush, green, forest on board its abandoned decks, (via Bored Panda). Mangrove trees seem to cover every inch, obscuring much of the ship. The ocean-faring vessel almost entirely covered with trees makes for a stunning visual, whether you see it in the day or at night.
The story behind the unusual sight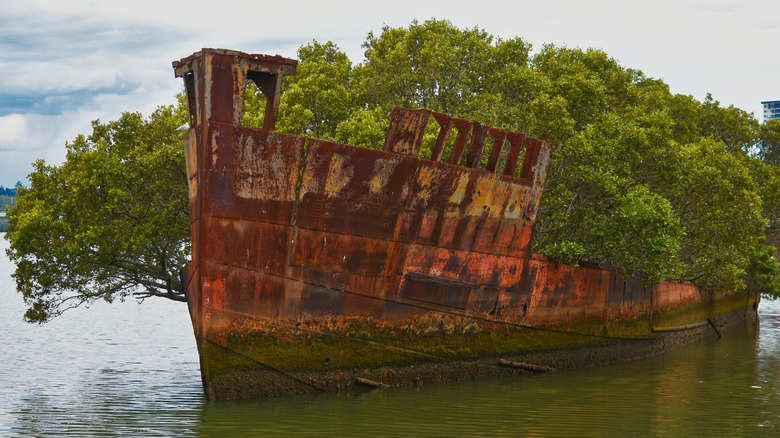 Mona K-R/Shutterstock
Homebush Bay, while beautiful now, was once a toxic dumping ground, according to Earthly Mission. It was used as a dump site for ships and for waste, both regular and toxic industrial waste, including Agent Orange, according to the site. The presence of so many contaminants in the water led to a fishing ban in much of Sydney Harbor. But in the 1980s, changes were made to rehabilitate the area and the bay began to heal. So much so that mangrove wetlands and salt marshes returned. And some of those mangroves wound up on the Ayrfield creating the Floating Forest.
While not as eye-catching as the Ayrfield, there are other abandoned ships in Homebush Bay. When the bay was still being used as a salvage yard for ships, many ships came in to be broken apart. After that operation ended, several ships and barges were just left anchored in the bay. The historic Shipwrecks Act of 1976, which protects vessels over 75 years old, says they can't be removed, according to Amusing Planet. And so, they sit in the bay, perhaps waiting for their own mangrove invasion.
What the Ayrfield did before it was Insta famous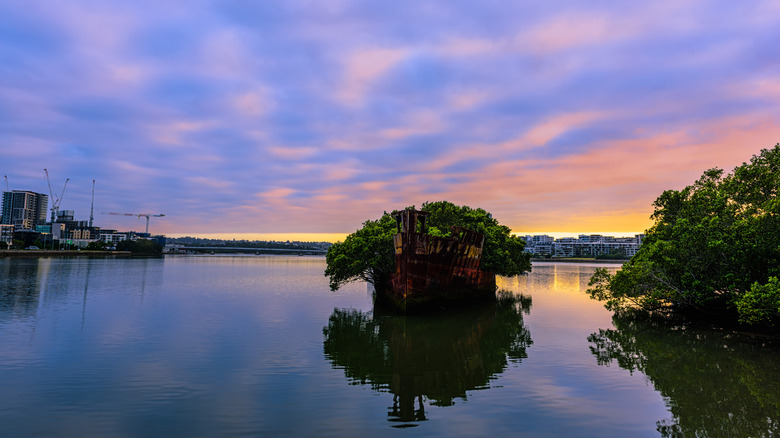 RRong/Shutterstock
The SS Aryfield was built in 1911 in the United Kingdom. It was a steel-hulled, steam-operated vessel called a collier that was used to bring supplies to U.S. troops in the Pacific during WWII, according to Amusing Planet. After the war, it was used in private industry until it was decommissioned in 1972. 
Of all the amazing sights in Sydney, including the Opera House and the Royal Botanic Garden Sydney, the Urban List recommends making sure the Floating Forest of Homebush Bay is on your "Insta bucket list." The site suggests visiting at either sunrise or sunset to get the best views and to allow for plenty of time to take in the magic of the slowing-changing sky. A path along the shore runs parallel to the wreck so you'll have a great vantage point for pics. Homebush Bay is about a 30-minute drive from Sydney's Central Business District.