Star Burton's Disturbing Reason For Wanting To Marry Charles Manson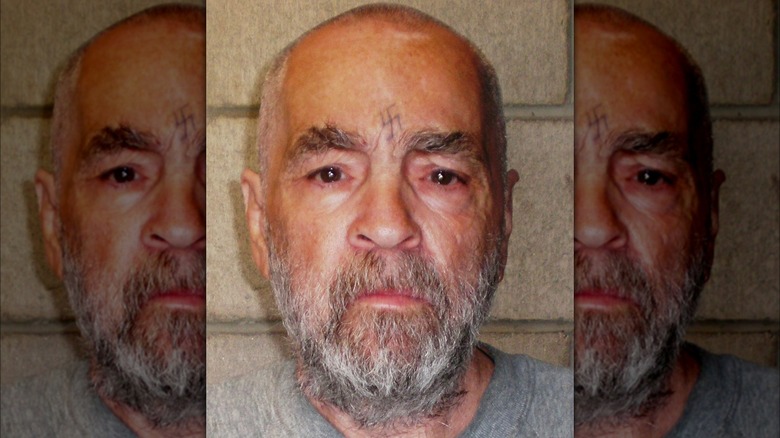 Handout/Getty Images
When the Associated Press reported that convicted murderer Charles Manson and one of his most loyal supporters had been issued a marriage license in November 2014, it wasn't the first time a brutal murderer had pending nuptials. Convicted Richard Ramirez, the "Night Stalker," married Doreen Lioy while on death row in 1996 (via Women's Health), and one part of the Hillside Stranglers duo, Kenneth Bianchi, married long-time pen pal Shirlee Joyce Book in 1989 while serving a life sentence (per the Los Angeles Times). Marriage behind bars isn't that common, but certain high-profile convicts seeming to attract a lot of admirers from among those on the outside. And though the majority of inmates do not have access to the internet, friends and family members can post their information on websites like Meet-An-Inmate, making it easier than ever for prisoners to meet their matches (via ABC News). 
At 26, Afton Elaine Burton (who goes by Star, a name given her by Manson, according to a 2014 CNN report posted on YouTube) became engaged to Manson after years of correspondence and visits to the notorious cult leader. Burton had moved from her parent's home in Alton, Illinois to California so that she could be closer to him, the pair meeting for the first time when she was just 17 years old (per Hollywood Life). 
There could be several reasons why someone would marry a prisoner who has no chance of ever leaving confinement. But for Burton, it would later be revealed that her attempt to marry Manson was part of a twisted financial scheme. 
Burton wanted to put Manson's body on public display
When the marriage license was granted, it gave Manson and Burton (above) a 90-day window to get the knot tied. Fox News reported that the California State Prison at Corcoran would allow the couple to wed in a visitor's room, but that the license expired before the wedding could take place. And though Burton's Manson-devoted fan site stated that the license would be reapplied for, wedded bliss was not meant to be for the two of them (via the New York Post). Journalist and author Daniel Simone revealed that Burton's motive for her attempted marriage to Manson was driven by her desire to take possession of his corpse after his death.
Burton and her co-conspirator, Craig Hammond, had plans to put Manson's body on display in a glass case after he died, charging an admission fee to view it, according to Simone. The journalist pointed out that Manson strung the two along for a couple of years before refusing, mostly because they were showering him with gifts. When he finally gave them a firm "no," Burton took things to a new level and tried to arrange a marriage to Manson. This would legally entitle her to his body after he died. Simone argues that Manson never had any intention of really marrying Burton, which was why the license was allowed to expire.
The plot was foiled by Manson's co-inmate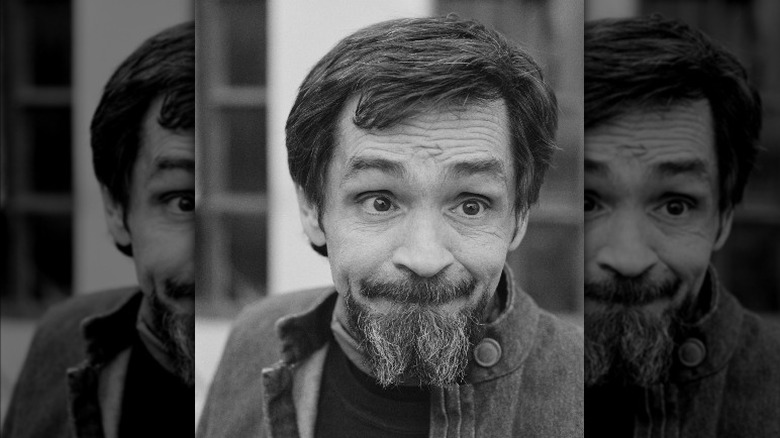 Michael Ochs Archives/Getty Images
Simone was busy gathering information for a book on Manson that he was co-writing with writer Heidi Jordan Ley. The Huffington Post reports that Ley had been corresponding with a co-inmate of Manson's, Frank Richard, who had a cell near the Corcoran prison's most infamous inmate. Richard wrote to Ley that he overheard Burton and Hammond talking to Manson about wanting possession of his remains after he died. Simone told the media outlet that he believes that when Manson finally realized that the marriage was a plot for Burton and Hammond to get his body for profit, he refused to go forward with the wedding.
Simone and Ley's manuscript, "The Retrial of Charles Manson," does not mention the Burton/Hammond plan for Manson's body. Rather, the book focuses on whether or not Manson should have been held accountable for the murders that he was convicted of. 
According to Spectroom, the completed manuscript was later turned into the REELZ exclusive documentary, "Charles Manson: The Final Words," released in 2017 and narrated by Rob Zombie. Manson died in 2017, still single (via Britannica).