Run DMC Was Not The Name They Originally Wanted To Use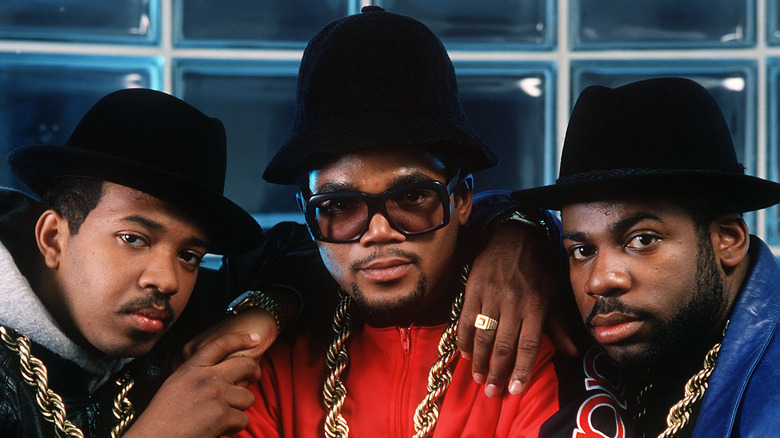 Frank Micelotta Archive/Getty Images
What's in a name? William Shakespeare asked this question in his play "Romeo and Juliet" nearly 400 years before two young hip-hop artists and a DJ from Hollis Queens joined forces to change the course of popular music. Joseph Simmons and Darryl McDaniels were still teenagers when they began writing rhymes together and they went through some stage names before becoming known as Run and Devastating Mic Controller, aka DMC, respectively, per Blender. When Jason Mizell joined the group as the DJ, it took him a bit of time to settle on Jam Master Jay.
With set stage names, tight hip-hop rhymes, and a spare but powerful sound, all they needed was a name for this group that would eventually sell more than 230 million records worldwide (per Run DMC), rule the rap game through the 1980s, and help turn a New York City street style into a mainstream phenomenon. The name they ended up with wasn't the one they wanted and, in fact, they initially hated it.
Run, DMC, and Jam Master Jay First Needed to Settle on Their Own Names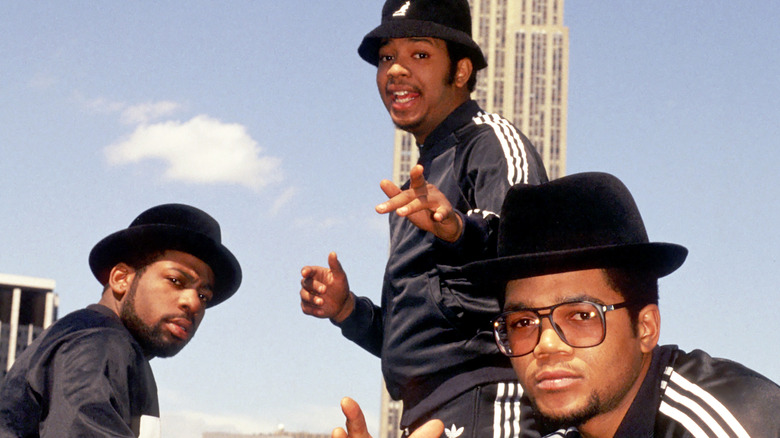 Michael Ochs Archives/Getty Images
Darryl McDaniels, Joseph Simmons, and Jason Mizell went through several stage names before settling on their now iconic handles. They were teenagers, after all, and coming up in a brand new musical genre created by artists with such memorable names as Afrika Bambaataa, Grandmaster Flash, and DJ Kool Herc. Having the right stage name would help them stand out in what was quickly becoming a crowded field.
McDaniels, before he began rapping, first got into hip-hop as a DJ and went by Darryl Mac, the nickname he'd had since childhood, according to Classic Hip Hop Magazine. When he began writing rhymes he was calling himself Easy D before taking on the DMC moniker, according to Hip Hop Scriptures. Joseph Simmons also got into hip-hop via spinning records. He was the DJ for Kurtis Blow, the first hip-hop artist to be signed by a major label, per Billboard. Simmons was so inspired by Blow that his first stage name was DJ Run, Son of Kurtis Blow, per Hip Hop Scriptures.
A Relative and Soon-to-Be Hip-Hop Mogul Gave Them Their Moniker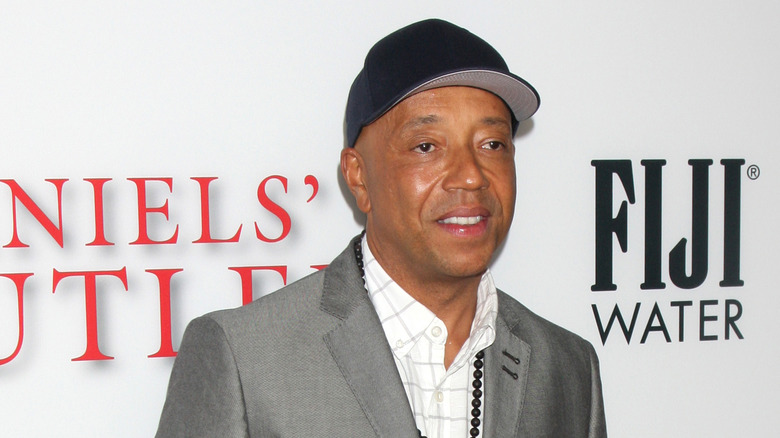 Kathy Hutchins/Shutterstock
Meanwhile, Jason Mizell was making a name for himself as a DJ — already top tier at 14 — spinning at some of the biggest outdoor parties in Queens and was going by Jazzy Jase, according to Blender and Hip Hop Scriptures. When Run, DMC, and Jam Master Jay got together in 1982, Run's older brother, Russell Simmons, gave the group its name, per Blender. Simmons was an early hip-hop promoter before launching his groundbreaking record label Def Jam Recordings with Rick Rubin.
The others wanted to go with either "The Dynamic Two" or "The Treacherous Two," but Simmons nixed these in favor of Run-DMC, a spare name to match a spare sound. "We hated it," McDaniels' told Blender, thinking "We're gonna be ruined." 
Had they gone with the Treacherous Two there would have certainly been some confusion during the epic rap battle between them and The Treacherous Three, an older hip-hop group featuring Kool Moe Dee, on the television show "Graffiti Rock" in 1984, per Old School Hip Hop. Thankfully, the group kept Run-DMC. 
Years later, two men murdered Jam Master Jay in his Queens recording studio in 2002, per the U.S. Department of Justice. They are set to go to trial in February 2023, more than 20 years after the murder because the case went cold for many years, per NME. In 2004, Run again changed his handle and now goes by Rev Run since becoming an ordained minister (per South Coast Today).