Mick Jagger's Unexpected Role In Turning A Former NFL Legend Into A Hall Of Famer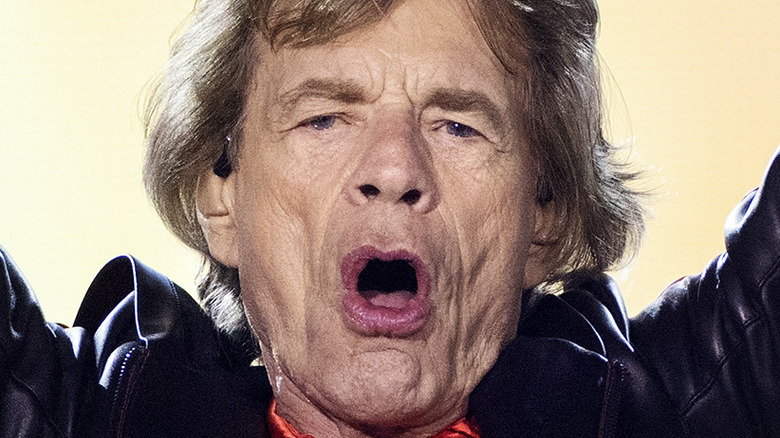 Nils Petter Nilsson/Getty Images
Mick Jagger initially gained fame in the late 1960s with The Rolling Stones. This band was part of the so-called British Invasion of the 1960s wherein multiple musicians and bands from the United Kingdom (most notably The Beatles) infiltrated American pop culture. The Rolling Stones made their mark in the United States with a little help from appearances on "The Ed Sullivan Show" despite the fact that Ed Sullivan himself was not a fan of the band's rebellious image (per Ed Sullivan). For example, the song "(I Can't Get No) Satisfaction" that they performed in 1966 was quite suggestive for the era.
Jagger has since been a mainstay in American pop culture, even inspiring songs like "Moves like Jagger" by Maroon 5 and hosting "Saturday Night Live" in 2012. However, he has influenced aspects of American society other than show business, albeit indirectly. His choice of a security guard once changed the lineup of a college football team.
Mick Jagger picked a Kent State football player as a security guard
Ross Lewis/Getty Images
Members of the Kent State football team could make extra money helping with security at local concerts. A player named Bob Bender was the middle linebacker. He was positioned in front of the stage for security at a Rolling Stones concert. During the show, someone threw something at the stage, but Bender knocked it out of the air to prevent it from hitting Mick Jagger. Jagger took notice and hired Bender to be a full-time member of the Rolling Stones security team (per Tuscaloosa News).
Defensive end Jack Lambert took Bender's place as middle linebacker in 1972 and quickly proved himself as a force to be reckoned with for Kent State. Former teammate Nick Saban described Lambert's performance in his new position to Tuscaloosa News. At the conference championship game against Miami University, Lambert held off running back Bob Hitchens four times. "It is the greatest, like, individual performance I've ever seen," Saban said.
Jack Lambert went on to play for the Pittsburgh Steelers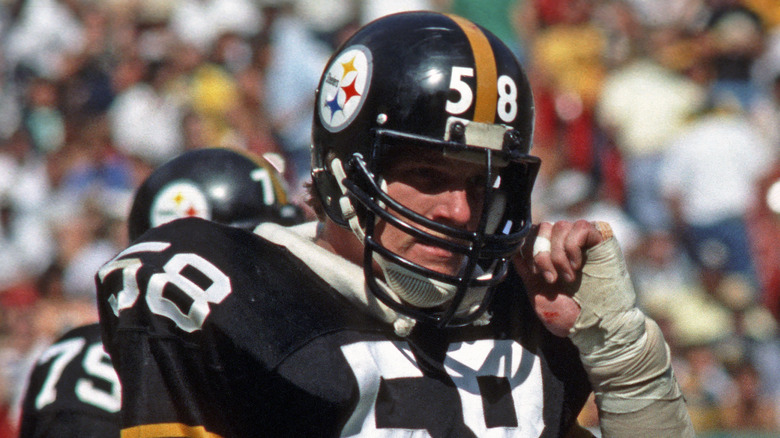 George Gojkovich/Getty Images
Jack Lambert and the Kent State football team brought some joy back to Kent State. As Athlon Sports described, the public associated Kent State with something "catastrophic." In 1970, a shooting occurred on campus during Vietnam War protests. In particular, President Richard Nixon's decision to invade Cambodia during the war sparked protests on multiple college campuses, including at Kent State. The Ohio National Guard stepped after police forces tried to control the crowds and rumors of threats against the town spread. Protesters set fire to the ROTC building on campus. Two days later as protests continued, members of the National Guard began shooting, killing four and injuring nine students (per History).
Lambert was part of Kent State's first Mid-American Conference (MAC) championship team in 1972. The MAC chose him as the conference's Defensive Player of the Year as well (per Get Some MACtion). The Pittsburgh Steelers drafted Lambert in 1974 and he remained with the team until his retirement in 1984. The Pro Football Hall of Fame inducted him in 1990.