The Major Hit The 1921 Tampa Hurricane Made To Florida's Agriculture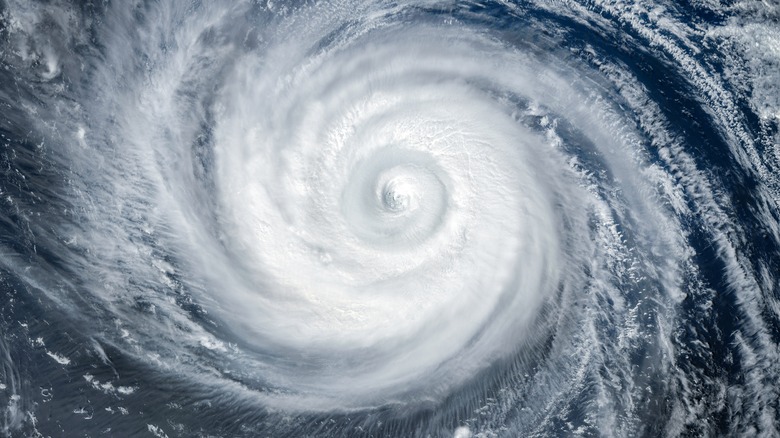 Triff/Shutterstock
In September 2022, large portions of Florida braced for Category 3 Hurricane Ian to make landfall, according to CNN. Winds from Hurricane Ian were expected to reach speeds of 115 mph, with sea swells as high as 12 feet around the cities of Tampa Bay and St. Petersburg. Several parts of Florida are vulnerable to hurricanes, and though many such storms pass north of Tampa, The Tampa-St. Petersburg area has an estimated 11% percent chance of getting hit by a hurricane in any given season, according to AccuWeather.
Two hurricanes touched down in Tampa in 2004 and in 2005 as Category 4 Charley and Category 3 Wilma made landfall. Another large hurricane wreaked havoc on Tampa Bay in 1921. That hurricane damaged buildings and structures and smashed seafaring vessels along the shoreline, according to the National Weather Service (NWS). Unnamed — officials started naming hurricanes in the 1950s — the 1921 hurricane also caused serious damage to one of Florida's most vital industries (via the National Hurricane Center of the National Oceanic and Atmospheric Administration (NOAA)).
The 1921 Tampa hurricane was the most destructive in the area since 1848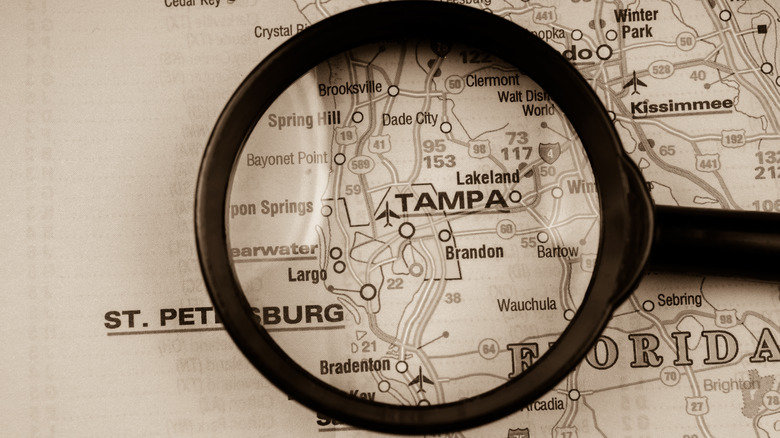 Alexander Lukatskiy/Shutterstock
As the NWS goes on to note, the 1921 Tampa hurricane is thought to have been the most severe hurricane in the Tampa area since 1848, and no hurricane since has been quite so destructive. In October that year a low pressure system formed over Honduras and Nicaragua, as the NWS website explains. Low pressure systems with thunder activity over tropical or subtropical waters create perfect hurricane conditions, according to the NOAA website.
By October 22, the area of low pressure intensified ,with winds and heavy rain reported in areas like the Central American coast, Cuba, and around other Caribbean islands. In a matter of days, the hurricane, still out at sea, reached wind speeds of 120 knots fewer than 400 miles west of Tampa. It was now a Category 4 hurricane, and shortly thereafter, the hurricane, though downgraded to a Category 3 by the time it hit Tampa Bay, had winds of 120 mph, with 11-foot sea swells along the coastline. There were eight confirmed fatalities in the aftermath (via NWS).
The local citrus industry was decimated
Among the most damaging aspects of the 1921 hurricane in the Tampa-St. Petersburg area (pictured), though, was the effect that it had on the local citrus industry, as the NWS goes on to note. Entire crop fields were destroyed, effectively erasing a year's income for some growers, as well as significantly damaging future harvests (per ArcGIS Storymaps). The National Weather Service also reports that salt water intrusion from the storm surge significantly damaged soil dedicated to crops in some areas, making future agricultural use impossible. Today the citrus industry in Florida employs some 33,000 people and has an estimated $7 billion impact on the state's economy, according to the Florida Citrus website. In the 1920s, the Florida citrus industry was booming, and for this reason, the destruction caused by the 1921 hurricane was acutely painful (via the Florida Department of State).
As CNN goes on to report, in the hours and days leading up to Hurricane Ian's possible landfall, evacuation orders were issued in Tampa Bay and the surrounding areas. Thousands of local residents were affected with water levels not seen in 50 years and as much as 25 inches of rain prepared for, compared to the area's typical six inches of rain in September. On the threat of Hurricane Ian, Florida Governor Ron DeSantis said (via CNN), "What we have here is really historic storm surge and flooding potential." At the time of the 1921 Tampa hurricane Tampa Bay's population was around 50,000. Today it has close to 400,000 residents, as Tampa news outlet Fox 13 notes.