James Madison's 200-Year-Old Flute Now Shares A Unique Connection To Lizzo
Washington Irving, the author of "The Legend of Sleepy Hollow," once described America's fourth president, James Madison, as "a withered little apple-John" (via The White House). Time Magazine describes modern pop artist and flutist, Lizzo, as "loud, fun, effervescent, all the synonyms you can use for the words loud, fun and effervescent." So what could these two figures have in common?
Born April 27, 1988 as Melissa Jefferson, Lizzo attended the University of Houston and participated in marching band while studying classical flute performance (via PopBuzz). Becoming a world famous pop, R&B, and rap performer has not made her shy away from her classical music roots. In fact, she incorporates the flute into most of her live performances.
James Madison was president of the United States from 1809-1817. During the War of 1812, British troops set fire to the White House and Dolley Madison, the first lady, is known for taking the painting of George Washington with her as the presidential residence burned. According to the Library of Congress, the president took what he could, and that apparently included a crystal flute given to him by Claude Laurent. Laurent was a prestigious Parisian watchmaker who invented glass flutes (via The Metropolitan Museum of Art of New York City). He often created them for heads of state and won a silver medal at the Paris Exposition of 1904 for his work. He gave the white crystal flute to Madison to celebrate the president's second inauguration.
Rock solid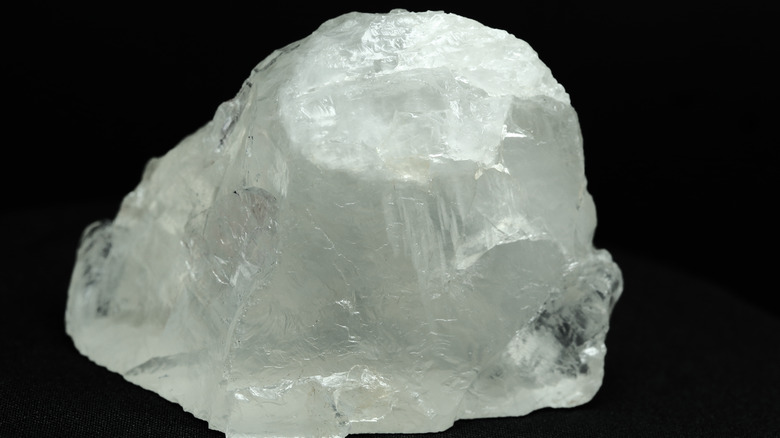 loveaum/Shutterstock
The aforementioned crystal flute was designed specifically for Madison and had the president's name and title engraved on its silver joint beside the year 1813, the year the flute was made (via The Library of Congress). Now housed in the Library of Congress, the flute is one of 20 crystal flutes by Laurent still remaining. Originally it was believed that all of Laurent's designs were made of solid crystal, but other flutes in the collection have started to deteriorate, so Madison's gift remains a standout from the others. Legend has it that Madison played his precious flute as the White House was burning, but we do know for certain that he simply had a fondness for playing it, due to his referencing it often in his letters (via Library of Congress).
According to M.S. Rau Antiques, rock crystal (clear quartz) has been coveted by ancient cultures such as the Celts, who believed its prism light spectacle connected them to the sun. The material of crystal balls, the creation of objects of art like the crystal flute, required highly skilled artisans, such as Laurent, who had to be precise in the disciplines of gem cutting and enameling, and then some.
Until this week, Lizzo had her own connection to crystal: her limited edition, 12-inch "Special" in crystal vinyl, which was pressed for 5,000 worldwide (via Lizzo). But recently the singer got a once-in-a-lifetime opportunity to tinker with an heirloom from the White House: the flute that belonged to America's fourth president, James Madison (via NPR).
Shining bright like a diamond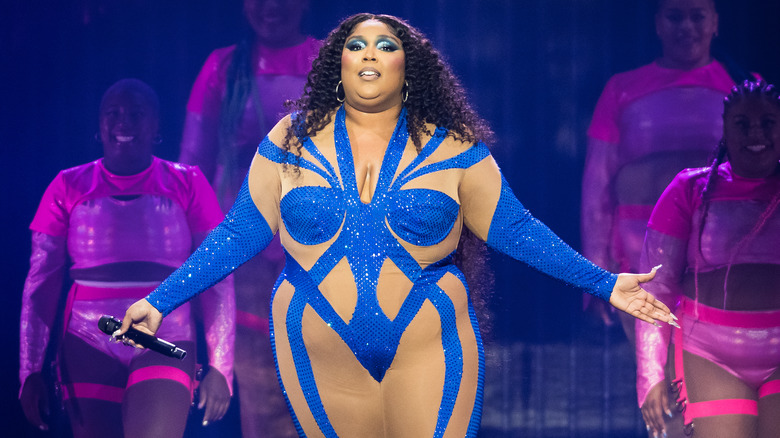 Jason Koerner/Getty Images
It all started on September 24 with a tweet. The Library of Congress account, via Carla Hayden, wrote via Twitter, "The @librarycongress has the largest flute collection in the world with more than 1,800. It incl Pres James Madison's 1813 crystal flute. @lizzo we would love for you to come see it and even play a couple when you are in DC next week. Like your song they are 'Good as hell.'" Lizzo jumped at the invitation, responding, "IM COMING CARLA! AND IM PLAYIN THAT CRYSTAL FLUTE!!!!!"
As it so happens, Lizzo was set to take the stage on the night of September 27 and a Library of Congress representative was on hand to deliver her the prismatic goods (via NPR). Wearing a crystal-emblazoned bodysuit full of sparkle, Lizzo dazzled her audience with her performance. She had to warm up for a moment, comparing playing the instrument to playing "out of a wine glass."
Later that night, the bedazzled singer took to Twitter to post a video of her historic performance and exclaimed, "NOBODY HAS EVER HEARD THIS FAMOUS CRYSTAL FLUTE BEFORE / NOW YOU HAVE IM THE FIRST & ONLY PERSON TO EVER PLAY THIS PRESIDENTIAL 200-YEAR-OLD CRYSTAL FLUTE — THANK YOU." (That's nearly correct; as NPR also reported, it was played and recorded for a radio broadcast in 2001, but Lizzo was the first to play it on stage.) With over 1.7 million views (and counting), it appears that her fans thought her use of America's fourth president's flute on stage was rock solid.