How Coolio's Rise To Stardom Was Aided By A Job In The Forests Of Northern California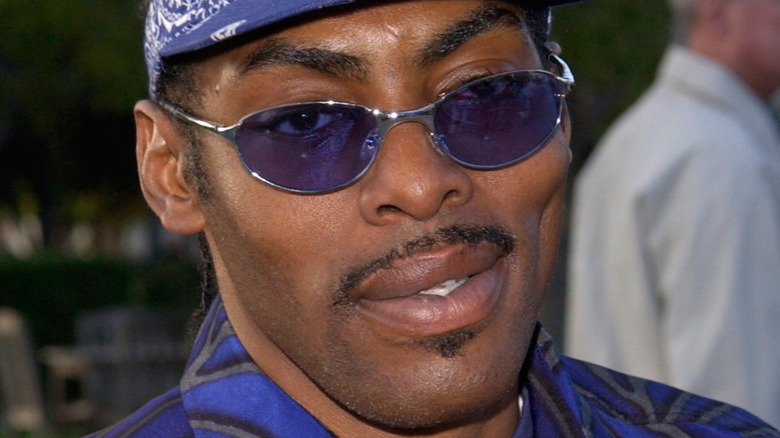 Featureflash Photo Agency/Shutterstock
Most people have heard the lines, "As I walk through the valley of the shadow of death, I take a look at my life and realize there's not much left." These lyrics form the start of rapper Coolio's 1995 hit, "Gangsta's Paradise," a song which sat on top of the Billboard Top 100 charts for three weeks and was even eventually named the top song of the year, according to The New York Times. It would come to be Coolio's most famous hit, though he also had other popular songs as well, including "My Soul" and "It Takes a Thief."
But despite the huge success that Coolio — full name Artis Leon Ivey Jr. — would find later in his career, his life wasn't always easy. Coolio had a rough childhood, facing gang violence as a teenager; later in life he became addicted to drugs. It was this drug addiction that led Coolio to join a volunteer firefighting group after he was released from rehab, in an effort to straighten himself out, according to AllMusic.
Coolio's dark childhood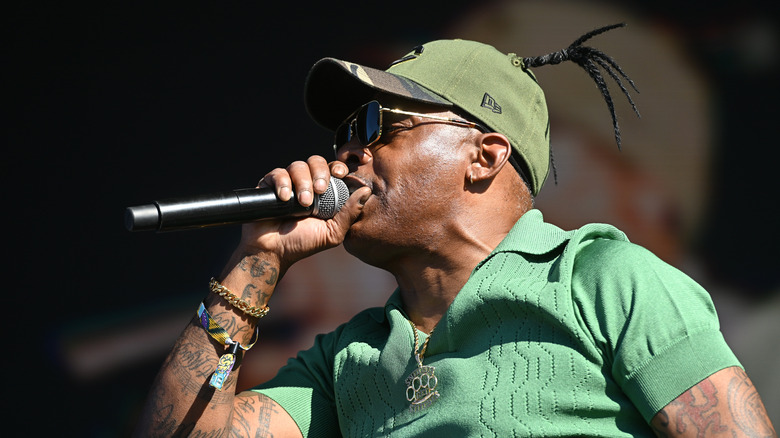 Daniel Boczarski/Getty Images
While it might be surprising, the super-cool rapper Coolio was actually once a pretty nerdy kid, according to AllMusic. Good at school, and asthmatic, Coolio wasn't exactly running around with the popular kids — at least, not until his teenage years. At that point, he began to get in trouble at school and with authorities. This can perhaps in part be attributed to the rough neighborhood that Coolio grew up in: He regularly saw violence as a child, which included witnessing two separate murders, according to Radar Online. The second murder, which occurred when Coolio was 16, inspired him to stop spending time with people who were involved with gangs, but still, by the time he was 17, Coolio was incarcerated on charges of larceny, according to AllMusic.
Not long after that, Coolio became addicted to crack cocaine. In an interview with the Los Angeles Times, he described the experience by saying, "I was a wild man then — real crazy. I had a reputation for doing crazy things — like hitting people over the head with bottles and stuff like that. That happens when you grow up in Compton ... you survive how you can. Drugs are just one of the pitfalls. I fell in ... deep."
If you or anyone you know needs help with addiction issues, help is available. Visit the Substance Abuse and Mental Health Services Administration website or contact SAMHSA's National Helpline at 1-800-662-HELP (4357).
How firefighting helped Coolio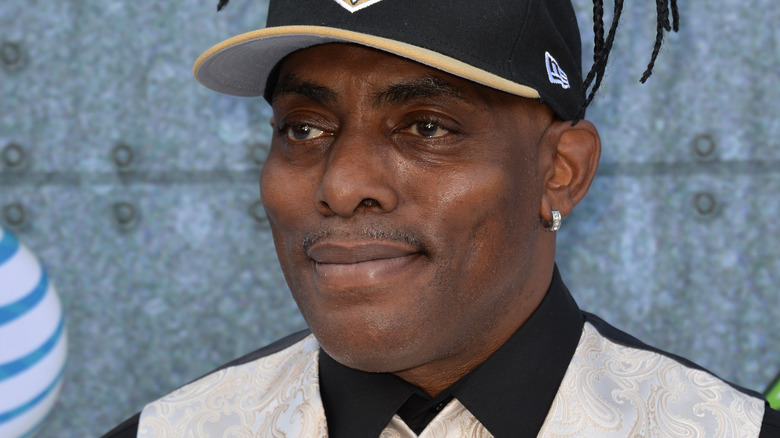 Jaguar PS/Shutterstock
Eventually, Coolio was inspired to get help for his addiction, though not for what many of us would call heartwarming reasons: Coolio went to rehab after his brother threatened to kill him if he didn't, according to Radar Online. His brother even pointed a gun at him and told him to get better. Coolio did go to rehab, according to AllMusic, and thereafter decided to become a volunteer firefighter. Based in San Jose with his father, Coolio worked for the California Department of Forestry, according to The New York Times. He said that experience, as well as his involvement with religion, were key to helping him overcome his addiction.
He told the Los Angeles Times of his period as a firefighter, "I wasn't looking for a career, I was looking for a way to clean up — a way to escape the drug thing. It was going to kill me and I knew I had to stop. In firefighting training was discipline I needed." Coolio served as a firefighter for a year and a half, according to Radar Online.
It was after his time as a firefighter that Coolio went on to release his big-hit music, with his music first drawing attention in 1994 (via Fire Rescue 1). Over his career, Coolio sold nearly 5 million total albums, according to The New York Times. He died in September of 2022.