The Heart-Wrenching Death Of Coolio
Featureflash Photo Agency/Shutterstock
Coolio, born Artis Leon Ivey, Jr., has died at the age of 59. On September 28, 2022, TMZ reported that the rapper was in his friend's home in Los Angeles when he was discovered unresponsive in the bathroom. According to his longtime manager, Jarez Posey, Coolio excused himself to go to the bathroom but was gone for a suspicious amount of time. His friend knocked on the door to check on him but there was no response. The friend went ahead and entered the bathroom to find Coolio lying on the floor.
Reports indicate that the friend immediately called emergency responders who quickly arrived at the scene. It isn't clear whether Coolio had a pulse or was responsive at the time of their arrival, but he was declared dead at the scene. Responders suspect that he died of cardiac arrest, but an official cause of death has not been released.
The beginning of his career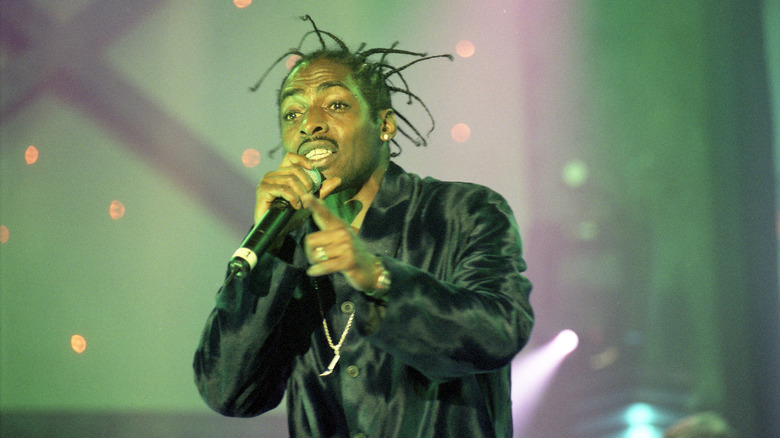 Jmenternational/Getty Images
Coolio was born in Monessen, Pennsylvania, in 1963 but later moved to Compton, California. As a child, he loved reading books and was intelligent but fell into the wrong crowd. He gained an interest in rap music and attended Compton Community College while also performing and joining rap competitions on the side, as reported by All Music. It was in one of those contests where someone referred to him as "Coolio Iglesias." His rap career was derailed due to cocaine addiction, and he went to rehab to get his life back on track.
He worked as a firefighter and had other odd jobs while working on his rap music. His career went on an upward trajectory after the release of his 1994 breakout hit "Fantastic Voyage" from his debut album "It Takes a Thief." The success allowed him to enter the mainstream music industry, and a year later, he released the song most associated with him, "Gangsta's Paradise," which was part of his second album of the same name. In addition, it was the lead single for the soundtrack of the movie "Dangerous Minds" starring Michelle Pfeiffer. Hip hop artist NoTrace told Post Bulletin in 2012 about the importance of the song during its release. "Most artists at that time were talking about glorifying violence and drugs. So it was huge to have a song like 'Gangsta's Paradise' that had a more positive vibe than most of the music out at that time," he stated.
Other facts about the rapper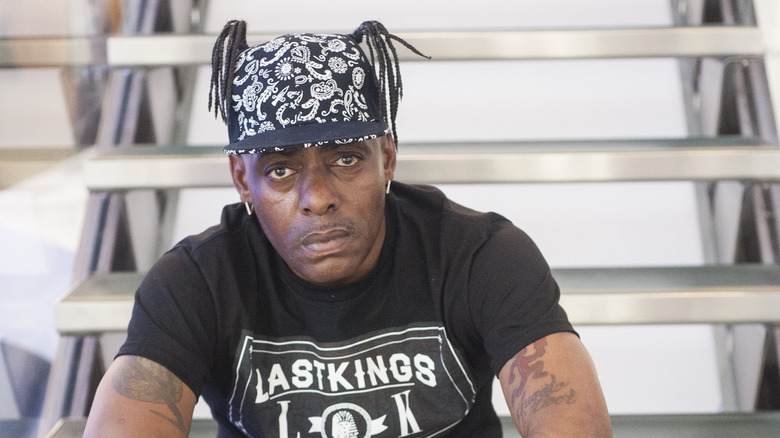 Kris Connor/Getty Images
There's no doubt that Coolio made a mark in the '90s rap scene, but he also had other interests. Coolio appeared in a number of shows, including a YouTube cooking show titled "Cookin' with Coolio," and was proud of his culinary prowess (via Digital Spy). He was an avid collector of snow globes and was the winner of the reality TV show "Celebrity Bootcamp" in 2002. Coolio worked with a number of rappers throughout his career, but perhaps the most unexpected collaboration was with country star Kenny Rogers.
Coolio was also a spokesperson for the Asthma and Allergy Foundation of America. He suffered from asthma attacks since his childhood and even had one in the middle of a live performance in 2016, which he continued with help from an audience member who gave him an inhaler, as reported by Express. Coolio also supported other associations including the Barbara Davis Center for Childhood Diabetes, the Reading Foundation, and Goodwill, among others.