The Tragic 1986 Death Of Stuntman Dar Robinson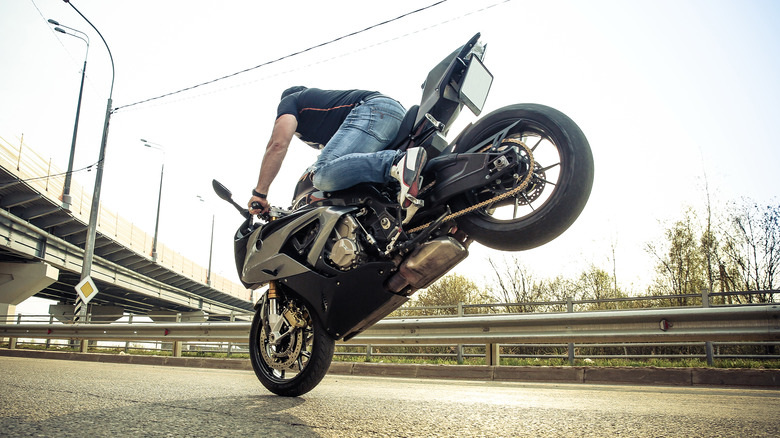 Petr Smagin/Shutterstock
Stuntmen have one of the toughest jobs in the movie industry. They take on the daring and, oftentimes, dangerous stunts that fans love to see on the big screen. Many times they take on the role played by A-list actors, stepping in for crucial scenes, without receiving much of the fame or accolade that usually comes from acting. In the 1970s and '80s there was one stuntman who stood above the rest: Dar Robinson.
Robinson performed stunts in many hit movies, including "Airplane!," "Police Academy," "To Live and Die in L.A.," and "Lethal Weapon" (via IMDb). According to the Los Angeles Times, he held multiple world records, including highest free-fall (280 feet), high fall while on fire (190 feet), and longest car jump from ramp to surface (179 feet). In 1986, Robinson was working on the set of the film "Million Dollar Mystery," when tragedy struck. The accident served as a grim reminder of the dangers of the profession, even for the most experienced stuntmen.
Stunt gone wrong
As part of a chase scene, Robinson and two other stuntmen were riding dirt bikes down a steep hill at speeds as high as 75 mph. While going around a sharp curve, Robinson lost control of his motorcycle, fell down an embankment and was speared by a branch (via Los Angeles Times). Robinson would die from the injuries he suffered. He was 39 years old.
George Fisher, the stunt coordinator for "Million Dollar Mystery," spoke to the Los Angeles Times following the accident. "We have a saying. It's always the easiest ones that get you." Robinson was proof of that. He had completed much more difficult stunts completely unharmed before. According to The New York Times, he had twice jumped from the Canadian National Tower in Toronto, the world's tallest free-standing structure at the time. One of these jumps was performed attached to just a wire cable that stopped him 200 feet from the ground.
A lasting legacy
At the time of his death, Robinson was arguably the best stuntman. He was well known and loved within the movie industry. Richard Donner, the director of "Lethal Weapon," dedicated the film to Robinson, who had worked on the film, but had died before it was released (via IMDb). There also was a documentary, "The Ultimate Stuntman: A Tribute to Dar Robinson," created about his life and career (also via IMDb). It featured footage of his most famous stunts, as well as interviews with the actors he had worked with.
Despite the nature of his career, Fisher claimed Robinson wasn't in it for the thrill, but was truly a master of his craft. "Dar was by no means a daredevil. He did things nobody else could do, and his stunts were spectacular visually," Fisher said. "But they were always well planned and well thought out. He approached his work scientifically. He would astound people with his mathematical calculations and accuracy in pinpointing landings." Robinson was survived by his wife, Linda, as well as five children (via Los Angeles Times).