How Michelle Pfeiffer Got Involved In Coolio's Most Famous Music Video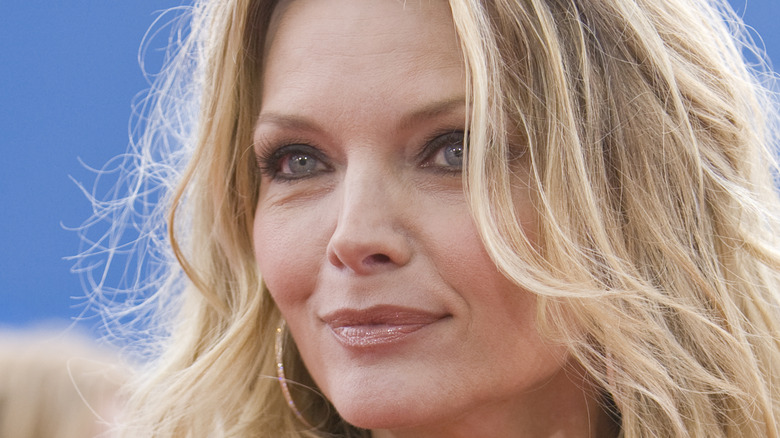 Jose Gil/Shutterstock
When music fans of a certain age think of Coolio (real name Artis Leon Ivey Jr.), who died on September 28, 2022, at the age of 59, they most likely remember the 1995 music video for his hit song "Gangsta's Paradise (feat. L.V.)." According to Coolio's manager, Jarez Posey, the West Coast rap star died at a friend's house in Los Angeles of an apparent heart attack, as NBC News reports. At the time that Coolio's death was announced, no cause of death was given, as The New York Times also notes.
The song "Gangsta's Paradise" features a Stevie Wonder sample and is perhaps more closely associated with Coolio than any other from his catalog; it appeared on the 1995 Coolio album of the same name (via AllMusic). If the Grammy award-winning single hadn't also appeared on the soundtrack of the film "Dangerous Minds" that same year, the song and the hit music video that accompanied it — directed by Antoine Fuqua and starring actress Michelle Pfieffer — may not be as well remembered as they are today.
Pfieffer also starred in Dangerous Minds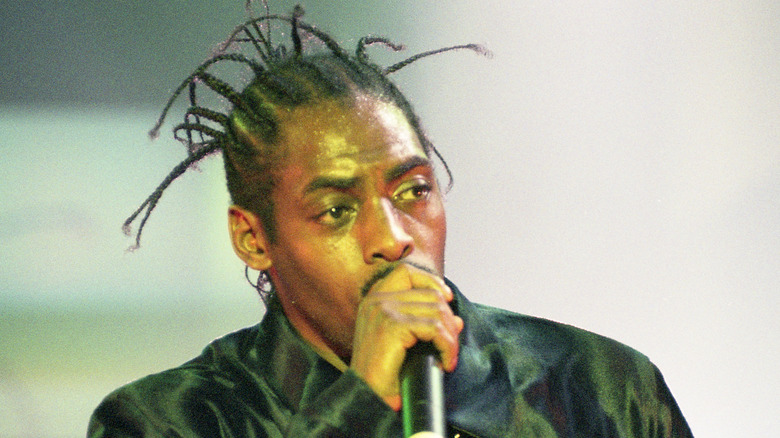 Jmenternational/Getty Images
Speaking with hip-hop news outlet SOHH in 2010, director Antoine Fuqua — now known for "Training Day" and the "Equalizer" films — said he was approached to direct the "Gangsta's Paradise" video by "Dangerous Minds" producer Jerry Bruckheimer (via IMDb). At that time, Fuqua was known mostly as a commercial director, but he had aspirations to direct feature films. Part of the agreement he made with Bruckheimer was to approach "Dangerous Minds" star Michelle Pfieffer, who at that point was at the height of her popularity.
Bruckheimer gave Fuqua Pfieffer's number, and when he gave the movie star a call, she agreed. According to Fuqua (via SOHH), Pfeiffer said, "Yeah, I'll do it, how much time do you need?" The two talked it over, and Fuqua explained what he needed her to do. He then sent her a synopsis. Fuqua also said (via SOHH), "I just wanted Michelle in the video, I wanted to direct a movie star, I wanted to prove I could handle a movie star."
Pfieffer credits Coolio for the film's success
Alberto E. Rodriguez/Getty Images
According to the BBC, Michelle Pfieffer credits much of the success of "Dangerous Minds" to Coolio's song and video and added that she still gets chills when she hears it. As news of Coolio's passing spread, tributes came in from artists who knew him, like fellow West Coast rap innovator Snoop Dogg and Pfieffer herself. The actress wrote on Instagram that she was "heartbroken" to hear he had died.
Her post also read, "As some of you may know I was lucky enough to work with him on Dangerous Minds in 1995. He won a Grammy for his brilliant song on the soundtrack — which I think was the reason our film saw so much success. I remember him being nothing but gracious." She also said Coolio's life was "cut entirely too short." Rapper Snoop Dogg also referenced the Coolio hit in his Instagram post, which simply read, "Gangstas paradise. R.I.P. [sic]" alongside a photo of the two stars together.