Jimi Hendrix's Mentor Had One Major Criticism Of The Rock Legend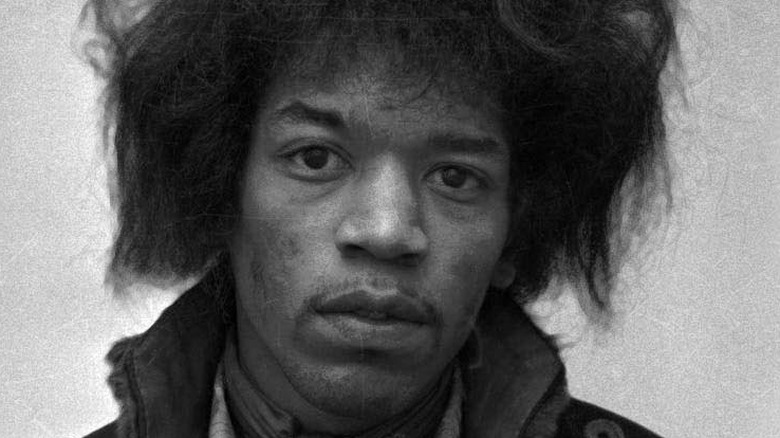 Avalon/Getty Images
Jimi Hendrix needs little introduction. He's one of the most influential rock musicians of the last century, and is renowned for reinventing what could be done on the electric guitar. Hendrix may have lived a fast and furious life (his first album was released in 1967 and he died in 1970), but he introduced a world of sounds and techniques that had rarely, if ever, been heard in rock music before, culminating in his legendary 1969 performance of "The Star-Spangled Banner" at Woodstock.
Considering how tall he stood among his contemporaries, it might be hard to believe that Hendrix actually looked up to anyone else. However, there was one guitarist that he admired greatly, and that was the important blues musician Albert King. Hendrix told Rolling Stone, "I like Albert King. He plays completely and strictly in one way, just straight funk blues. New blues guitar, very young, funky sound which is great. One of the funkiest I've heard. He plays it strictly that way so that's his scene." Unfortunately, King had one major problem with Hendrix's playing.
Albert King's criticism of Jimi Hendrix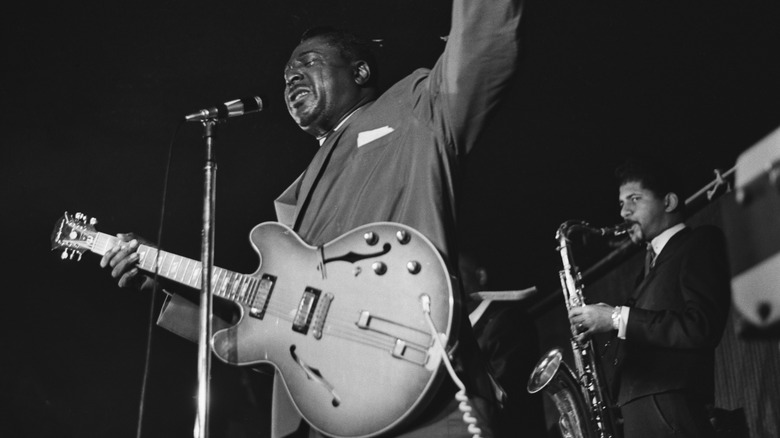 Michael Ochs Archives/Getty Images
Albert King represented an older approach to guitar playing, having gotten his start in 1953, but he still had considerable influence on future generations of guitarists. Six-string luminaries like Eric Clapton, Joe Walsh, and Stevie Ray Vaughan have named King as an inspiration on their playing. While Jimi Hendrix has cited King as an influence, that didn't stop King from criticizing Hendrix's playing. As recounted in Far Out Magazine, King once stated, "Everybody says, 'Well, he's a hell of a blues player.' No way, man. We played many shows together, and that night, I taught him a lesson about the blues. Now I could've very easily played his songs, but he couldn't play mine."
However, it wasn't just Hendrix's approach to the blues that King had a problem with; he also thought that the theatricality of his stage performances overshadowed the musical element. According to Far Out Magazine, King said that his show had "big tall amplifiers stacked up on one another. He'd punch a button and get some smoke, punch a button and get something else, take his guitar and set it on fire, ram it through his amplifier. But I know what he was leaving out. He was leaving out the basic part of the blues." It seems that Hendrix's lack of the blues gave King the blues.
Jimi Hendrix was too innovative for the blues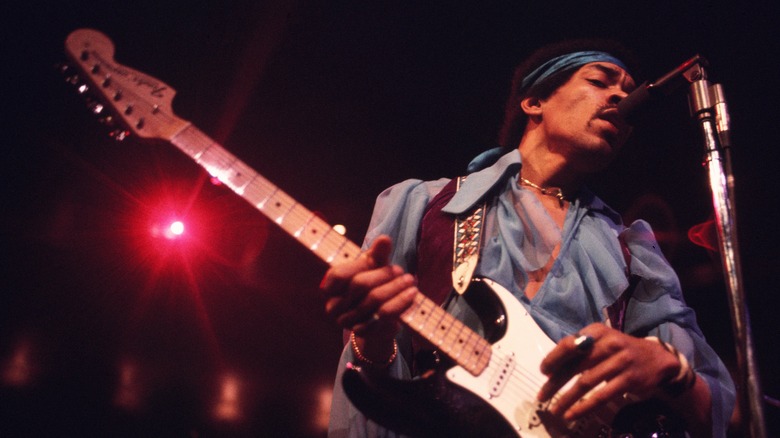 Walter Iooss Jr/Getty Images
For Jimi Hendrix, though, the idea of sticking only to the blues of yore was something he had no interest in. Far Out Magazine quotes Hendrix as saying, "I'm just playing the way I feel and if that sounds like blues well you can call it anything you want, but it's no revival kit. Why go back into the past?" For Hendrix, innovation is what he was after, and it can be found in every note from the massive amount of music he created in just the few short years before the end of his life.
While it may be a bummer for some that Albert King didn't appreciate Hendrix's take one the blues, not all of his opinions of him were negative. King once stated in an interview that, "Jimi Hendrix used to take pictures of my fingers to try and see what I was doing. He never quite figured it out, but Jimi was a hell of a guitar player, the fastest dude around — at the time."