Was There A Real Ichabod Crane?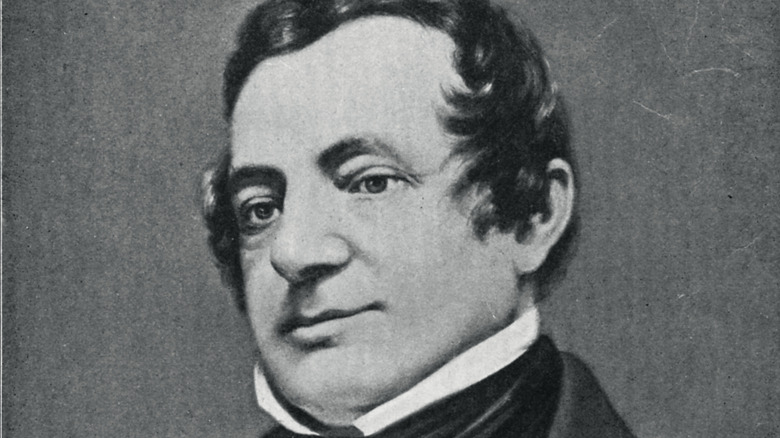 Print Collector/Getty Images
Published in 1820, "The Legend of Sleepy Hollow" by Washington Irving (seen above) is a classic horror tale that continues to spook readers (via the Historic Hudson Valley). Per Britannica Kids, the story's protagonist is a measly schoolteacher named Ichabod Crane, who moves to the village of Sleepy Hollow. Despite being a man of little means, he has ambitions to climb to the top of the social ladder, and he intends to accomplish this by marrying the wealthy Katrina van Tassel. Van Tassel, on the other hand, is smitten with another man, Brom Bones. According to History, Crane is eventually rejected by van Tassel at a party.
Upon leaving this event, Crane has a confrontation with a headless horseman and is never seen again. History explains that Sleepy Hollow is, in fact, a real place. Furthermore, The History Reader reports that Ichabod Crane did exist. The William G Pomeroy Foundation writes that in "The Legend of Sleepy Hollow " Irving described Crane as an "exceedingly lank" individual. He added that "his whole frame most loosely hung together." In other words, Crane is painted as a physically and mentally weak man whose belief in the supernatural gets the best of him. However, The American Primer states that the real Crane was the complete opposite of Irving's depiction.
Ichabod Crane was a military man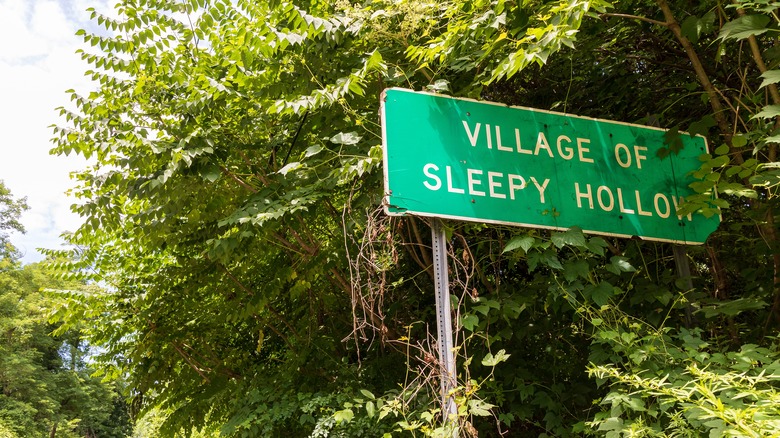 hw22/Shutterstock
According to The New York Times, the real Ichabod Crane was born in 1787. He was not bony or awkward; Crane was a long-time marine and soldier. He first enlisted in 1809, and The American Primer reports that he went on to have a 48-year career in the military. The History Reader states that Crane was a captain in the War of 1812. Moreover, he was also involved in the Black Hawk War in 1832, the Second Seminole War in 1835, and the Patriot War in 1838. By 1843, he had been promoted to colonel and served in the Mexican-American War. Crane died in 1857 at his Staten Island home.
The New York Times writes that there is no evidence that proves that Crane and Washington Irving ever met. However, Irving likely knew who Crane was as both were stationed at Fort Pike. Like Crane, Irving served in the military during the War of 1812 (via Biography). It seems that Irving took a liking to Crane's name. Staten Island historian Dr. Thomas W. Matteo told the New York Times, "As far as Washington Irving's using his name, it's probably true but I do not think he asked Ichabod's permission."
Irving expert Elizabeth L. Bradley agreed and explained (per The New York Times), "I can say that Irving was fond of manufacturing 'Yankee' names, which he had done since before the War of 1812 (when he may have met Ichabod Crane)." Per The History Reader, Crane was not flattered by this and was reportedly unhappy Irving had used his name.
The character was inspired by a real school teacher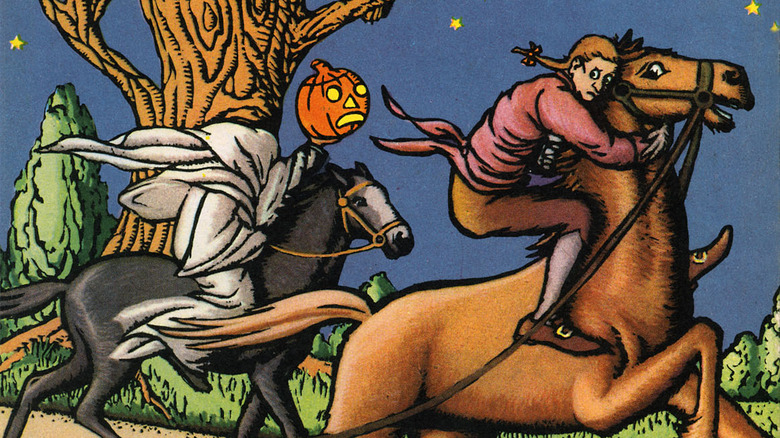 Culture Club/Getty Images
The Historic Hudson Valley writes that Washington Irving wrote the "The Legend of Sleepy Hollow" while living in England. It's theorized that European folktales influenced his work. However, Irving's life in New York's Hudson Valley also served as an inspiration (via Westchester Magazine). As Sleepy Hollow historian Henry Steiner told the outlet, "Sleepy Hollow has been influenced by Irving, and Irving by Sleepy Hollow. One legacy would not be the same without the other." Irving may have taken Ichabod Crane's name for his now iconic story, but his characterization came elsewhere. The William G Pomeroy Foundation states that Irving based him on a schoolteacher, Jesse Merwin.
According to the Milford Living Magazine, Irving and Merwin met when the two were living in a boarding house in Kinderhook, New York. The publication goes on to explain that they became long-life friends. Although Crane's personality is dissimilar to Merwin's, it's believed that Merwin told Irving about how he was scared off by a man dressed as a headless horseman while dating a woman named Jane Van Dyke. The ruse was planned by another suitor who intended to scare off Merwin. It's unknown if this story is true or not, but in the end, Merwin did marry Van Dyke.
Merwin, however, did not physically resemble Crane. Milford Living Magazine reports that Irving may have modeled him after an unnamed Scottish school teacher. Besides Merwin, The New York Times adds that Irving also based Crane on Samuel Youngs, another schoolteacher he was acquainted with.