The Story Behind Loretta Lynn's Very First No. 1 Hit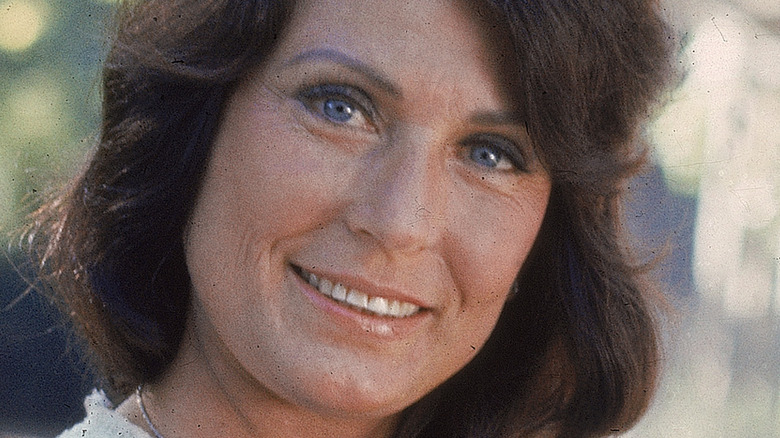 Hulton Archive/Getty Images
Hall of Fame country singer Loretta Lynn, who died on October 4, 2022 at the age of 90, scored a number of hits throughout her more than six-decade career in the music business, as CNN reports. Most notably was "Coal Miner's Daughter," (also the title of her autobiography), adapted into a 1980 fictionalized Lynn biopic starring Sissy Spacek, as Biography notes. Second to that song, though, the first No. 1 hit Lynn ever recorded is perhaps more closely associated with the singer than any other. And like much of the rest of Lynn's esteemed songwriting catalog, the subject of that chart-topping single from 1967 was drawn from Lynn's real-life experience, according to Rolling Stone. 
No cause of death was given in the statement from the Lynn family confirming she had died. According to the family's statement, Lynn died peacefully in her sleep at her ranch home in Hurricane Mills, Tennessee. She's survived by four of six children.
Lynn's husband, Oliver 'Doolittle' Lynn died in 1996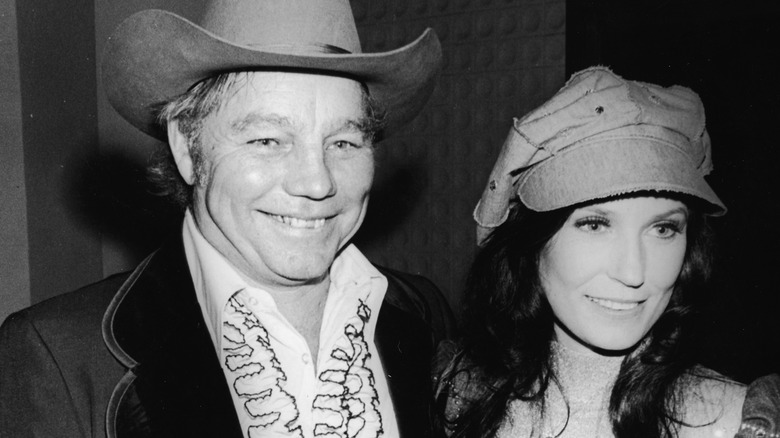 Hulton Archive/Getty Images
As Biography goes on to explain, Loretta Lynn, born Loretta Webb in Butcher Hollow, Kentucky, married her husband Oliver "Doolittle" Lynn (pictured) when she was just 15 years old. The couple would stay married for nearly 50 years, and though they would have six children, their marriage was often unhappy. "Doolittle" Lynn died in 1996. Despite their problems, Lynn credited "Doo" Lynn for encouraging her country music career. He gave the star her first guitar, and acted as her promoter before she was famous, as Biography elsewhere notes.
Despite that equanimity toward her husband, Lynn also often spoke and wrote openly of the domestic abuse, alcoholism, and infidelity that plagued their long relationship. Speaking with CBS News in 2002 Lynn said "I've never written a song that my husband wasn't in." She famously wove that honesty into her songwriting in several instances. One such example was Lynn's first-ever No. 1 hit in 1967.
If you or someone you know is dealing with domestic abuse, you can call the National Domestic Violence Hotline at 1−800−799−7233. You can also find more information, resources, and support at their website.
Lynn's first song to top the charts was based on a true story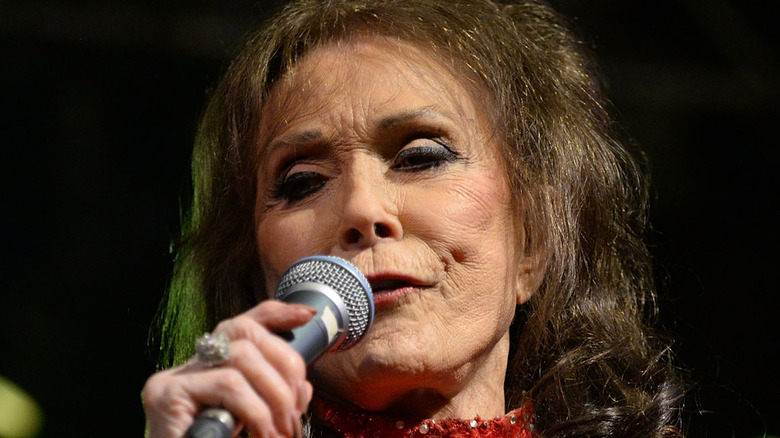 Scott Dudelson/Getty Images
The first No. 1 hit that Lynn ever had was the iconic country tune "Don't Come Home A-Drinkin' (With Lovin' on Your Mind)," from the album of the same name (via AllMusic). As the title suggests, the song — co-written by Lynn's sister, Peggy Sue — tells the story of a lonely housewife who turns down the late-night romantic overtures of her drunken husband, as Wide Open Country explains. Not only did the song top the Billboard charts, it earned Lynn Female Vocalist of the year at the first Country Music Awards (CMA) the same year the song was released, as well as a Grammy nomination.
Explaining why she stayed with "Doo" despite the abuse, Lynn said in 2002 (via CBS News) "I didn't need him but he was my kids' daddy. Why leave hearts laying on the floor for me. I had to think of my kids. I can't be that selfish. He broke my heart lots of time but that woulda broke the kids' hearts, wouldn't it?"