Inside Loretta Lynn's Relationship With Dolly Parton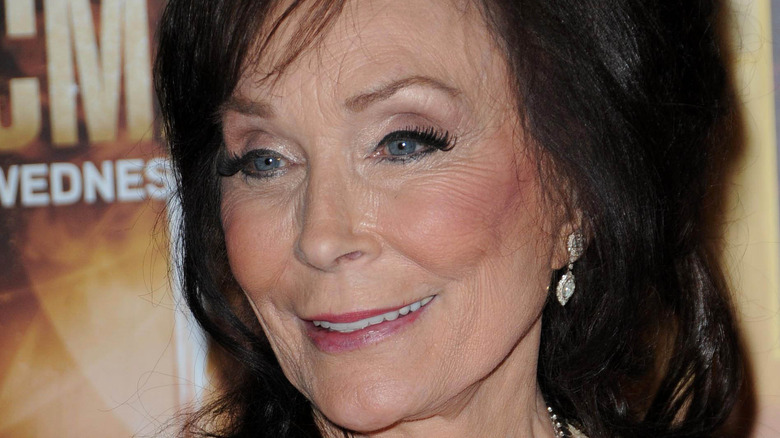 s_bukley/Shutterstock
Loretta Lynn and Dolly Parton are not just two of the most iconic and beloved women in country music history — they also have quite a bit in common and shared a long and seemingly treasured friendship. Per her personal website, Lynn was born Loretta Webb on April 14, 1932 to a coal miner father and homemaker mother and grew up the second of eight children in a cabin in Butcher Hollow, Kentucky. She married her husband and future manager Oliver "Mooney" Lynn when she was just 15 years old, and the couple moved to Washington, where she started performing. She told this story in her best-selling autobiography "Coal Miner's Daughter," named for one of her signature songs. The book would go on to be adapted into an acclaimed movie starring Sissy Spacek, who won an Oscar for her portrayal of Lynn. 
Parton was born on January 19, 1946, and was the fourth of 12 children in a family that lived in a cabin in Locust Ridge, Tennessee (via (via the Country Music Hall of Fame and Museum). She started performing on local television at 10 and made her first appearance at the Grand Ole Opry when she was just 13 years old. She moved to Nashville right after high school and met her husband, Carl Dean, at a laundromat on her very first day there. Like Lynn, she's incorporated her hardscrabble Appalachian upbringing into many autobiographical songs, including "Coat of Many Colors," which tells the story of wearing a homemade coat made of leftover scraps of fabric to school and getting teased by her classmates.
Two girl singers who supported each other
In 2020, Dolly Parton wrote the forward for Loretta Lynn's book "Me & Patsy Kickin' Up Dust: My Friendship With Patsy Cline." She described how she and Lynn got to know each other because they were both "girl singers" on popular country variety television shows, Parton on "The Porter Wagoner Show" and Lynn on "The Wilburn Brothers Show." Parton pointed out that both she and Lynn sometimes "eclipsed our male counterparts, which caused friction. ... I think we could both smile with each other and say 'Hey, girl, we're doin' all right, ain't we?!'" In the 1980s, Parton had her own variety show, and Lynn appeared on it. The two performed a medley of Lynn's classic songs (above), and the warmth and familiarity between the two singers are obvious as they exchange warm looks and smiles throughout their performance, including verses from "Coal Miner's Daughter," "You Ain't Woman Enough (To Take My Man)," and "The Pill."
In 1993, Parton and Lynn joined another country legend, Tammy Wynette, to make the album "Honky Tonk Angels." Per the September 25, 1993 issue of Billboard magazine, the supergroup was Parton's idea. She'd wanted to bring together female country singers who'd broken through in the 1960s and brought a wider audience to the genre. The trio recorded several classics, including "Silver Threads and Golden Needles." During their live performance at the Country Music Awards, Dolly calls Loretta and Tammy her "girlfriends" and her "idols."
Dolly called Loretta her sister and friend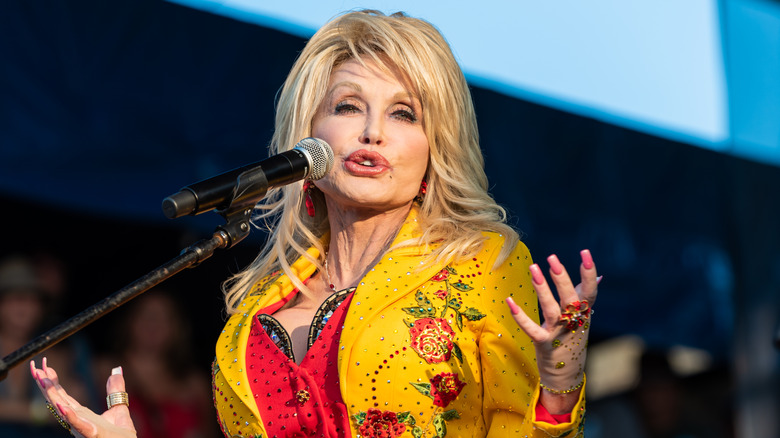 Carl Beust/Shutterstock
Dolly Parton and Loretta Lynn have continued to inspire and support each other on and off the internet in recent years. After Parton unveiled her meme on Instagram — in which she displayed pictures of herself in various get-ups suitable for LinkedIn, Facebook, Instagram, and Tinder, winkingly captioned "Get you a woman who can do it all" — Lynn followed suit. She wrote, "After my family told me about Dolly's challenge, I figured I had to join in....mostly!" (Lynn conspicuously left off a photo suitable for Tinder, including the hilarious hashtagged phrases "#lorettadonttinder" and "#lovemetinderhasawholenewmeaning.") In December 2019, Parton took to Facebook and posted a groovy throwback photo of her and Lynn posing together in their younger days captioned, "Friends forever." 
When Lynn turned 90 in April 2022, Parton was one of many country legends to participate in a video tribute to Lynn. She closes out the tribute and sings, "Happy Birthday, dear Loretta," with the special addition of "we will always love you" at the end. When Lynn died on October 4, 2022, Parton once again joined in a chorus of well-wishers and mourners celebrating the life of the venerable Lynn, posting on Twitter, "So sorry to hear about my sister, friend Loretta. We've been like sisters all the years we've been in Nashville and she was a wonderful human being, wonderful talent, had millions of fans and I'm one of them. I will miss her dearly as we all will. May she rest in peace."