This Is Where You Can Find The World's Oldest Webcam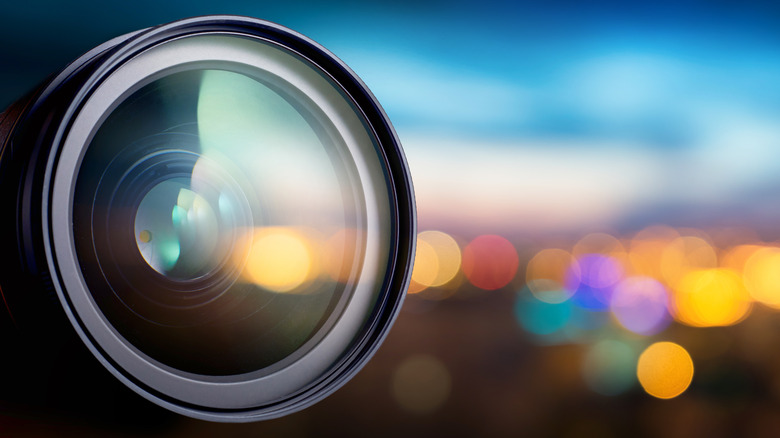 Triff/Shutterstock
Visitors to San Francisco are frequently delighted by the clouds of rolling fog that sit like a blanket over much of the city — a sight as iconic to SF as the Golden Gate bridge. Those unable to make a trip to the great city, however, can take in the atmospheric misty mornings another way: by logging onto the world's oldest still-working webcam: the Fogcam.
Originally a class project created by Jeff "Webdog" Swartz and Dan "Danno" Wong, the aged piece of technology remains a peaceful sentinel, having quietly watched over San Francisco State University Campus since 1994. Swartz and Wong have gone down in history as internet legends and Swartz in particular also holds the honorific title of first cat-cam creator, having set up a second webcam to monitor his feline family shortly after Fogcam was born (via SFGate).
The humble class project has received worldwide recognition since it was first set up in the '90s, and it was even included on CNN's list of early website pioneers (via CNN). Fogcam has changed location around the university numerous times, providing viewers with a charmingly mundane window into campus life from a variety of angles.
A Golden Gate Oldie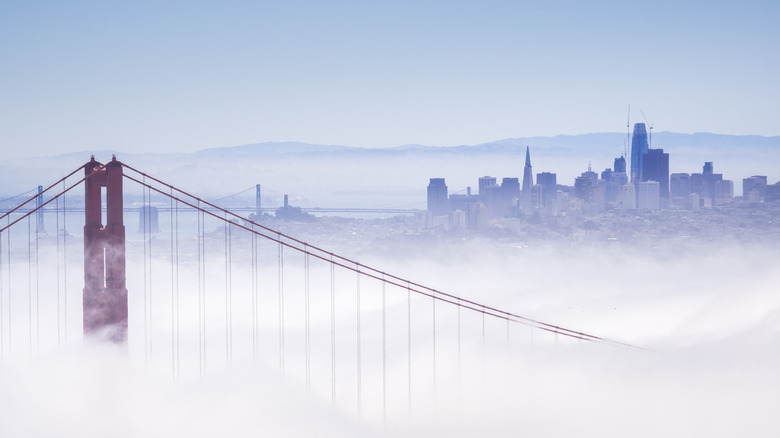 Sundry Photography/Shutterstock
Today the historic Fogcam must compete with some far more exotic webcams. The range of available live streams has increased exponentially over the years, and enthusiastic voyeurs can now log on to watch everything from the National Park Service's live feed of Yellowstone's Old Faithful, to "ghost cam" streams, set up in spooky locations around the world (via Liveabout).
With a resolution of just 320 by 200 pixels, Fogcam's picture also provides a rather dated and blurry '90s vibe in comparison to some of today's ultra-crisp modern cams (via SFGate). Inevitably, Fogcam was almost axed for good in 2019, with Swartz stating that "We felt it was time to let it go" (via the BBC).
But Fogcam would live on. Attempts to get rid of the cam sparked a campaign of defiant resistance online, and the hashtag #SaveTheFogCam hit Twitter. Many people felt surprisingly strongly about the increasingly obsolete ancient camera, an integral piece of history from the dawn of the cyber age. Giving in to the outrage of geeks everywhere, the university agreed to take over maintenance of the webcam, allowing Swartz to take a much-needed break.
Competition from coffee cam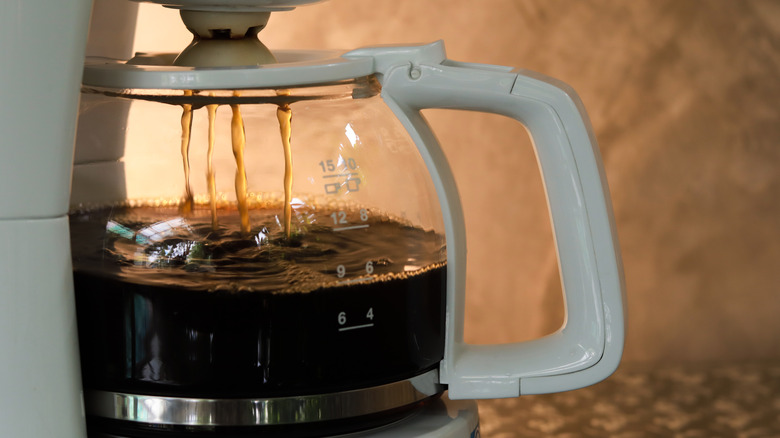 Vasin Hirunwiwatwong/Shutterstock
Although officially the first website was created in 1991, by internet-wizard Tim-Berners Lee (via History), there were still only 130 web pages online in 1993 (via PC). The creators of Fogcam can therefore justly claim to have created not only one of the first webcams but one of the first websites period, having come online in 1994.
However, while Fogcam's website proudly reports that it is the oldest continuously used webcam in existence, it is not actually the oldest webcam (via FogCam). Fogcam has some historical competition from a British webcam — the Trojan Room coffee pot cam at Cambridge University. Coffee cam was created in 1991 (via The Guardian), and brought online in 1993 (via the BBC).
This particular webcam was designed to monitor coffee levels at the University Computer labs, ensuring a constant stream of the precious nectar could reach hardworking scientists. Sadly, the legendary coffee pot was sold to the highest bidder in 2001, leaving Fogcam unchallenged.