The Backlash To Elvis' First Appearance On The Ed Sullivan Show That May Have Gone Too Far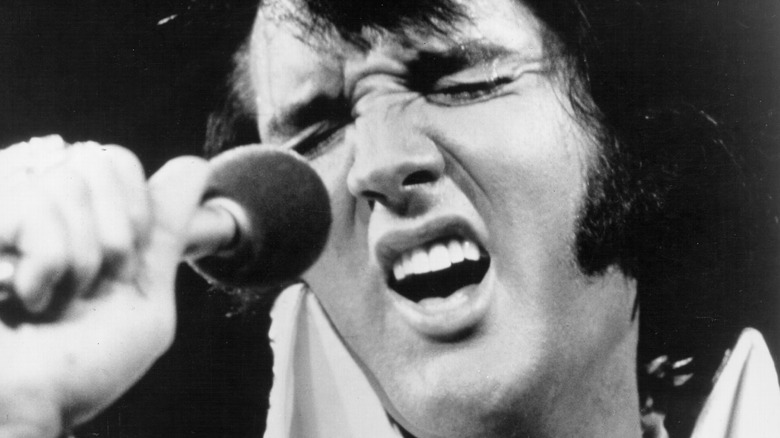 Michael Ochs Archives/Getty Images
Fame, in any field, is a very difficult line to walk. It tends to require the thickest of skins, and there's a simple reason for that: Not everybody is going to like you. However wholesome your intentions might be, however rich you become, however much you give to charity and however extraordinary your album sales are, your work simply isn't going to be to everyone's taste. That's impossible.
Elvis Presley is a world-renowned icon. A man who achieved musical immortality as "the King." Holder of Guinness World Records' best-selling solo artist award, at a mind-boggling 1 billion album sales. He was also, however, highly controversial from the beginning.
As Biography reports, Presley's career got off to rather an inauspicious start. It was Sam Philips of Sun Records who allowed him to make his first record, his debut single being 1954's "That's Alright." At this time, he was little more than a local talent Philips deemed promising, but two years later he would explode onto TV screens nationwide on "The Ed Sullivan Show." Though legions of viewers immediately adored him and he skyrocketed to fame from there, others were horrified by what they saw. So horrified, in fact, that the backlash got very dark indeed.
Elvis' controversial Ed Sullivan Show Debut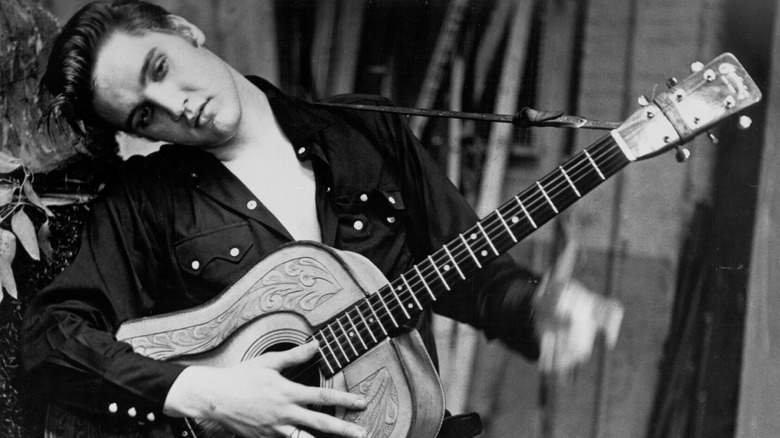 Michael Ochs Archives/Getty Images
Per History, The King first graced Ed Sullivan's viewers with his presence on September 9, 1956. Sullivan had originally refused to allow him on the show, but (as it always is) it's viewership that counts. At this point, Presley had also made successful appearances on other shows, and there could be no question of allowing television rivals to monopolize the rising star.
Presley was not in the studio that fateful evening. He made his appearance from Los Angeles, where he was filming the movie "Love Me Tender." Sullivan himself, recuperating from a car crash, was absent too, replaced by English actor Charles Laughton. Nevertheless, an historic set ensued. "This is probably the greatest honor that I've ever had in my life," the modest 21-year-old performer said (via The Ed Sullivan Show on YouTube), before launching into "Don't Be Cruel."
He also played "Hound Dog," and it seems that this was largely the song that attracted the ire of some viewers. And they acted out.
Burning an effigy of the controversial King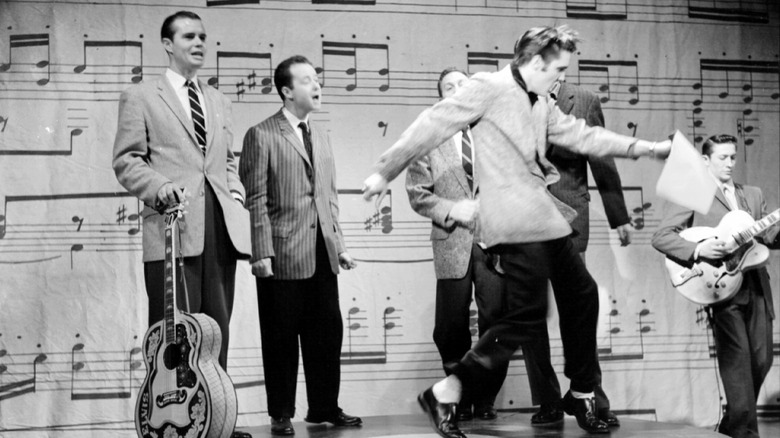 Michael Ochs Archives/Getty Images
"Hound Dog" has always been a beloved yet controversial entry in Presley's repertoire. Rarely were the moves that earned him the nickname "The Pelvis" displayed quite so prominently as they were during these performances. In June that year, he had played the song on "The Milton Berle Show," and his dance moves were considered by many to be absolutely outrageous at the time. Per Graceland, newspapers ran such headlines as "Beware Elvis Presley" in response.
"Gathering of the Tribe: Music and Heavy Conscious Creation," from Mark Goodall, features a contribution from Mick Farren. Farren writes (in an extract via Dangerous Minds) that Reverend Carl Elgena, a Baptist from Des Moines, announced, "the belief of unholy pleasure has sent the morals of our nation down to rock bottom and the crowning addition to this day's corruption is Elvis Presleyism." Presley and his hip-shaking shenanigans seemed to have become the personification of the dangers of rock and roll, and it was into this landscape that he made his appearance on "The Ed Sullivan Show."
According to History, crowds formed in Nashville (among other places) in the aftermath of the show, and they weren't all beguiled by the singer. Some, in fact, burned and hanged effigies of him. Presley would court controversy throughout his career, but, as is usually the case, this all helped to get him noticed and on the media's minds. More than he already was, that is.