Buddy Holly And The Crickets' History With The Ed Sullivan Show
Michael Ochs Archives/Getty Images
Few if any shows have had the cultural impact of "The Ed Sullivan Show." Although, the funny thing, it's not the show itself that people remember, but who was on it and the effect it had on that guests' career.
According to History, Elvis Presley made his "The Ed Sullivan Show" debut in 1956. By that point, he was already a massive star, but Sullivan was adamant in not having Presley as a guest for fear that his provocative hip-shaking would soil the minds of a generation. Sullivan had a reputation for being a little prickly about who appeared on his show and what they did, but he finally gave in and Elvis ended up appearing on the show three times.
Of course, the Beatles made their United States television debut on the show in 1964, and the sounds of crying and screaming girls signaled the start of Beatlemania, per "The Ed Sullivan Show" website. Another artist who benefitted from appearances on "The Ed Sullivan Show" was Buddy Holly.
Buddy Holly's early life
Michael Ochs Archives/Getty Images
According to Biography, Buddy Holly's real name was Charles Hardin Holley and he was born in Lubbock, Texas on September 7, 1936. Holly's first instruments were piano and fiddle, but luckily he came from a musical family and his older brothers taught him how to play guitar — the instrument with which he's most associated with. While Buddy Holly eventually became known as one of rock 'n' roll's early pioneers, he started his career playing country and western songs on a local radio station and he was also hired to open for touring musicians who visited Lubbock. 
Like so many musicians of the era, the major turning point in Buddy Holly's shifting from country to rock 'n' roll happened when he saw Elvis Presley. Holly's new approach led to a recording contract with Decca Records which erroneously spelled his last name as Holly, which he kept (via Britannica). Soon after his band, Buddy Holly and The Crickets formed.
The group was up-and-coming in the late 1950s when they recorded and released the hit single, "That'll Be the Day," in 1957, cementing their upward trajectory (via Texas Monthly). The band hit the road and toured all around the country, playing alongside a diverse set of acts including Chuck Berry and the Everly Brothers. "Things were going by so fast," said Crickets' drummer Jerry Al­lison, "that I don't think any of us had time to take stock."
Buddy Holly and the Crickets on The Ed Sullivan Show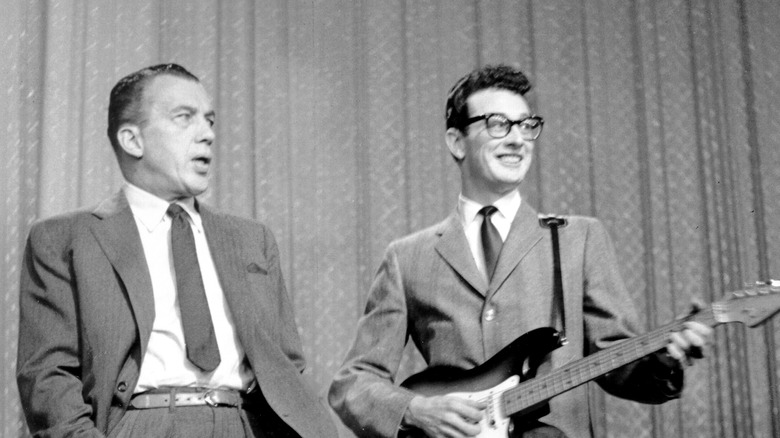 Michael Ochs Archives/Getty Images
Buddy Holly and the Crickets released an album in November 1957 and were invited to play on "The Ed Sullivan Show" on December 1 of that year. The band played "That'll Be the Day" and "Peggy Sue," according to WROR. The performance went so well that they were invited back just a few weeks later.
Buddy Holly wanted to play the band's hit "Oh Boy!" but Ed Sullivan was against the idea — it was too "rowdy" as The Vintage News described it. Holly told Sullivan that his friends back in his native Texas wanted to hear the song, and Sullivan gave in, but the elder statesman of television and the budding young rocker had terse words, with Sullivan even cutting one of the band's songs and allegedly turning down Holly's guitar microphone.
In turn, Buddy Holly and the Crickets unleashed a performance that seems tame by modern standards, but the likes of it were uncommon on television in the 1950s. Texas Monthly reported that Sullivan swallowed "his considerable pride" and invited the band back for the third time because the performance was so well received, but Holly refused, saying Sullivan couldn't afford them. 
Sadly, just over a year after that performance, Buddy Holly was killed in a plane crash on February 6, 1959 (via "The Ed Sullivan Show" website). He was 22 years old.