Barney Wasn't The Only Iconic Character Voiced By Bob West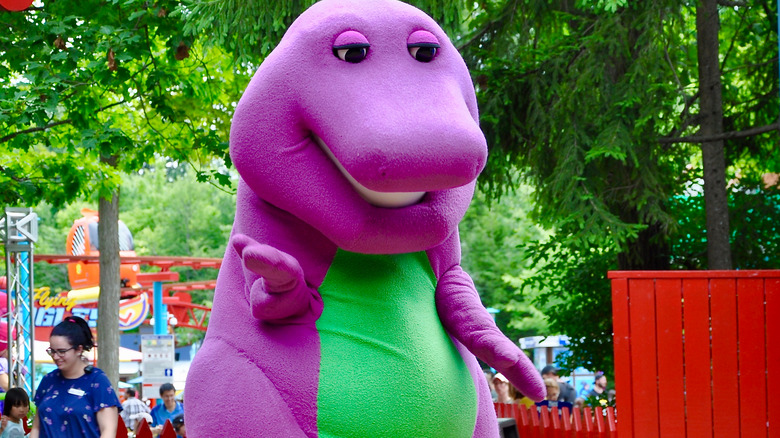 Lester Balajadia/Shutterstock
Airing from 1992 through 2010, the PBS children's show "Barney & Friends" was a hit amongst the preschool set, but, as the Dallas Observer notes, it was less well-liked by parents. Shortly after the show premiered, Barney-related merchandise and spin-offs were everywhere. The show also helped launch the careers of pop stars Selena Gomez and Demi Lovato, per Billboard. A Peacock two-part documentary "I Love You, You Hate Me" explores that anti-Barney phenomenon, including death threats leveled at Bob West, the voice actor who gave life to the character (via IMDb).
Regardless of where you stand, the big purple dinosaur, along with his high-pitched sing-song voice, is closely linked with an entire generation of children and their families. Whether Barney may bring back fond memories for you, or if you just had children in the Barney era, West's voice may also seem familiar for another reason, one entirely beyond his work on the PBS show. As the official Bob West website explains, while West famously gave Barney his voice (actor David Joyner was in the suit), he's also associated with two other well-known children's characters. They just weren't on TV.
Bob West and the role of Barney the Dinosaur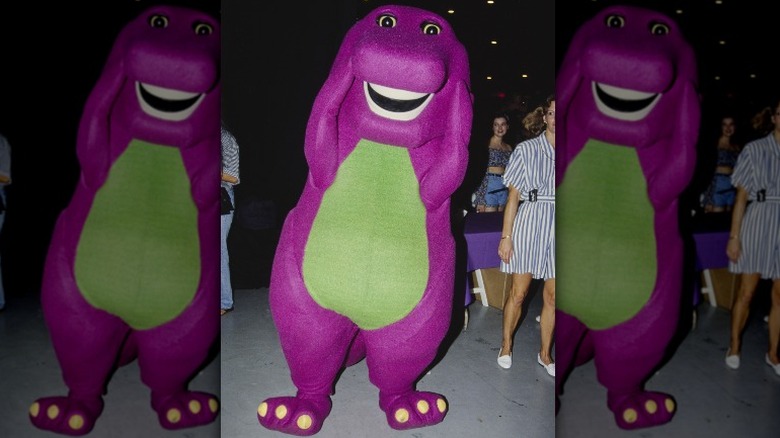 Michael Ochs Archives/Getty Images
Per Bob West's official website, West auditioned for the part of Barney in 1988, and, to this date, it's the voice actor's most well-known role. Shortly after the show was picked up by PBS, "Barney & Friends"  became a ratings juggernaut, spawning spin-offs like audiobooks, live appearances, a radio show, and tons of other merchandise. Voiced by West, the big purple dinosaur would also perform in a live show at Radio City Music Hall. During its run, "Barney & Friends" would collect various honors, including 14 Daytime Emmy nominations, winning once in 2001 (via IMDb).
Little did Bob West know at the time he was cast as Barney that such vehement blowback would accompany the children's dinosaur role. In the trailer for the Peacock docuseries "I Love You, You Hate Me," West said of the Barney backlash that it had involved threats at the time, that "were violent and explicit, death and dismemberment of my family," adding, "They were gonna come and find me, and they were going to kill me."
West also voiced two Chuck E. Cheese characters
Next to Barney the Dinosaur, Bob West's other best-known roles are perhaps Pasqually and Jasper (pictured), two animatronic characters from the Chuck E. Cheese chain. Per his official website, West voiced the pizza chef Pasqually and the cowboy dog Jasper "T" Jowls for a decade. The Chuck E. Cheese franchise was a chain of arcades and pizza restaurants that were a favorite of children throughout the '90s and early 2000s. There were games, prizes, and animatronic characters, among other attractions, as well as pizza, according to Insider.
Much like Barney, the Chuck E. Cheese pizza experience divided some parents, though it was without a doubt entertaining for children (via Moms.com). Some Chuck E. Cheese locations even still exist today. Footage of Bob West performing as Jasper and Pasqually and remembering his time with the children's pizzeria franchise is available to watch on YouTube. As of 2019, West began to appear at conventions for nostalgic fans of both Barney and the Chuck E. Cheese characters Jasper and Pasqually.