The Tragic 2013 Murder Of Teacher Colleen Ritzer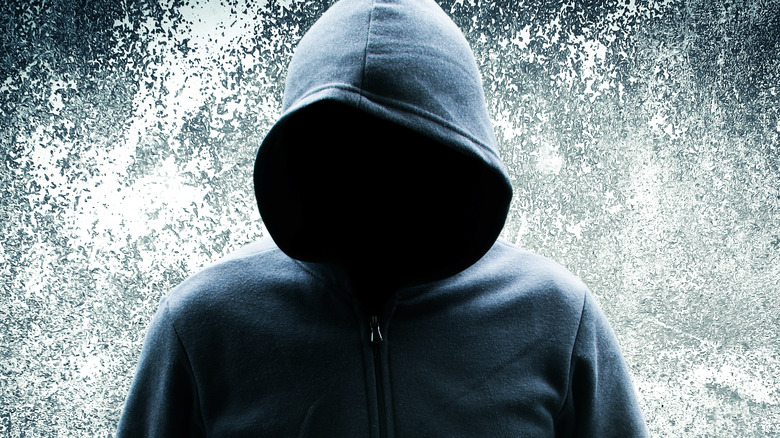 Joeprachatree/Shutterstock
In 2013, Colleen Ritzer was working as an algebra teacher at Danvers High School in Massachusetts (via CNN). The Colleen E. Ritzer Memorial Fund writes that teaching was a lifelong dream for the 24-year-old. She knew that she was meant to help others, and Ritzer saw education as her means to do so. In 2011, she graduated from Assumption College. Ritzer was also working on getting her master's degree from Salem State University. Her friend, Charlotte Dzerkacz, told CNN, "She was energetic, she was compassionate." She added, "You couldn't ask for anything more from a teacher or a friend."
It's these details that make Ritzer's senseless death even more gut-wrenching. On October 22, 2013, WBUR reports that 14-year-old student Philip Chism stayed after school at Ritzer's request. According to NBC News, Chism was new to the school; he had moved to Massachusetts from Tennessee due to his parent's divorce. At one point, another student who was in the classroom with Ritzer and Chism noted that he became "visibly upset" when she brought up the topic of Tennessee (per CNN). Although Ritzer changed the topic, Chism was clearly triggered. When Ritzer left to go to the bathroom, Chism followed her.
Colleen Ritzer was killed in a school bathroom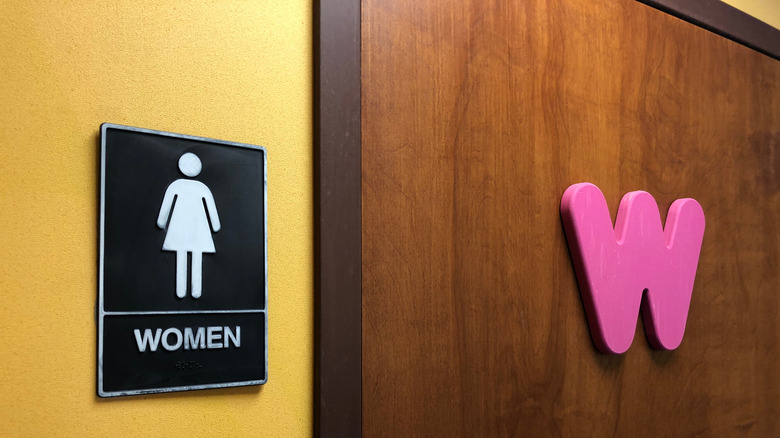 Thanatos Media/Shutterstock
According to WBUR, surveillance video shows that Philip Chism put on gloves and a hood before entering the bathroom that Colleen Ritzer was occupying. Once inside, he proceeded to sexually assault and murder her. At one point, CNN states that a girl walked into the bathroom. However, she believed that she had witnessed someone changing and left. Chism is then seen on surveillance video wheeling in a recycling bin into the bathroom. Per MassLive, he used the recycling bin to transport and dump Ritzer's body in a wooded area behind the school. When Chism failed to return home, his mother reported him missing.
NBC News reports that Ritzer's parents did the same. The police eventually found Chism walking on a highway with a backpack (via WBUR). CNN writes that a bloody boxcutter, as well as Ritzer's credit cards, driver's license, and underwear, were found inside. Chism told the police that he had taken the items from Ritzer's car. However, he did admit that the blood on the box cutter came from "the girl." Soon after, Ritzer's body was discovered. NBC News explains that Ritzer's body was "sexually staged." Chism had slit her throat and stabbed her numerous times. In addition, he had strangled her and sexually assaulted her with a tree branch. Next to her was a written note that read, "I hate you all."
If you or anyone you know has been a victim of sexual assault, help is available. Visit the Rape, Abuse & Incest National Network website or contact RAINN's National Helpline at 1-800-656-HOPE (4673).
The teenage murderer was charged as an adult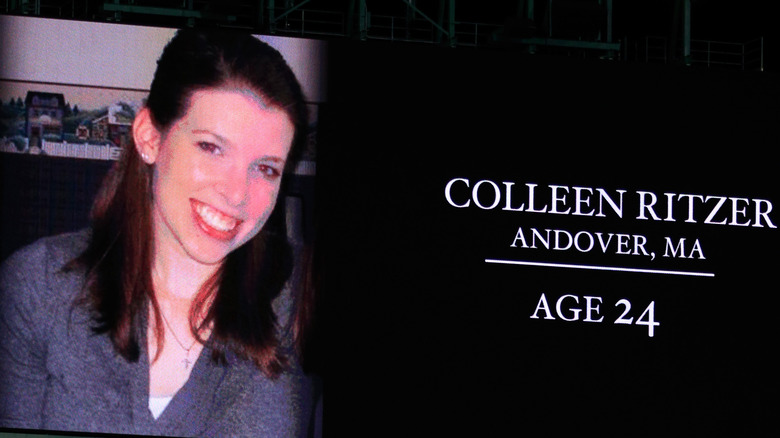 Jamie Squire/Getty Images
Per CNN, 14-year-old Philip Chism was subsequently charged with murder, aggravated rape, and armed robbery. NBC News states that he was charged as a juvenile for the latter offenses. However, it was decided that Chism would be tried as an adult for murder. There was no question he had committed these crimes — surveillance video proved that Ritzer and Chism both went into the bathroom, but only one person came out alive. Shortly after Chism's arrest, his mother, Diana Chism, released a statement that said (per CNN) her "heart is broken for the Ritzer family and the loss of their daughter and sister Colleen Ritzer."
Despite claims that Chism was mentally ill and therefore not at fault for the crimes, WBUR reports that in December 2015, he was convicted of Ritzer's rape and murder. With this, Ritzer's father, Thomas Ritzer, stated, "This guilty verdict, while the beginning of justice for Colleen, is certainly no cause for celebration as there can never be true justice for the crime committed." CBS News adds that Chism was later sentenced to at least 40 years in prison. Chism, who was 17 when he was sentenced, will be eligible for parole when he's 54 years old (via The Salem News).
Patch writes that in 2016, Ritzer's parents sued DiNisco Design. WCVB explains that DiNisco created the security system for Danvers High School. Ultimately, Ritzer's family believes that they are partly to blame for her death as no one was monitoring the security system at the time of her murder (per MassLive). In August 2022, the two parties came to an agreement.