Blondie Only Canceled One Concert In Their 50-Year Career. Here's Why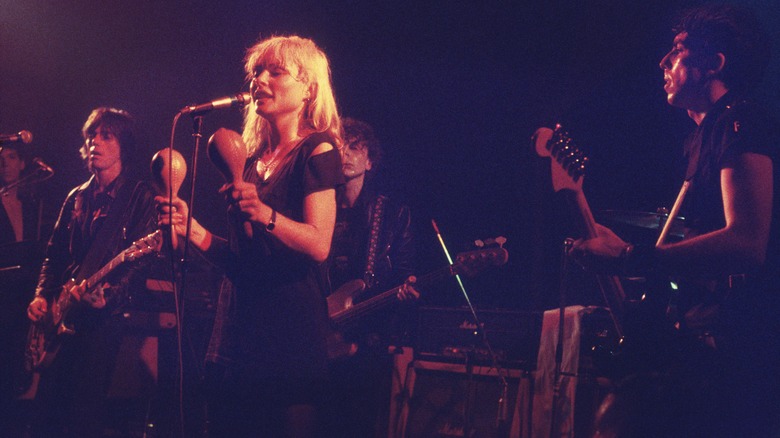 Gie Knaeps/Getty Images
The crowd of 1,200 fans waited impatiently for more than an hour inside Her Majesty's Theatre in Brisbane for Blondie, the New York City band that had recently become a hit in Australia. Backstage, Blondie's road manager Ray Maguire, worried about how the crowd would react when they made the announcement and asked for extra police to come to the venue just in case, according to the Telegraph. It was a smart move. When the audience heard the news, they loudly booed and shouted. Then all hell broke loose.
The band had been playing New York City clubs like CBGBs and had two albums under their belt, per Britannica. In the winter of 1977, Blondie was still relatively unknown in their home country, but had made inroads internationally, especially in Australia and Japan, according to the St. Louis Post Dispatch. The band had a hit in Australia with "In the Flesh," a B-side single from their self-titled first album, per the newspaper. They took advantage of this success with an international tour in 1977 and into 1978.
Did Debbie Harry Have an Appetite for Fresh Fruit?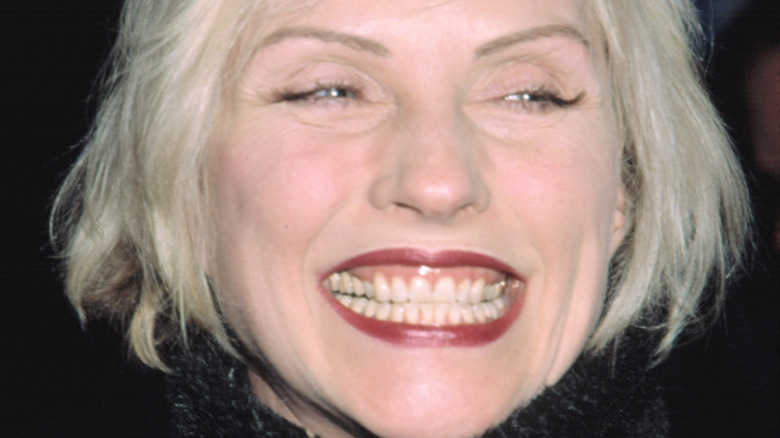 Everett Collection/Shutterstock
Leading up to the scheduled gig in Brisbane that night in December 1977, Debbie Harry suffered from an upset stomach that lasted for several days, according to the Telegraph. She went back to their motel, and a doctor came to examine her. They had to cancel the show that night and rescheduled. "The only Blondie gig that was canceled by the band. Debbie got sick. Mayhem ensued. Brisbane Australia, Dec 8, 1977," Blondie's cofounder and guitarist Chris Stein Tweeted in May 2021. "We made it up 10 days later."
Ray Maguire, the road manager, believed the most likely culprit for Debbie Harry's stomach ailment was fresh fruit. "In New York, we don't see much fruit, but out here we've been going mad on it," he told the Telegraph. "I think that Deborah just had a few too many cherries over the last few days." The Australian music journalist Clinton Walker alleged it was not cherries, but his country's particularly potent heroin that sickened Harry, per Clinton Walker. The crowd waiting to hear the band probably didn't care about why the show was canceled. They were too busy trashing the place.
When Blondie Cancelled, A Riot Ensued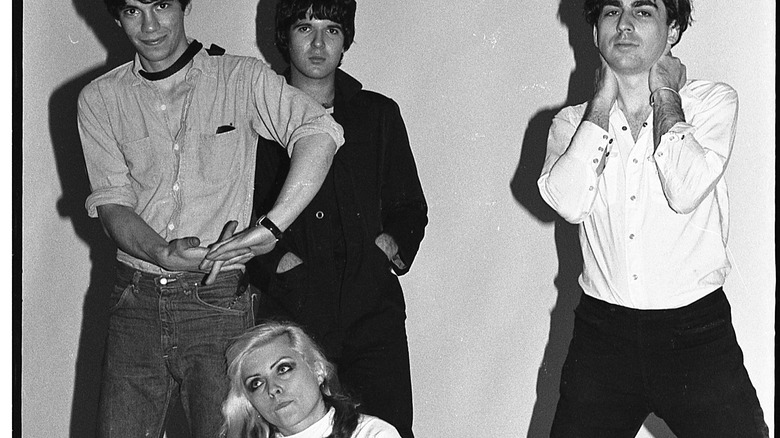 Linda D. Robbins/Getty Images
On the night of the Brisbane show, just after the cancelation announcement, the band's drummer Clem Burke came out to personally apologize to their fans and was pelted by cans and bottles, according to Clinton Walker, who was there that night, and whose friends stormed the stage, according to his website. They fought with members of Blondie's road crew, per the Telegraph. Downstage, another group of disgruntled fans flicked cigarettes at the band's amps, nearly setting them on fire.
While it was a pretty lackluster excuse for a riot, it played well in the press. "I don't know if it was a full-on, UK-style riot," Chris Stein told the Music in 2012. "I think it was more of a smaller altercation, but we still made some headlines there." Punk, often confused by the newspapers at the time with New Wave, already had a reputation for disreputable behavior and Blondie, as one of the first New York City bands tied to these scenes that had emerged from CBGBs, garnered plenty of attention. By the end of the decade, Blondie would be pop superstars.