The Fastest Pumpkin Carver Set A Mind-Blowing Record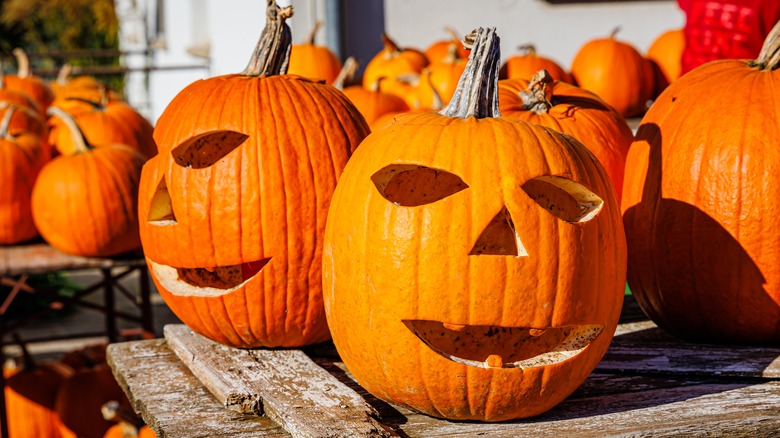 nnattalli/Shutterstock
The humble pumpkin really is quite a wonder. They're well known for their bright colors, their nutritional value –- per Healthline, they're particularly rich in Vitamin A, at a little over twice the recommended daily value -– and their versatility as an ingredient. The pumpkin, the outlet goes on, is a fruit, as it contains seeds (which are also very healthy to eat), and is grown in a variety of sizes and shades.
They're great for show-growers, as they can reach a remarkable size. Britannica states that they have been known to grow as heavy as 2,000 pounds (907 kg). These would, of course, be record-breakers that would be proudly displayed, and that's another of the most iconic qualities of the fruit: it's an excellent decoration.
For so many around the world, Halloween celebrations aren't complete without a meticulously-carved decorative Jack O' Lantern (or lots of them). It can be a difficult and messy practice, but accomplished pumpkin carvers can make incredible works of art. The world's fastest pumpkin carver achieved an astonishing record, too.
The wide world of pumpkin carving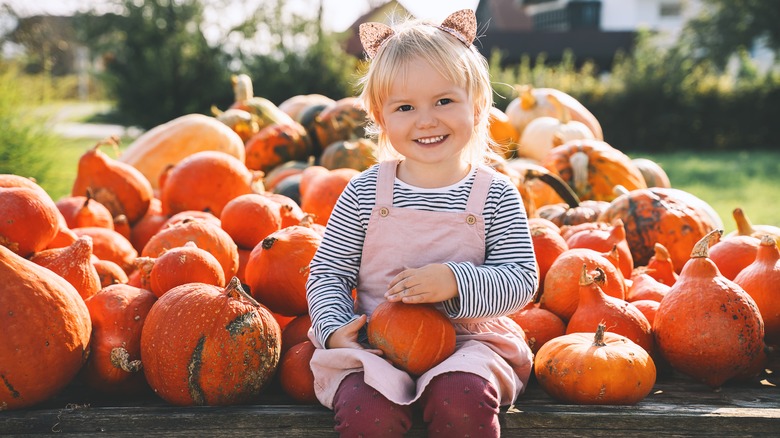 Natalia Deriabina/Shutterstock
Now, not all pumpkin carvers are equally adept at the craft. For some, A crudely-hewn pair of eyes and a wide, simple mouth is about the extent of the artistry (a fang or two perhaps added if the pumpkin artist is feeling adventurous). These simpler creations have their own charm, though, and there's no need for pickiness or competitiveness on that score. It's all about being part of a fun tradition, and perfection needn't come into that.
By the same token, there's also ample scope to really take your time and get creative, if you've the talent for the task. In 2014, The Museum of Modern Art celebrated four years of its time-limited Fall display of incredible pumpkins. For the exhibit, among many other wonderful works, Vincent Van Gogh's legendary "Starry Night" was carved into the side of one very cultured pumpkin.
Needless to say, though, this isn't the kind of piece to rush. As any artist knows, regardless of medium, the more time you have, the more elaborate, detailed, and all-around stunning a piece can be. It's not a work to rush, it's true, but speed-carving is an art in itself. According to Guinness World Records, the fastest recorded time to carve a single pumpkin is 16.47 seconds, which was accomplished by Stephen Clarke in October 2013.
Stephen Clarke, pumpkin carving superstar
Donald Kravitz/Getty Images
Guinness World Records explains that this speedy record was achieved on New York's PIX11 Morning News that Halloween (very appropriate). As there's a lot of potential ambiguity in the instruction to "carve a pumpkin," the outlet set clear parameters for the record attempt: a pumpkin was considered finished only when it had eyes, a mouth, ears, and a nose.
Achieving all of that in 16.47 seconds is impressive indeed. The Jack O' Lantern surely didn't have the neatest and most perfectly-rounded eyes and so on, but it didn't need to. It would surely have been messy work, and not only because of the characteristic gooey insides of your typical pumpkin.
This, it seems, wasn't the end of Clarke's record-breaking. According to Craft Beer, he attended the Fall Party held by Stable Craft Brewing in October 2020. There, per the outlet, he carved a single pumpkin in a truly mind-blowing 9.4 seconds. A teacher in Philadelphia, Clarke reportedly told the outlet, "I didn't grow up wanting to be a pumpkin carver, but it's something I've always loved and was good at, so I tell my students to make the most of the things you're good at."
Back with Guinness World Records, meanwhile, Trevor Hunt achieved the most pumpkins carved in one hour in October 2014. Hunt carved through 109 pumpkins in this time on "The Meredith Vieria Show."