Meet Duane Hansen: The Nebraska Man Who Set Sail In A Pumpkin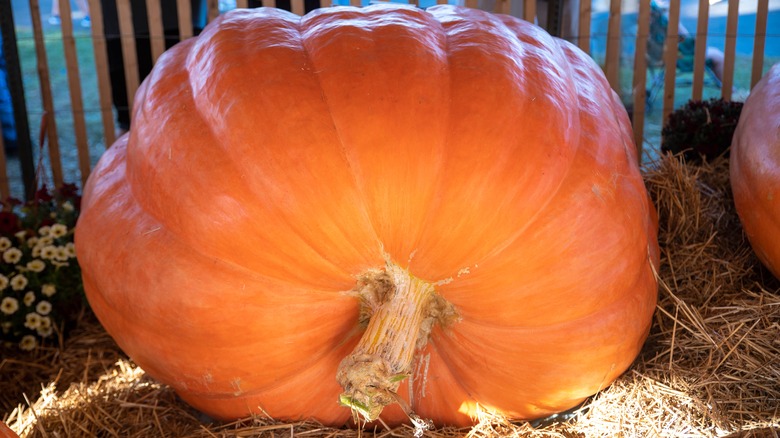 Mary Salen/Shutterstock
Autumn may start sometime in September, but to many, the season is a state of mind. Cue the warm lattes and knit sweaters, even if the summer heat hasn't quite left yet. Fall foods are another staple that make their return to tables each year, one of which is the pumpkin. However, these orange masses of autumnal goodness aren't just for eating; they're for, well, just about everything, it seems.
It's more than apparent that the pumpkin is the ruler of the fall season partly because of its aesthetic qualities that perfectly complement nature's changing color scheme and partly because of its versatility. While the leaves change and the weather chills, pumpkins take their place as pies, Halloween decor, and whatever else creative minds may conjure up.
Duane Hansen is one of the creative minds that took the pumpkin life to the next level when he made one into a one-passenger vessel worthy of sailing along the Missouri River. While this river-worthy pumpkin may not blend in with the other boats floating on the water, Hansen certainly proved that he and his sailing squash could keep up with the rest.
Hansen got an early start from Nebraska's Riverview Marina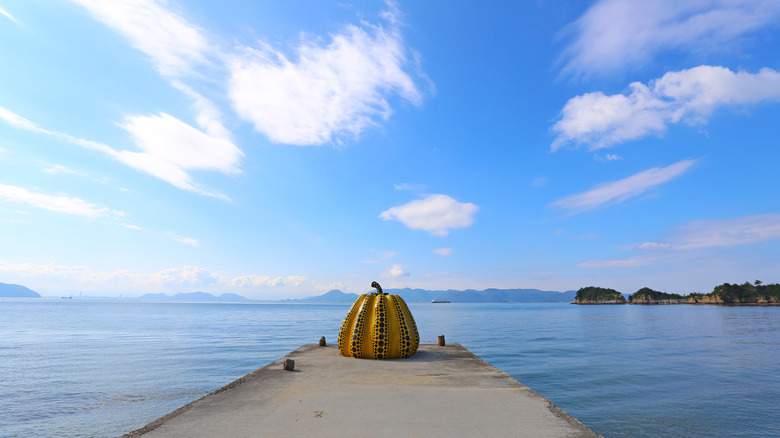 nuttstock/Shutterstock
On August 27, Syracuse, Nebraska, resident Duane Hansen embarked on a journey like no other when he set out from the Bellevue Marina in a massive hollowed-out Atlantic pumpkin. Hansen grows large pumpkins and other vegetables as a hobby and grew the colossal pumpkin himself, which, according to The Guardian, weighed in at a whopping 846 pounds.
A City of Bellevue Nebraska Facebook post recalls Hansen paying a visit to the mayor's office where he asked if anyone there would serve as a witness to the big float. His goal was to be recognized by the Guinness Book of World Records for his trip downriver in the mega-gourd. Hansen set sail around 7:30 in the morning and reached his final destination at the Riverview Marina in Nebraska City at around 6:30 in the evening. He paddled and floated a total of 38 miles.
As with any good watercraft, the pumpkin has a name, Berta, which according to the Omaha World-Herald, Hansen chose after a character in the once-popular sitcom "Two and a Half Men." While sailing, he was sure to steer clear of other boats on the river not to get caught in their wakes, but 38 miles in a pumpkin — even a giant pumpkin — isn't easy, and Hansen had to sit on a foam cooler with no breaks for the entire trip.
Hansen and his pumpkin Berta achieved the unthinkable
Duane Hansen and Berta, the formidable squash, left the dock the day after Hansen turned 60 years old, setting out to break the record for the longest journey in a pumpkin boat, according to the Omaha World-Herald. The previous record holder, according to the Guinness World Records website, was Rick Swenson, who sailed 25.5 miles on October 15, 2016. Hansen smashed the record like a pumpkin by more than 10 miles on his trek. To prove that he broke the record, Hansen had to gather witnesses and documentation in the form of landmark photos and video footage every hour.
As a long-time grower of giant pumpkins, Hansen became inspired to achieve the feat when attending a pumpkin-growing seminar in Portland, Oregon, where he met a woman who had once broken the record herself. While he did reach his goal, the journey was harsh at times, and even heavy rain made an appearance, soaking Hansen, who was wearing shorts and a tank top. According to a quote in The Guardian, Hansen has retired from pumpkin sailing. "I went 38 miles down the river without standing up in that pumpkin, and my knees still hurt. I probably won't try this again. If somebody breaks this record, I will bow down to them because they are tough." While it doesn't seem likely that someone will break this record soon, for now, Duane Hanson — Pumpkin Captain — and Berta the giant gourd have earned themselves a spot as autumn icons.