Here's Why Dusty Springfield Got Deported From South Africa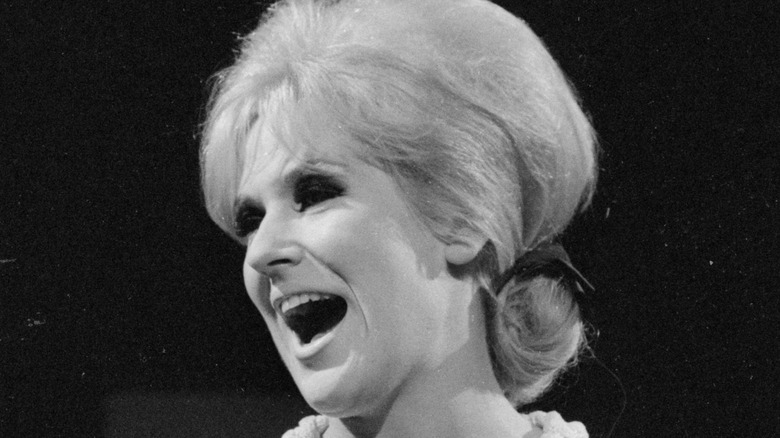 Chris Ware/Getty Images
British soul singer Dusty Springfield is remembered today for her stunning honeyish vocals and the immaculate sartorial sophistication she oozed in public that put her name among those of the most iconic divas of her generation. Her look — like her vocals — exuded effortlessness. However, Springfield's life was more chaotic than her onstage persona might suggest. 
As noted by Sharon Davis' biography "Dusty: An Intimate Portrait of Dusty Springfield," in the early 1960s Springfield was attempting to cement her place as a purveyor of Motown-inspired soul who was making the American sound better known in her native U.K., and, though she was well supported by a circle of other ambitious musicians such as her friend Martha Reeves, she developed addictions to both drugs and alcohol that occasionally affected her actions offstage – and even her ability to perform, per Daily Mail.
Like many divas, she developed a reputation for being difficult to work with due to her addictions and her behavior. However, not all of Springfield's stubbornness was purely negative: as an ultimately failed tour of South Africa in 1964 revealed, the singer was more than willing to put her career on the line to stand up for what she believed in.
A controversial clause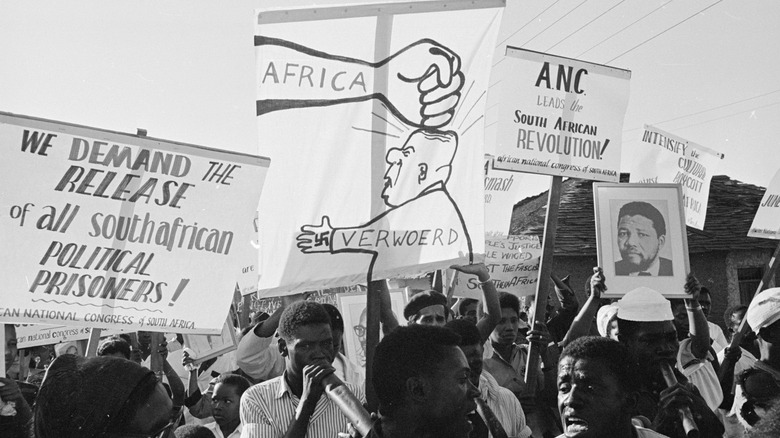 Express/Getty Images
As told by the Dusty Springfield biographer Lucy O'Brien, in 1964 Dusty Springfield and her band The Echoes were attempting to build on their early success with regular recording sessions interspersed by grueling live tours. And in the middle of all this came a crisis that no one was expecting.
As O'Brien explains, though many musicians would later make a public stand against apartheid — a policy of systematic societal segregation of white and Black citizens that was in place in South Africa and Namibia for much of the 20th century — in the early '60s artists typically toured South Africa without questioning the policy, which would involve performing two segregated concerts successively at each stop on tour. Springfield, however, took exception to this state of affairs, and, seemingly without any of the South African promoters noticing, she snuck a clause into her contract which stated that she refused to perform to segregated audiences.
Douggie Reece, who was the bassist in The Echoes during that fateful tour, later told the BBC that the band was somewhat naive about the political landscape outside of their native U.K., including places such as South Africa. Springfield's musicians had little foreknowledge that their tour of South Africa might be impacted by the political realities hanging over the audiences to whom they performed. Nevertheless, early performances performed to non-segregated audiences seemed to be a success from the stage, with the shows concluding harmoniously.
Hitting the dusty trail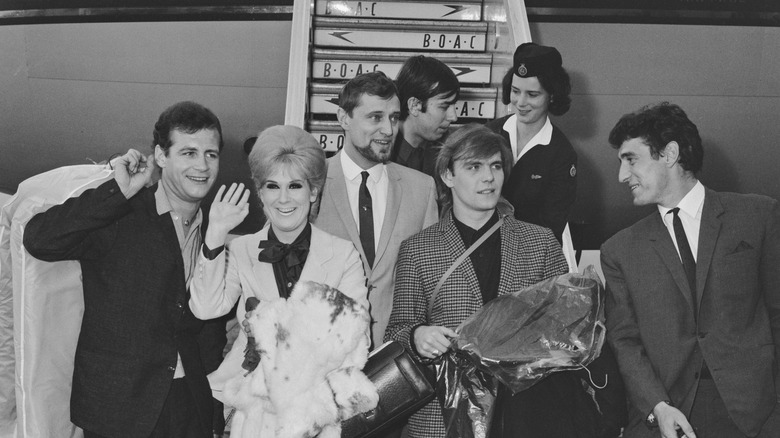 Evening Standard/Getty Images
Soon, however, the South African authorities began to take a dim view of the controversial clause in Dusty Springfield's contract. According to "Dusty: an Intimate Portrait of Dusty Springfield" the singer and her band along with their entourage were given notice to leave the country within 24 hours, escorted to the airport, and effectively deported from the country back to the U.K. — denying them the chance to complete their lucrative tour of South Africa. But though the soul legend and her group undoubtedly took a financial hit by being forced to cancel their remaining South African shows, what awaited her back in the U.K. rewarded her for making her stand.
Springfield received what the BBC described as a "hero's welcome" on her return to Britain, with acclaim heaped upon her by a number of British politicians for what was characterized as a "political" stand. "I don't know the first thing about politics," the 25-year-old Springfield told a journalist in the aftermath. "All I know is ... anybody if they want to buy a ticket [to the show] should be allowed to do so."
While some critics have suggested that Springfield and her management may have cynically orchestrated the furor to attract some ever-valuable PR to Springfield's career, the incident authenticated Springfield as a thoughtful and honest musician who understood the racial disparities of the 1960s like few white artists of the day.