The Scary Accident That Caused Elvira's Scars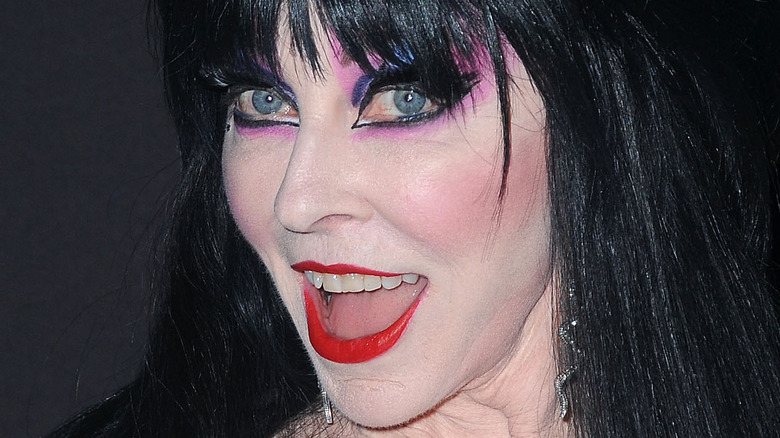 Barry King/Getty Images
"You can have slasher movies with the women getting offed ... but do not show cleavage, because that's not a good thing!" as Halloween heartthrob Cassandra Peterson, otherwise known as Elvira, once shared. Peterson's gothic, seductive charisma and sexuality became a hot topic for concerned parents and sensitive TV viewers back when she was still hosting "Elvira's Halloween Special." According to Yahoo! News, upon her grand entrance into local TV stardom at the age of 30, Peterson's infernal allure and lustful aesthetic was something fresh and exciting for horror fans and enthusiasts of all things spooky, though there was significant pushback from those who thought she was showing a little too much skin and might pose a moral threat to young, impressionable spectators. Hers is a tale as old as time, but the actress managed to transcend her critics over the years and elevated her unapologetic confidence against all odds. 
It's an admirable thing to be comfortable with one's body, though there was a time in her life when Cassandra Peterson felt anything but contented in her own radiant, ivory skin. Yahoo! News reports that for the better part of her existence before entering show business, the future Elvira would likely be caught dead before revealing too much of her body to anyone. Apparently, the mistress of all things macabre suffered a terrible accident as a child that left her with severe scarring that only went away after extensive plastic surgery. 
Elvira's childhood accident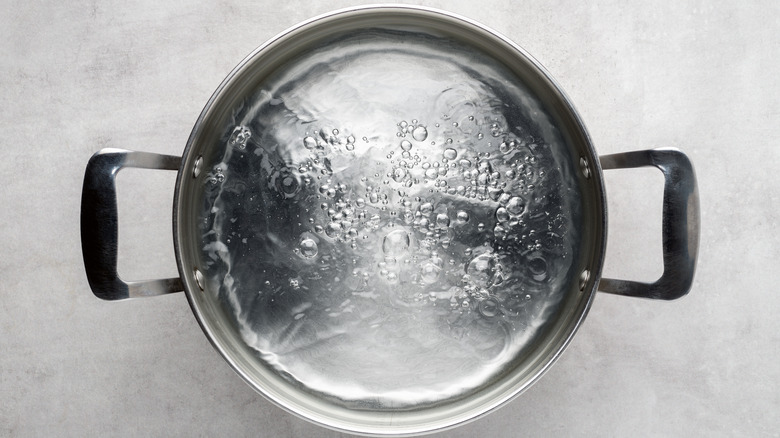 AlexZaitsev/Shutterstock
"I don't know what I was doing in the house alone, but I climbed up on a chair and pulled a big, gigantic kettle of boiling water on top of myself that was boiling eggs," Peterson explained. "And my mom grabbed me and ran me to the nearest hospital, which was 25 miles away, and everywhere she grabbed me, the skin came off in her hands." Peterson was only 18 months old when the horrific misfortune befell her, and the injuries she sustained reportedly required extensive surgery and multiple skin grafts to repair. In fact, the water's effect on her skin was so bad, it nearly took her life, but multiple penicillin shots managed to suppress the rampant spread of infection, as Yahoo! News reports. 
Peterson admitted to being cruelly bullied as a child because of her extensive scarring, and for years after the fact, she went to great lengths to keep the marks hidden from the public eye. However, once her career in television took off, Peterson reportedly summoned a sense of confidence and resilience despite her scarring, and even attributes the inspiration for Elvira's character to the horrible accident she endured as a child (via Mental Floss). 
How her scars inspired the creation of Elvira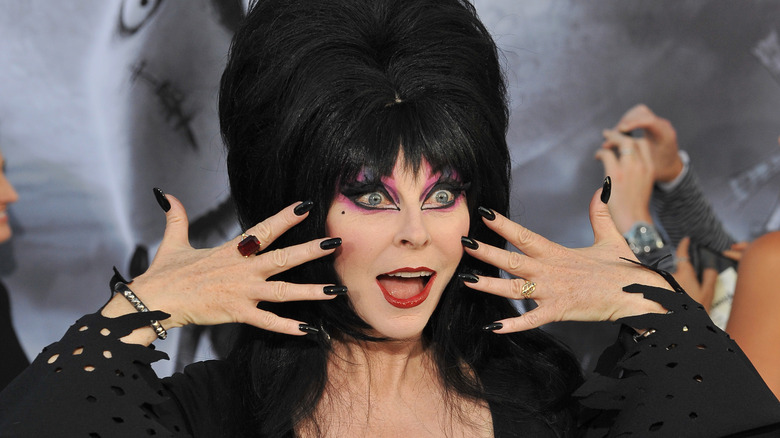 Featureflash Photo Agency/Shutterstock
In a 2021 interview with Shondaland, Cassandra Peterson revealed that the character of Elvira likely never would have come to fruition had she not suffered that terrible accident that left her with such extensive and severe scarring. "I totally think that accident paved the way for me to become Elvira," she explained. "I literally adopted another persona who had all the qualities that I wanted but couldn't get on my own." By manifesting her trauma and the recollection of that awful incident into something beautiful, Peterson conceived the essence of one of television's most notable personalities and built a career out of it. 
A long line of surgeries aimed at removing the scars have left virtually no trace of them on Peterson's skin, though for a time, she had to resort to more simple methods of keeping them hidden when the cameras started rolling. According to Yahoo! News, she'd often drape her long hair over those parts of her neck and shoulders that sported the most scarring.