Why Mystery Still Surrounds The Death Of Michael Landon's Grandson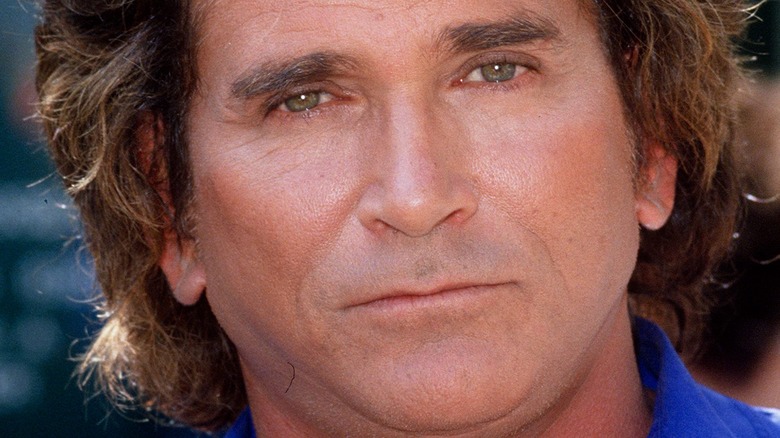 Kypros/Getty Images
Born as Eugene Maurice Orowitz, Michael Landon is perhaps best remembered for portraying Charles Ingalls on "Little House on the Prairie" (via Biography). His other memorable works include the TV series "Bonanza" and the film "I Was a Teenage Werewolf" (per INSP). Britannica reports that besides acting, Landon, a New York native, was also a writer and director. Tragically, People states, he was diagnosed with pancreatic cancer in 1991. Shortly after, Landon died from the disease, leaving nine children behind. According to Rare, the beloved actor was married three times. His second marriage, to Marjorie Lynn Noe in 1963, produced five children, including daughter Shawna Landon.
Per Page Six, Shawna is a Los Angeles-based real estate agent. The Daily Mail adds that she is also the mother of three children: Sophia, Olivia, and Dylan Lupia. In August 2022, Shawna announced on Instagram that her 24-year-old son Dylan had died after being hit by a bus. She wrote, "Dylan was such a beautiful soul who had a family that loved him unconditionally. Thank you Dylan for teaching me the meaning of never giving up hope and unconditional love." Now, CBS News writes, Shawna is questioning the events that unfolded in regard to her son's death. She explained, "I lost a child, and I don't think it's natural, ever, to lose a child." Shawna added, "You're supposed to go before them."
The bus driver never stopped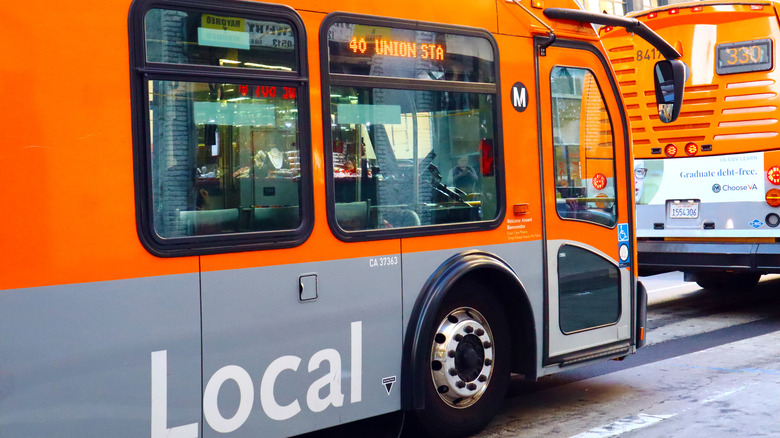 Walter Cicchetti/Shutterstock
According to ABC7, Lupia was walking in a bike lane in Rancho Palos Verdes, California when he was hit by a Los Angeles County Metro bus on August 17. It's unknown why Lupia, who lived in Orange County, was doing in the area (via The Daily Mail). However, Shawna thinks she knows why her son was there that fateful day. She told Page Six, "My mom lived near there. She passed in 2015, and they were extremely close." She added, "So I think he was up there probably to go and just reminisce." That said, it's believed that Lupia was walking towards the bus when he was fatally struck.
CBS News explains that this occurred around 7:30 p.m. However, the bus did not stop when it hit Lupia. Shawna revealed to Page Six, "The bus driver claimed that he thought the bus had been vandalized and he didn't see anyone." The publication notes that even if the driver was unaware that they had hit someone, the protocol for being vandalized is to stop the bus. Despite this, the bus continued its route without ever calling for help. Moreover, no one found Lupia on the side of the road for some time, and he ultimately died from "massive head injuries" (per the Daily Mail). Even worse, Shawna was not informed of his death until the next day.
Shawna Landon doesn't think the story makes sense
Page Six reports that Shawna felt that something was amiss when she visited the site where Lupia died. She doesn't understand how the bus driver did not see her son. Shawna described Lupia as "6-1 and 170 pounds." She explained her belief that he would have been completely visible to the bus driver. How then, did they not know they hit Lupia? Shawna told ABC7, "There's no possible way he couldn't see him coming, walking towards him, and to not pull over and stop or call 911 ... It's not humane. It's unfathomable." In addition, Shawna and her attorney, Robert Barta, note that there was likely a witness on the bus that has not yet come forward.
Beyond this, the Daily Mail states that Lupia's car and cell phone have not been found, only adding to the bizarre circumstances of his death. Per CBS News, Metro has given its condolences to Lupia's family. But of course, Shawna says that this simply is not enough; she wants answers. As for what she thinks would be the reaction of her father, Michael Landon, she told the Daily Mail, "He loved his family and was devoted to his kids. I know he would have been devastated that something like this happened to Dylan, and he'd want me to get to the bottom of it."
According to ABC7, Shawna has built a memorial for her son near the site of his death. She and her attorney are also asking anyone with information to come forward.