What Was Serial Killer Charles Cullen's Time In The Military Like?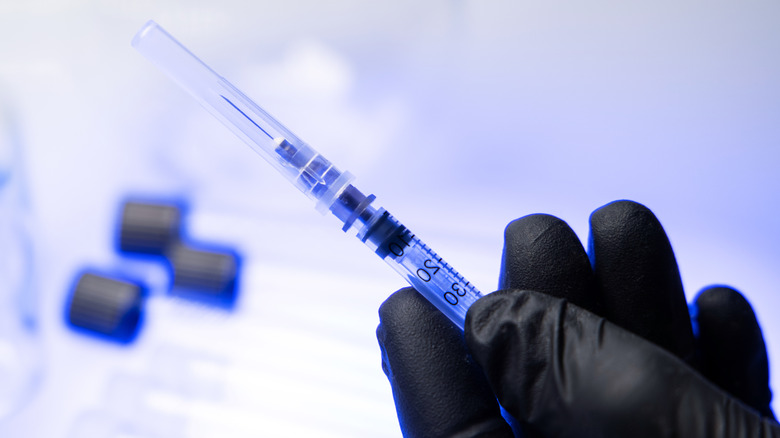 Boumen Japet/Shutterstock
In his long career as a nurse, Charles Cullen, played by actor Eddy Redmayne in the 2022 Netflix film "The Good Nurse," snuck into hospital rooms late at night to inject patients with lethal doses of medication. He most often used digoxin, a heart drug, based on My Central Jersey reporting. Arrested in 2003 after he killed 13 patients at a New Jersey hospital, Cullen pleaded guilty to murdering at least 29 patients, mostly in New Jersey and Pennsylvania, as Investigation Discovery explains.
After his arrest, Cullen was sentenced three years later to 11 consecutive life terms with no chance at parole for nearly four centuries, according to The New York Times. Cullen is now believed to be the most prolific serial killer in U.S. history, with clear mental health challenges in his past, including depression and alcoholism, as Investigation Discovery  notes. Evidence of the troubled mental health Cullen experienced in his life showed up in particular while he served in the military, as The Times elsewhere explained in 2004.
Cullen joined the military after his mother died
Based on further reporting by The New York Times, Cullen — described as quiet and smart as a boy, and the youngest of eight siblings — joined the Navy after his mother died his senior year. His father had died when Cullen was an infant, and with the death of his mother, Cullen was orphaned. Around that same time, Cullen dropped out of high school and joined the Navy, though he spoke openly of his intention to become a nurse as well as his desire to help people. Once in the Navy, though, Cullen's troubled mental health caught up with him.
Evidence of those mental health issues for Cullen came in the form of many unsuccessful suicide attempts in this period, leading to several reassignments. Additionally, Cullen did not react well to hazing from other sailors. That was especially after Cullen became a submariner, a process that includes psychological screenings, which Cullen passed. On how other sailors treated Cullen, John M. Darnielle, who served alongside the killer, told The Times, "In an environment devoid of many entertainments, these guys would make their own" and target Cullen.
If you or anyone you know is having suicidal thoughts, please call the National Suicide Prevention Lifeline​ by dialing 988 or by calling 1-800-273-TALK (8255)​.
Cullen dressed unusually while aboard a submarine
One of the most troubling incidents in Cullen's naval career came in the early 1980s, as The New York Times goes on to report. While as a crew member on the submarine Woodrow Wilson, with a payload of 16 Poseidon nuclear ballistic missiles, Cullen was found seated at the control panel for launching those missiles dressed not in his navy uniform but in surgical gear, stored on the submarine for an emergency. Cullen could not have fired the missiles alone, as The Times notes. 
Cullen's true intentions in that moment, though, could not be determined, nor is it clear why he dressed as he did, according to his supervisor, Petty Officer First Class Michael L. Leinen. Cullen's suicide attempts while enlisted led to his discharge from the service in 1984. Known as the "The Angel of Death," Cullen claimed his killings were merciful, though not all his victims had terminal illness nor were they all in pain, per My Central Jersey. According to New York Magazine, some estimate Cullen could have killed as many as 300 patients, but the true number of murders he committed may never be known.