This Is Where Edgar Allan Poe Is Buried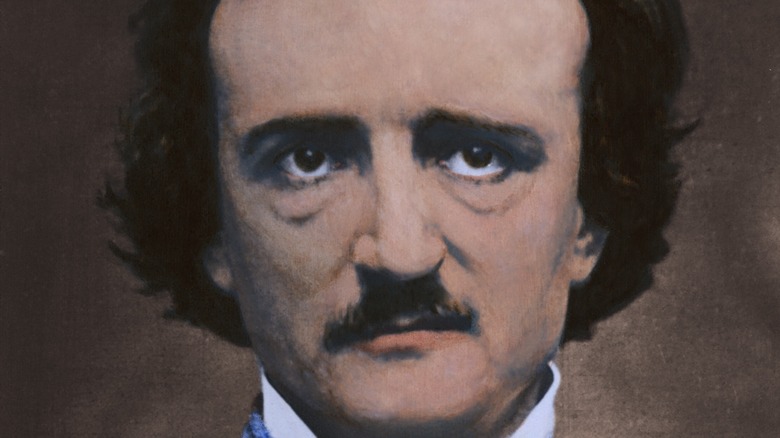 Everett Collection/Shutterstock
It was a raw, windy afternoon in Baltimore on October 8, 1849, when a small group of men in a single carriage followed a hearse down the cobbled streets carrying the body of Edgar Allan Poe to his final resting place. Poe, who had died under mysterious circumstances the day before, was finally at peace. For four days he lay in a hospital bed in and out of consciousness after he was found incoherent and wearing someone else's clothing outside a Baltimore tavern, according to Smithsonian.
In attendance at the graveside service were his cousin Neilson Poe; Zaccheus Collins Lee, Poe's college friend; Dr. Joseph Snodgrass, a physician and acquaintance of Poe; and Henry Herring, Poe's uncle by marriage, per "Edgar Allan Poe: A Critical Biography," posted by The Edgar Allan Poe Society of Baltimore. Herring had paid for a cheap unlined mahogany coffin and Poe's grave was to be a crude hole in the ground.
A brief ceremony and an unmarked grave 
Rev. W. T. D. Clemm, the minister of the Caroline Street Methodist Episcopal Church in Baltimore and cousin of Edgar Allan Poe's deceased wife, Virginia, gave a brief eulogy before two gravediggers lowered the casket and then unceremoniously began filling in Poe's grave, per "Exquisite Wickedness: Two Murders and the Making of Poe's 'The Tell-Tale Heart'." A passerby, J. Alden Weston, witnessed the funeral, which he called "cold-blooded and unchristianlike," lasted all of three minutes, and provoked in him "a sense of anger difficult to suppress," according to "The Poe Log," posted at The Edgar Allan Poe Society of Baltimore. He believed that had they waited until Poe's death had become common knowledge, the poet's many admirers would have come to the funeral.
They buried Poe at the Westminster Presbyterian Cemetery (now known as Westminster Hall and Burying Ground) at West Fayette and North Greene Streets in downtown Baltimore. His grave was close to that of his grandfather, General David Poe, but unlike that gravesite with its marble headstone, Poe had nothing to mark where his body lay, per "Poe's Memorial Grave," also via The Edgar Allan Poe Society of Baltimore. It would stay that way for more than two decades even as Poe's posthumous fame grew, like the weeds that soon covered his final resting place.
Poe finally gets a gravestone after 26 years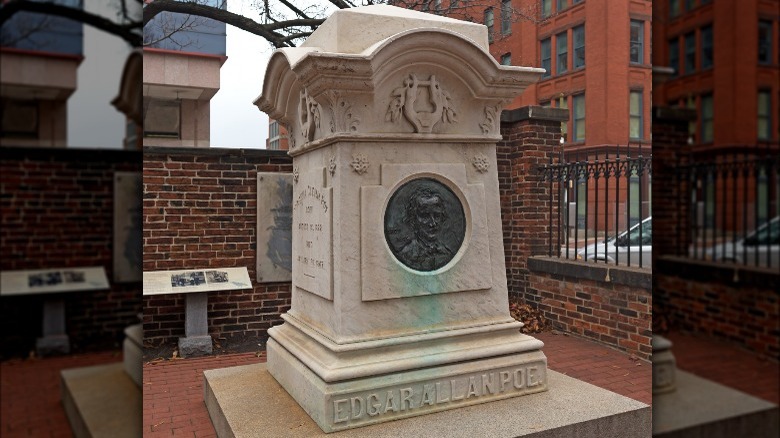 Andrei Medvedev/Shutterstock
Neilson Poe, Edgar Allan Poe's cousin, finally got around to purchasing a marble headstone for the grave in 1860, but, strangely, a runaway train jumped its track and smashed into the yard of the mason who was carving the headstone and destroyed it, per "Poe's Memorial Grave." Poe's cousin never had another one made. But Sara Sigourney Rice, a Baltimore school teacher who was a huge fan of the poet, took it upon herself to spearhead a fundraiser to have a memorial made for Poe, paid in part through pennies donated by local schoolchildren. That was erected in 1875, per the Edgar Allan Poe Society of Baltimore.
Poe finally got a headstone worthy of his greatness, but because it was so imposing — more than six feet tall and four feet wide — it meant moving his remains to the front of the cemetery, per "Poe's Memorial Grave." Poe's grave soon became a destination. For 60 years, from 1949 until 2009, a mysterious person or persons, known as the Poe Toaster, would leave three roses and a bottle of cognac on Poe's grave on the poet's birthday, according to Smithsonian.