The Truth About Edgar Allan Poe's Death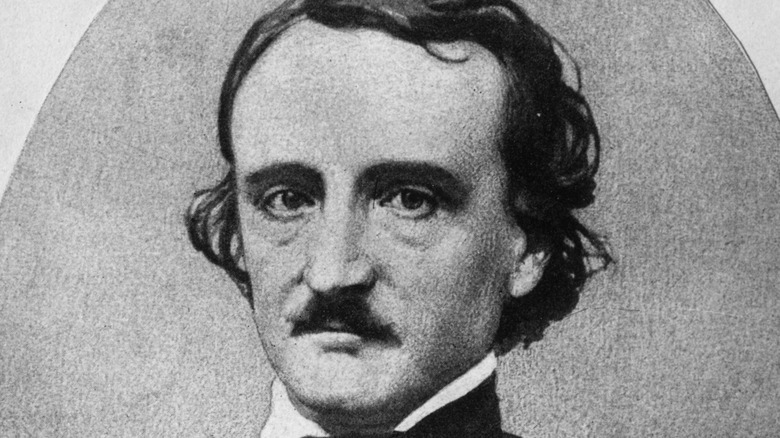 Rischgitz/Getty Images
From his birth until his death, Edgar Allan Poe's life was one full of mystery and misfortune. Born in 1809, Poe was orphaned by the age of three (via The Academy of American Poets). According to Mental Floss, he was adopted by a wealthy family in Richmond, Virginia shortly thereafter.
Poe's love for writing was apparent even at a young age. His adoptive father discouraged him in that pursuit, as writing made little to no money (per Biography). Nonetheless, Poe followed his dreams and eventually became the editor of the Southern Literary Messenger. Poe also fell in love with Virginia Clemm, his 13-year-old first cousin. They married in 1836 and for the next 10 years, he had some success as a poet, editor, and writer. It was during this time that Poe published some of his most well-known works, including "The Fall of the House of Usher," "The Tell-Tale Heart," and "The Raven."
In 1847, Virginia died at the age of 24 due to tuberculosis. Her death utterly devastated Poe, who went on to struggle both financially and physically. His depression and alcoholism — Poe had been coping with a drinking problem for years — only worsened.
Per Smithsonian Magazine, in 1849, Poe left Richmond and headed to Philadelphia by train for an editing job. For reasons unknown, he stopped in Baltimore, where he was later found delirious and lying in a gutter. Four days later, on October 7, Poe died at age 40.
Several theories surround Poe's death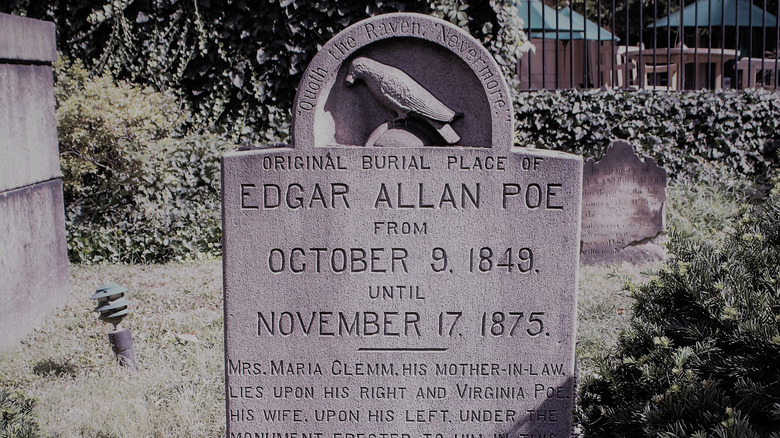 Joseph Skompski/Shutterstock
Officially, Poe's death is listed as brain congestion (via The Academy of American Poets). Regardless, it's unknown what happened to him between the time he left the train and was found in the Baltimore gutter. Per Biography, Poe disappeared for a week until he was discovered and taken to Washington College Hospital, where he would eventually die.
According to Smithsonian Magazine, there's a great deal of speculation as to what could have caused his injuries. Some believe he was beaten; others think he was a victim of cooping, a method of voter fraud that involved kidnapping a victim and forcing them to vote for a candidate. Poe was found on election day.
Moreover, some blame his alcoholism, although this is heavily debated due to Poe's sobriety for a period before his death. Perhaps it was the flu. Other theories include both carbon monoxide and heavy metal poisoning. Both of these, however, have been debunked. Then there's the possibility of murder, but this theory has gained little traction. Lastly, some believe Poe died due to rabies. His symptoms, including mania, fever, and reluctance to drink water, all match up with the diagnosis. 
Sadly, the truth of Poe's death will forever be unknown. There was no autopsy performed and all that's left is speculation. Nonetheless, Poe's literary work has defined him as the originator of horror and mystery fiction. He would never know of his fame or influence, as both arose following his untimely death.