John Wayne Gacy Held One Super Morbid Job Before His Killing Spree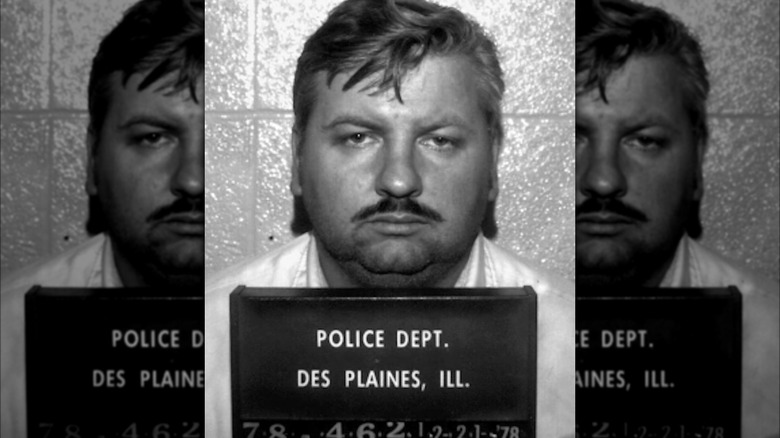 Des Plaines, Illinois Police Department
Over the past few years, the public eye has refocused itself on infamous serial killers like Ted Bundy and Jeffrey Dahmer. The recent release of Netflix's "Monster: The Jeffrey Dahmer Story" helped a new generation become familiarized with the devastating saga that left 17 innocent young men dead in its wake (via Biography). Now, as the world of true crime becomes more and more popular, one can't help but wonder when people will start asking questions about John Wayne Gacy. 
If you've already seen "Monster," you might recall Gacy's brief little cameo near the end of the series. However, the segment dedicated to the late killer only captured a fragment of his series of heinous crimes. According to Britannica, Gacy murdered no less than 33 young men between 1972 and 1978. Before he was put to death on May 10, 1994, experts and investigators extracted a myriad of disturbing details chronicling the notorious life of the aptly named "Killer Clown." Despite the conviction, Gacy never fully came to terms with his exploits and asserted his innocence all the way up until his final moments alive. "The idea that I'm a homosexual thrill killer, that I stroll down the streets and stalk young boys and slaughter them ... Hell, if you could see my schedule, my work schedule, you knew damn well that I was never out there," he once said (via Thought Catalog).
Who was John Wayne Gacy?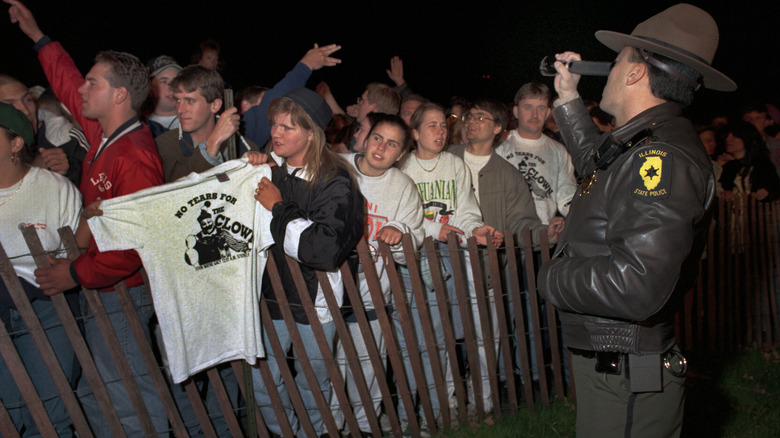 Stacia Timonere/Getty Images
Biography reports that it was John Wayne Gacy's custom to lead young men (often teenagers) into his Illinois home with the promise of giving them work at his construction company. Upon entering his house, he'd drug, subdue, torture, and sexually assault them before finally delivering the killing blow. However, beyond his maniacal house of torment, Gacy was regarded by his neighbors as an upstanding and friendly citizen who involved himself in community activities, even hosting barbecues at his house for dozens of unsuspecting individuals.
None of them knew the truth of what was lurking behind those seemingly kind and welcoming eyes, let alone the truth that resided beneath his house in the form of dead bodies. According to Britannica, upon his arrest in 1978, police exhumed 29 corpses from both the crawl space beneath his house and other sanctioned locations around the property. Four others were discovered in the Des Plaines river some 75 miles outside of the Chicago city limits. Shockingly, Gacy managed to carry on some semblance of a normal life during his saga of sadistic killing and even lived with his wife for a stretch of years in the same house that doubled as a both a torture den and a tomb.
If you or anyone you know has been a victim of sexual assault, help is available. Visit the Rape, Abuse & Incest National Network website or contact RAINN's National Helpline at 1-800-656-HOPE (4673).
His bone-chilling job as a mortuary assistant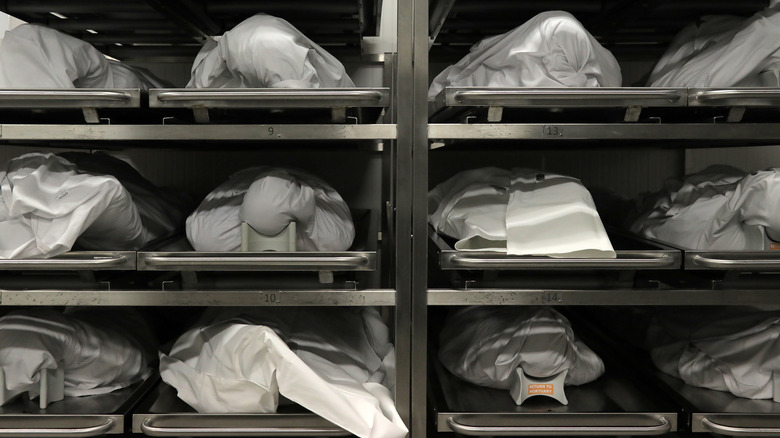 Cavan-Images/Shutterstock
It's hard to pinpoint exactly where someone like John Wayne Gacy's superfluous fascination with death began, but according to The New Yorker, he worked as a mortuary assistant before he was a malicious killer masquerading as an acclimated community member. It was at a mortuary in Las Vegas, Nevada, that the 21-year-old Gacy got his first up-close and personal look at the various faces of death.
Apparently, once the rest of the morgue personnel had vacated the facility each night, Gacy was left alone to carry various clean-up tasks and chores, and like clockwork, he'd visit the reposing rooms where the deceased were held and engage with them in depraved ways. "I was able to live right there. The room where I stayed was known as the call room, right next to the embalming room," Gacy told Alec Wilkinson of The New Yorker in 1994. Wilkinson also pointed to accounts of Gacy climbing into a coffin with the corpse of a boy.