The Longest-Married American President In History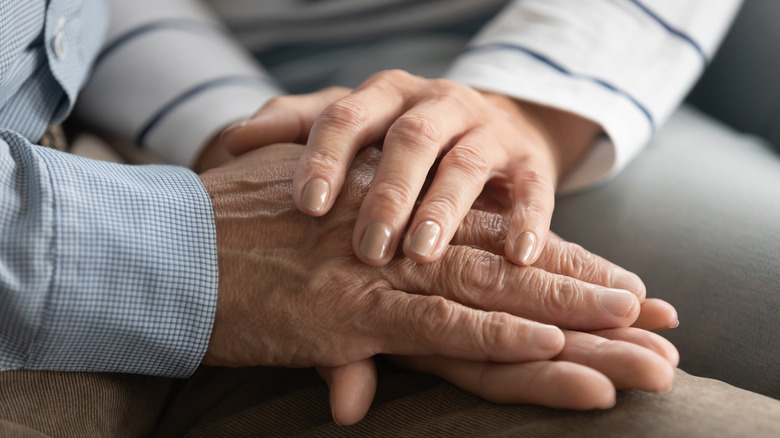 fizkes/Shutterstock
We may receive a commission on purchases made from links.
When it comes to U.S. presidential trivia, there are some pretty wild facts out there, like that Warren Harding once gambled away all the White House china. Some are amusing, such as John Quincy Adams' penchant for swimming in the Potomac in the buff, while others are just plain strange: Grover Cleveland was once an executioner, according to Legends of America. But probably the most romantic bit of trivia involves a love affair that has lasted more than 75 years and continues to this day.
This former U.S. president has not only been married for more than three-fourths of a century, but he has known his wife for nearly his entire life, according to NPR. He met her when he was three and she'd just been born, back when Calvin Coolidge was in the White House, and they went on their first date amid World War II, per NPR.
They've spent their whole lives together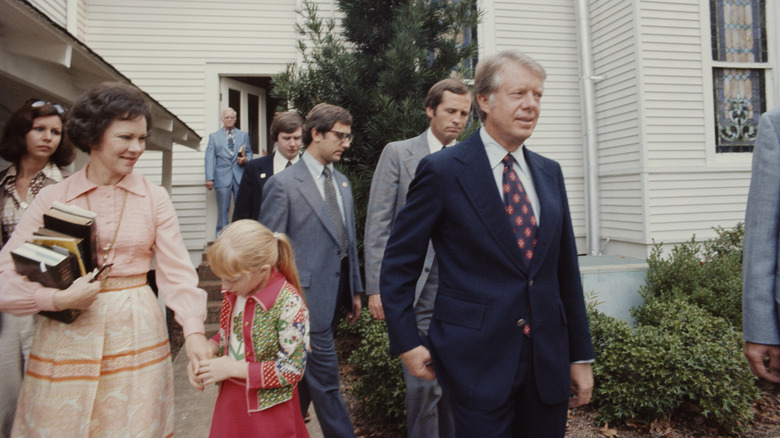 Michael Brennan/Getty Images
As you can tell, this couple has been around for a while. In fact, he's currently the oldest living U.S. president at 98, according to the Associated Press. Jimmy Carter was born on October 1, 1924, in Plains, Georgia. His wife, born Rosalynn Smith, came into the world on August 18, 1927, in the same small town, according to her memoir, "First Lady from Plains."
Growing up, Rosalynn and the Carters were neighbors, and she was best friends with Jimmy Carter's younger sister, Ruth. By the time she turned 13, she started seeing Jimmy in a new light, according to People. But it wasn't until Carter was home for a month from the U.S. Naval Academy, in Annapolis, Maryland in the summer of 1945, when Rosalynn had finished her freshman year of college, that they had their first date, according to The White House. He was 20, and she was 18, and they went to the movies and shared a kiss, per People. The next morning, Jimmy told his mother that Rosalynn was the one he wanted to marry. The following year, that's exactly what he did.
From young love to the White House and beyond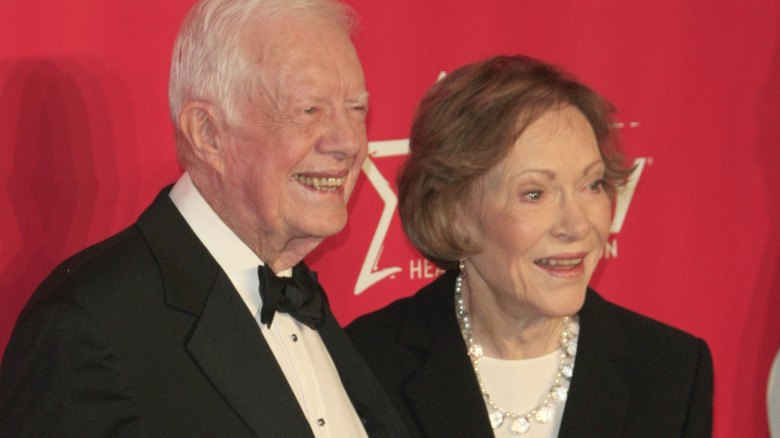 Kathy Hutchins/Shutterstock
After their wedding on July 7, 1946, Jimmy and Rosalynn Carter moved to Norfolk, Virginia, where he was stationed after graduation, per "First Lady from Plains" and The White House. In 1953, they moved back to Plains where Jimmy took over running his family's peanut-growing business after his father died and they raised their growing family (three sons and a daughter), per People. Beginning in the early 1960s, Jimmy Carter's political career took off, going from state senator to governor to the 39th U.S. president, and Rosalynn was by his side as both an effective campaigner and a trusted advisor throughout. As the first lady, Rosalynn focused on issues around mental health and the elderly, among other areas.
They became equal partners in running the family peanut operation, which bled into other aspects of their lives. ​​"Once we began working together in business, we became equal partners in almost everything. It was a transformation in our marriage," Jimmy Carter told Phil Donahue and Marlo Thomas in their book "What Makes a Marriage Last" (per People). In 2019, Jimmy and Rosalynn Carter became the longest-married couple in presidential history, according to NPR, and are still going strong after celebrating their 76th wedding anniversary in July 2022. The previous record holders had been George H. W. Bush and Barbara Bush, who were married for 73 years when he died in 2018, per NPR.