The Bizarre Coincidence The Number 61 Plays In Aaron Judge's Home Run Record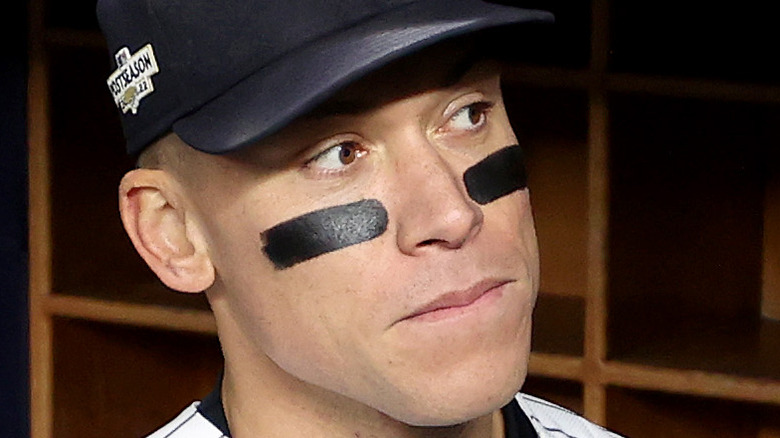 Elsa/Getty Images
Yankee outfielder Aaron Judge continues to astonish fans and baseball enthusiasts alike (via NPR). Per Sports Illustrated, Judge began to play for the Yankees back in 2016. Soon after, he was named Rookie of the Year (per the MLB). In 2017, the Bleacher Report writes, the California native hit a mind-blowing 495-foot home run. Britannica reported that Judge made headlines in 2022 when he turned down a $213 million contract with the Yankees. He and the team have been unable to negotiate a deal that works for both of them. Thus, Judge has opted to become a free agent at the end of the season.
Of this decision, Judge stated (via The New York Times), "I knew no matter what, I'd be playing this year for the New York Yankees, wearing pinstripes. We weren't able to agree on something, but I changed my focus right then and there to, 'Let's go out and have a great season for my teammates and do what I can to put ourselves in a good position for a long postseason run.' I'm just out there playing baseball." As these could very well be his final moments with the Yankees, ESPN explains, he has been making history and topping records set by baseball legends Roger Maris and Babe Ruth.
Aaron Judge broke Roger Maris' record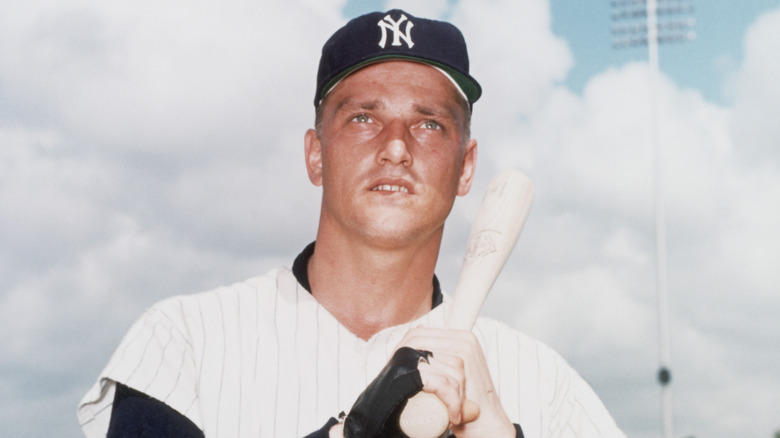 Photo File/Getty Images
On October 4, PBS states, the Yankees played against the Texas Rangers in Arlington, Texas. It's here where Judge hit his 62nd home run of the season. By accomplishing this feat, NPR explains, he subsequently topped a record that was set by fellow Yankee player Roger Maris in 1961. Judge reacted by saying, "It's a big relief." He went on to say, "... it's been a fun ride so far." However, there is another reason why this moment is especially monumental; Judge beat the record almost 61 years to the day after Maris did. History reports that Maris hit his 61st home run of the season on October 1, 1961.
This means that Maris topped a record that was originally set by Babe Ruth in 1927 (per History). That year, Ruth hit 60 home runs. ESPN notes that Judge, Maris, and Ruth are the only American League players ever to have 60 or more home runs in a single season. Per The Washington Post, Maris died in 1985. However, The New York Times writes that his son Roger Maris Jr. is a fan of Judge's career.
Days before he topped Maris' record, Judge hit his 61st home run of the season in Toronto. Maris Jr., who witnessed this event at Rogers Centre stadium, expressed his support for Judge and said (via The New York Times), "That is really who he is, if he hits 62, and I think that that needs to happen. I think baseball needs to look at their records and I think baseball should do something."
Other players have controversially broken the record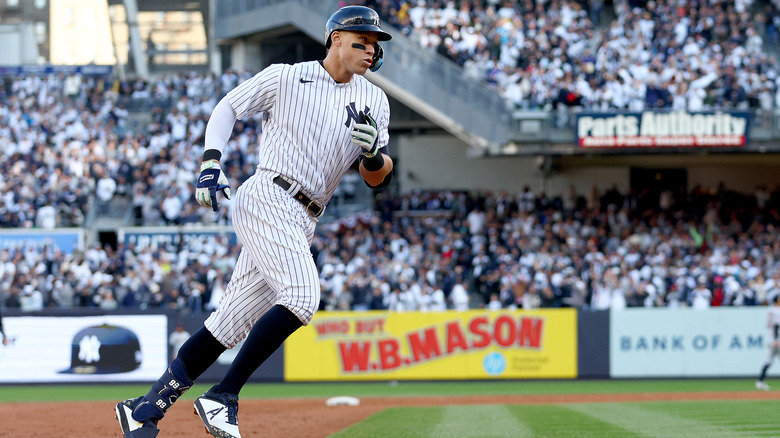 Elsa/Getty Images
ESPN writes that sports stars, including former Yankee Derek Jeter, have praised and congratulated Judge for topping Maris' record. President Biden even tweeted at Judge and said, "History made, more history to make." Since Maris' 1961 record, NPR explains, other famed baseball players, including Mark McGwire of the St. Louis Cardinals, Sammy Sosa of the Chicago Cubs, and Barry Bonds of the San Francisco Giants have all topped his record. However, their efforts have largely been forgotten due to the belief that they all were taking performance-enhancing drugs (via The New York Times). For this reason, Judge's 62nd home run is believed to be the real deal.
Bobby Richardson, Maris' former teammate, told The New York Times, "He (Maris) would be tickled to death that Judge would be the one breaking his record. And he would be pleased that steroids are not involved in it at all." Beyond this feat, NPR reports that Judge has had 131 RBIs and a .311 batting average. According to the Desert Sun, Judge's home run ball will likely sell at auction soon. David Baron, a lawyer handling the sale, stated, "They don't like to say a price, but the auction houses have told me they would expect that it would sell for well over $3 million."