No One Knows Why The Background Vocals Of Monster Mash Mention Tennis Shoes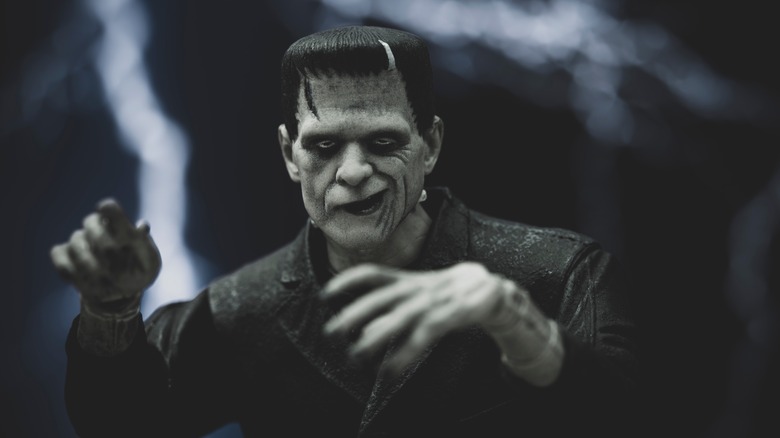 Willrow Hood/Shutterstock
We all know the general story of "Monster Mash." A mad scientist has created a monster in a lab (similar to Frankenstein's Monster), and he wants to teach it how to do the Monster Mash — a dance he's created (via Smooth Radio). The dance sweeps the land, making all the little boys and ghouls dance, with sounds of coffins openings, cauldrons bubbling, and monsters partying in the background, paired with backup vocals singing about ... tennis shoes (via The Hill).
Yes, you read that right. Tennis shoes. You may remember all the cool sound effects that make this spooky spin a Halloween hit, along with singer Bobby Pickett's iconic Boris Karloff impression narrating the whole ordeal. But you probably don't remember hearing the backup vocalists chanting "ooh, tennis shoe, wah-ooh" throughout the entire song. The weird thing is, Pickett himself did not know why they were singing it either.
The Singers
The "Monster Mash" oddly came out on a summer day in August 1962 (via Smooth Radio), but just a few months later, for Halloween, the song skyrocketed to No. 1 in the United States Billboard charts (via The Hill). The song was created by a young actor named Bobby Pickett from Massachusetts (via IMDb), who had been performing with a band called The Cordials. During a concert, he did an impression of famed horror movie star Boris Karloff, and it was a major hit. Fellow band member Lenny Capizzi convinced him to rock the talent, the duo formed The Crypt-Kickers (with Leon Russell, Johnny MacRae, Rickie Page, and Terry Berg), and the rest is history (six decades of history).
While these masters of the crypt didn't see a ton of name recognition for their Halloween hits, including "Monster Mash" sequels like "Monster's Rap" and "Monster's Holiday," they did go down in history — as did their backup singers. The Blossoms, which featured American singer Darlene Love, were known for their backup singing abilities (via IMDb). They worked with artists like Elvis Presley, The Beach Boys, and Marvin Gaye, while Love went on to be a subject of Morgan Neville's 2013 documentary "20 Feet From Stardom" (via Stanford Live). There was no question of their talent, but one question we are left with is: Why were they singing about tennis shoes on a track about monsters dancing?
Do monsters even play tennis?
Although it may seem like a lot went into creating "Monster Mash," with Bobby Pickett's uncanny impressions and specialty sound effects like bubbling potions (made with a straw and glass of water) or a coffin opening (made by pulling a rusty nail out of a wooden board), it actually only took minutes to produce (via The Hill). Pickett told The Washington Post that the song was written in about a half hour, and it took less than that to record (via Smooth Radio). The Crypt-Kickers got together and played the tune while Pickett rattled off Boris-Karloff-like vocals. Pickett went on to admit that he never thought anyone would play the track other than his friends, who were major Karloff fans. But to his surprise, it's still being played six decades later.
During the whirlwind of the jam's creation, it's no surprise that Pickett really had no idea why The Blossoms were singing about tennis shoes. Pickett later died of leukemia in 2007 (via The New York Times), while Darlene Love of The Blossoms still performs to this day (via Darlene Love World). The Grammy-award-winning vocalist went on to be inducted into the Rock & Roll Hall of Fame.