Ted Bundy's Allegedly Haunted Childhood Home Had A Contractor Spooked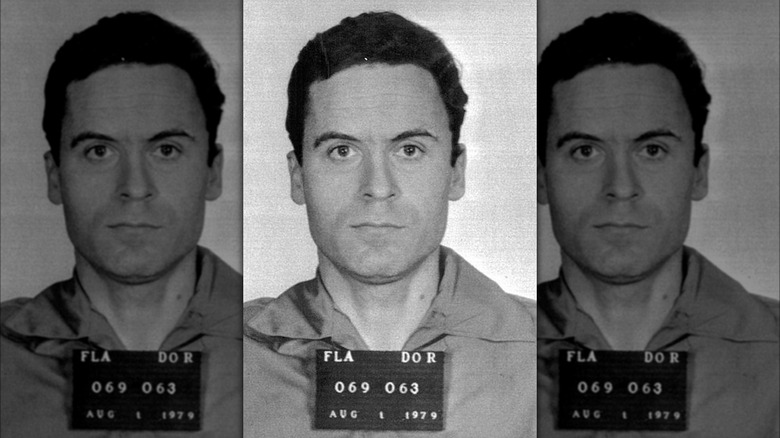 Florida Department of Corrections
The Seattle Times reports that the Pacific Northwest has long been plagued by murders and serial killers. Perhaps one of the region's most notorious murderers is none other than Ted Bundy. Before his 1989 execution, Bundy confessed to killing at least 30 women in several states, including Florida, Oregon, and Washington (via ABC News). But long before he gained infamy for these crimes, Biography writes that Bundy was a young boy living in Tacoma, Washington. Born in Vermont in 1946, he spent the first few years of his life in Philadelphia. Bundy was only 3 years old when he and his mother, Louise Cowell, made the move to Tacoma.
According to Urban Splatter, one of the homes Bundy lived in during his childhood is located on North Skyline Drive. The News Tribune explains that Bundy and his family moved into this four-bedroom home in 1955 when he was 9 years old. He lived in the home — built in 1946 — with his mother, stepfather, and four siblings. Hope Murry, one of his neighbors, noted, "They were a really nice family." Komo News states that Bundy and his family lived in the home until they sold it in 1965. Per ABC13, the house was also sold in 2016. It was then that contractor Casey Clopton began to experience unexplained phenomena at the property.
The contractor was unaware of the home's history
According to ABC13, Casey Clopton was tasked with remodeling the quaint Tacoma home (above), which was purchased solely to be flipped and sold. Per the New York Post, he began working on the home in October 2016. At this point in time, Clopton had no idea that the house was once the childhood residence of notorious serial killer Ted Bundy. However, he knew something was amiss when he brought his 11-year-old daughter to the site. He told Komo News that the young girl began to cry and told her father that she wanted to leave. Clopton dismissed this incident and continued to work on the home.
The News Tribune reports that shortly after, someone on Clopton's team told him he felt the same way as his daughter. Furthermore, odd things began to happen at the home. Komo News writes that the contractors heard footsteps and jiggling doorknobs. One time, the crew reportedly walked in only to find that all the home's doors and drawers had been opened. Even more unsettling is when they discovered "help me" written on a piece of glass and the word "leave" written in dust. Without warning, a heavy dresser fell to the ground. In addition, electronics would allegedly act up in the home.
At first, Clopton believed that someone must have been breaking into the home (via The News Tribune). When he spoke to neighbors, he was told that the home once belonged to Bundy. With this knowledge, Clopton took action.
Some speculate that Bundy killed his first victim while living in the home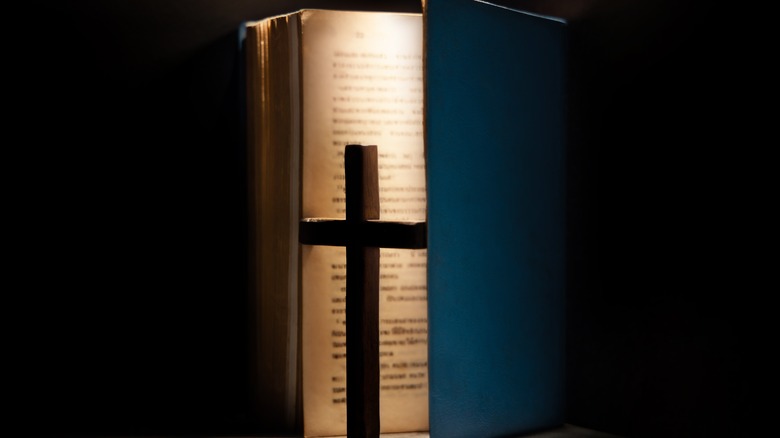 Black Salmon/Shutterstock
Per The News Tribune, Casey Clopton brought in two pastors to bless the home. ABC13 adds that he and his team also wrote Bible verses on the wall using a pencil. For added protection, they played Christian music while they worked at the home. Ultimately, these efforts paid off, as Clopton notes that the paranormal activity stopped. According to Komo News, the bizarre occurrences caused the contractors to work four months more than what they had scheduled. Clopton has gone on to say that this made him believe in the paranormal. He stated (via Komo News), "That there's something else out there, man. That's what I think it is. That we are not alone out here."
King 5 explains that there is speculation that Bundy may have kidnapped and killed 8-year-old Ann Marie Burr in 1961 when he was 14. Burr lived only a few miles away from Bundy's Skyline Drive home. He was also familiar with her neighborhood. Bundy was later named a suspect in the case (per The New Tribune). However, he denied being involved in her disappearance, and Burr's case remains unsolved. Moreover, there is no evidence that proves that Bundy committed any murders while living in the Tacoma home.
Shortly after it was remodeled by Clopton, The New York Post reports that the home (which can be viewed on YouTube) sold for $335,000. The New Tribune explains that it's unclear if the new owners know that Bundy once lived there.