Liz Truss' PM Tenure Set Two Dismal Records For UK Politicians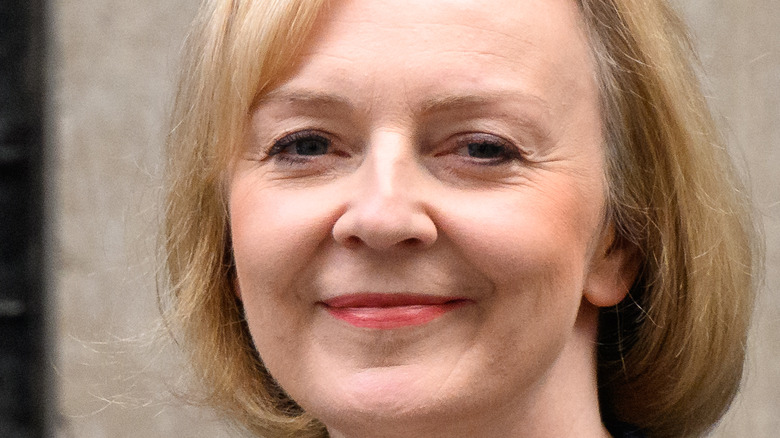 Leon Neal/Getty Images
Liz Truss makes history this month as one of Britain's shortest-serving prime ministers. Truss is set to depart Downing Street after buckling to mounting pressure from her party, the public, and the British press.
Some might say that Truss had a tough act to follow in the unpopularity stakes — coming to power after Boris Johnson's shocking track record of alleged corruption and dishonesty (via The Guardian). In the Conservative Party leadership election, Truss was also chosen over front-runner Rishi Sunak, who was widely branded a "snake" by British tabloids for his role in Boris Johnson's demise (via Daily Mail). However, Truss has ultimately proved to be no more popular with the world at large.
Although Truss was expected to benefit from the fabled "new leader bounce" (via The Financial Times), as well as some degree of sympathy for dealing, in her first week in office, with the queen's death, her government's spending policies quickly threw the Conservatives into turmoil. After it was reported that chancellor Kwasi Kwateng's mini-budget included £45 billion in tax cuts, mostly for the rich, the pound hit a record low against the dollar — one of many records Truss will now be known for (also via The Guardian).
Shortest time as PM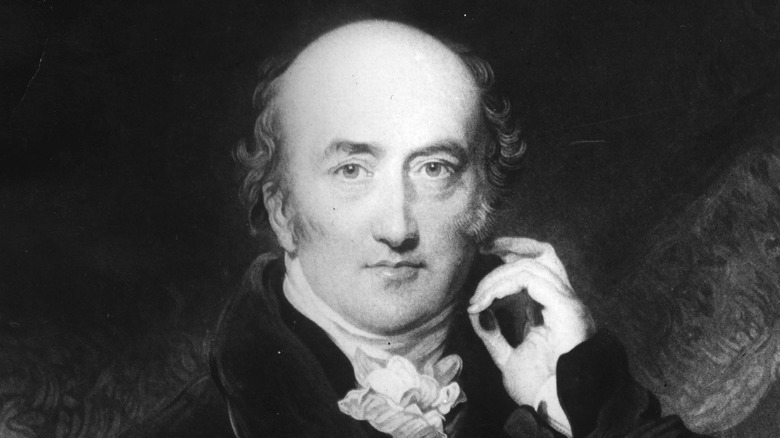 Hulton Archive/Getty Images
Truss' short tenure in office is part of a wave of dismally short-lived Conservative Prime Ministers (via History), the last three of which — Truss, Johnson, and Theresa May — have not survived a full term. Back in July, Boris Johnson successfully hung onto his position for weeks after resigning, leaving office after just three years and 44 days and thereby surpassing May, who only made it to three years and 11 days. Truss, however, has left both of them in the dust, bowing out with just 44 days under her belt — although she can expect a few more days in office, while a new leader is chosen (via Daily Mail).
Truss' record-breaking short term has beaten out the previous record-holder, Prime Minister George Canning (above), who was culled by nature rather than embarrassment. Canning was acting Prime Minister for just under five months when he caught pneumonia and died in 1827 (via Gov UK). Canning was popularly regarded as a clever and able politician.
Most unpopular PM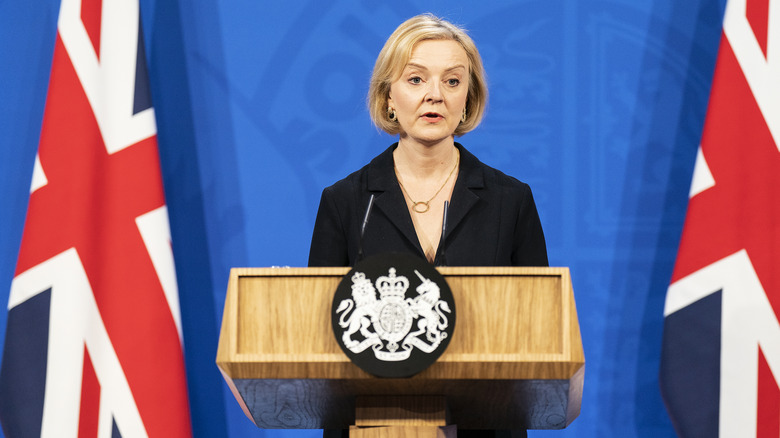 Pool/Getty Images
Truss was already hugely unpopular at the end of September, so much so that according to Daily Mail, on one day in September a snap election would have left the Conservative Party with just three seats. Even before the pound's meltdown, Truss was viewed poorly, with many people both on social media and in the press labeling Liz Truss as "thick" (via Independent).
Although Truss responded to widespread dissatisfaction by firing her chancellor, it did her no good. YouGov announced this week that even after the sacking, Truss scored a dismal favorability rating of minus 70 in new polls, the lowest score ever recorded by the polling giant (via Politico).
Worse, Truss had become as unpopular with the party faithful as with the general public: An overwhelming 71% of Conservative voters reported an unfavorable view of Truss. Before resigning, Truss reportedly received a flurry of no-confidence letters from Tory Members of Parliament (via Daily Mail), who have a long and mythic history of backstabbing in cases of poor performance (via The New Statesman).