The Truly Horrific Crime Scene Of The Carrollton Bus Crash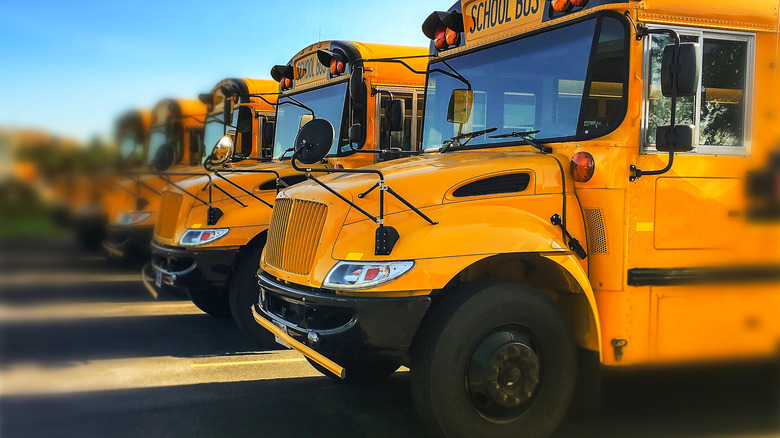 RozenskiP/Shutterstock
On May 14, 1988, a bus with 67 people was on its way home from Kings Island amusement park in Ohio, but the journey back home ended in disaster (via MADD). According to WDRB, the passengers were mostly children from a Radcliff, Kentucky church group. The unthinkable happened when the bus was on Interstate 71 in ​​Carroll County, Kentucky when a Toyota pickup truck driven by 34-year-old Larry Mahoney rammed into the bus (via People). Mahoney had been drinking and was heavily intoxicated and driving the wrong way, which resulted in a crash that killed 24 children and three adults. Now known as the Carrollton Bus Crash, the incident is believed to be the country's worst drunk-driving accident.
The Courier-Journal explains that Mahoney's truck lodged itself into the fuel tank, causing the bus to burst into flames. Despite this, he and 40 individuals that were on the bus survived the crash (via Kentucky Today). Mahoney was later convicted of 27 counts of second-degree manslaughter, 16 counts of second-degree assault, 27 counts of first-degree wanton endangerment, and one count of driving under the influence of intoxicants. Per The New York Times, he received a 16-year sentence. Mahoney, a factory worker, only served 10 years for this crime. Although it's been decades since the accident, People notes that survivors are still dealing with emotional and physical trauma.
Survivors recount what they witnessed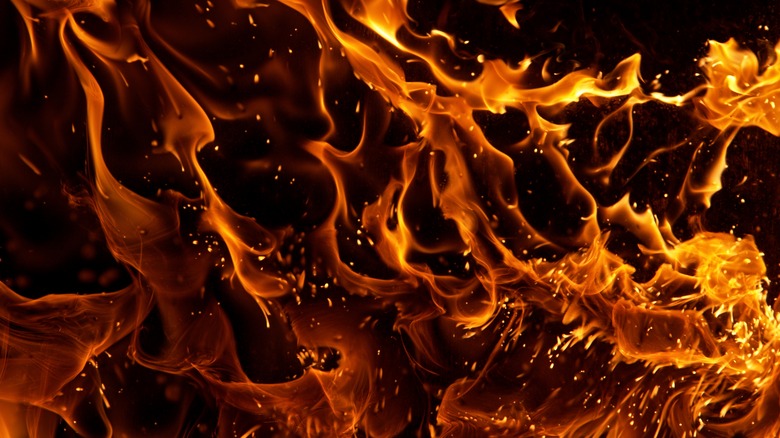 Lukas Gojda/Shutterstock
According to AP News, the 27 victims of the Carrollton Bus Crash died from smoke inhalation. WHAS11 adds that the majority of the children were severely burned — so much so that Kentucky medical examiner, George Nicholas, advised parents who insisted on seeing the remains of their dead children to "... pull out your wallet and look at a photo, that's how you want to remember them." People states that some victims, including 10-year-old Patty Nunnallee, had to be identified using dental records. For those who did survive, the images of what they saw on the fiery bus that day continue to haunt them.
People reports that the temperature inside reached 2,000 degrees. Harold Dennis explained that panic erupted as he and the other passengers attempted to escape the bus from a small emergency exit. Once he made it out, Dennis, who suffered third-degree burns on 20% of his body, said, "I could hear the screams and the explosions." Another survivor, Joe Percefull, told WFAA, "You literally felt like you were burning from the inside because you were just breathing in all that hot air."
Survivors, including Ciaran Madden, have described seeing a "fireball" when Mahoney first crashed into the bus. Tragically, the publication notes that the burned bodies of those who didn't survive were later discovered in the aisle and on the bus seats. Moreover, those who lived have said they feel immense guilt for doing so. Many, including Madden, Dennis, and Quinton Higgins, who later became a bus driver, were significantly burned.
Larry Mahoney refuses to talk about his actions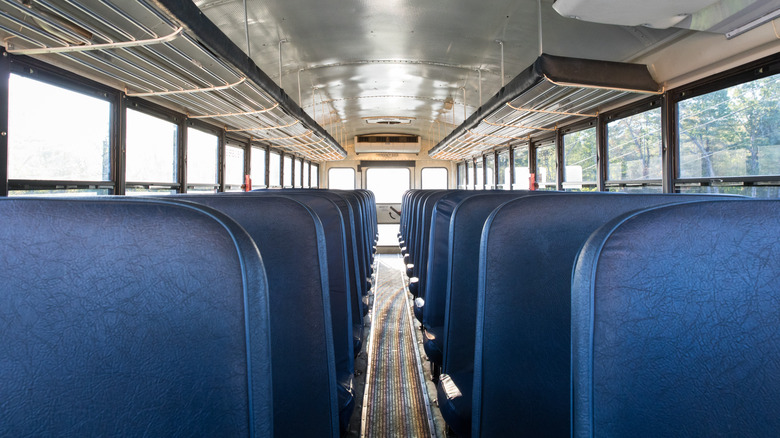 Pat Shrader/Shutterstock
After his early release from prison, the Courier-Journal writes that Mahoney went on to live a relatively normal life. Now in his late 60s, he reportedly lives in Owen County, Kentucky (per Kentucky Today). Although survivors from the Carrollton Bus Crash have continued to speak on the tragedy to bring awareness to drunk driving, WFAA states that Mahoney has refused to do so. In fact, the only time he publicly spoke about the bus crash was in a 1989 interview with the Courier-Journal. Here, he admitted that he didn't remember the crash and was unaware of the destruction he caused until a day later.
Since leaving prison in 1999, Mahoney has declined interviews and does not wish to have contact with the crash's survivors. WFAA reports that in 2013, Dennis produced a documentary about the crash and its survivors titled "Impact After the Crash." Dennis asked Mahoney to be a part of the project but he rejected the offer. Dennis told the Courier-Journal that he was beyond disappointed with Mahoney. He said, "If you truly are sorry, you would publicly or privately apologize to all of us, as many as you could get in a room."
Others, like Madden, believe that confronting the past is perhaps too much for Mahoney. After the 1988 Carrollton Bus Crash, WHAS11 explains that safety improvements, such as placing gas tanks in the back of a bus and ensuring that there are enough emergency exits, have been made to prevent a catastrophe like this from happening again.