Marlon Brando's Son And The Horrific Story Behind His Decision To Murder A Family Connection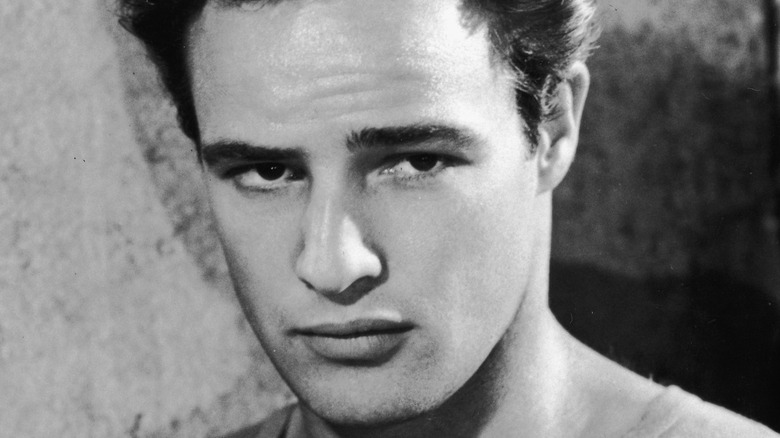 Hulton Archive/Getty Images
During his life, the late Marlon Brando portrayed some of the most dynamic and illustrious characters of all time on the silver screen. The Academy Award-winning actor possessed the sort of talent that really only comes along once in a generation. Perhaps his penchant for acting had something to do with the fact that even his personal life resembled a movie at times, though it wasn't always the kind of movie you'd want to watch if you needed to lift your spirits. "Most of my childhood memories of my father are of being ignored," he once said. "I was his namesake, but nothing I did ever pleased or even interested him. He enjoyed telling me I couldn't do anything right." 
Ultimately, Brando got his own chance to become the father he always wanted, though details about his marriages and family life are still rather obscure. According to Biography, the "Missouri Breaks" star sired at least 11 children by several different women, and while he did his best to provide a decent life for them, things didn't always fit into a picture perfect setting. "The family kept changing shape," his son Christian once said. "I'd sit down at the breakfast table and say, 'Who are you?'" In 1991, it was Christian who would change the shape of that family forever.
Christian Brando killed his sister's boyfriend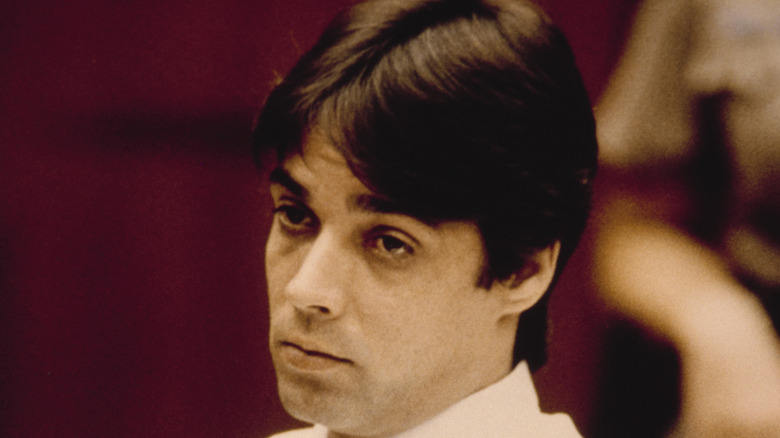 Michael Ochs Archives/Getty Images
In 1962, Brando met Tahitian actress Tarita Teriipaia while they were filming "Mutiny on the Bounty" together. Shortly after, the two were married and later welcomed a pair of children into the world — Cheyenne and Simon (per Gwinnett Daily Post). The couple remained together for 10 years and raised their children alongside Brando's own, including Christian. Christian was born on May 11, 1958 and was the product of his father's relationship with actress Anna Kashfi (his first wife), as IMDb reports. For a time, the young Brando frequented the Los Angeles acting community and appeared in several films including "Unmasked Part 25" (1988) and "The Secret Life of an American Wife" (1968), and for a time, it seemed as though he was destined to follow in his father's gilded footsteps. That would all change on the night of May 16, 1990.
According to GQ, Cheyenne Brando became involved with one Dag Drollet, a 26-year-old Tahitian man whom she'd met through her mother, and was eight months pregnant with their child at the time. It was on that night in May that the young couple found themselves watching television together in the Brando family home alongside Christian, who had reportedly been drinking heavily throughout the evening. Cheyenne had apparently told her brother that Drollet was physically abusing her, and in a fit of rage, Christian seized a pistol and shot the young man in the head, killing him. 
Christian Brando was convicted of manslaughter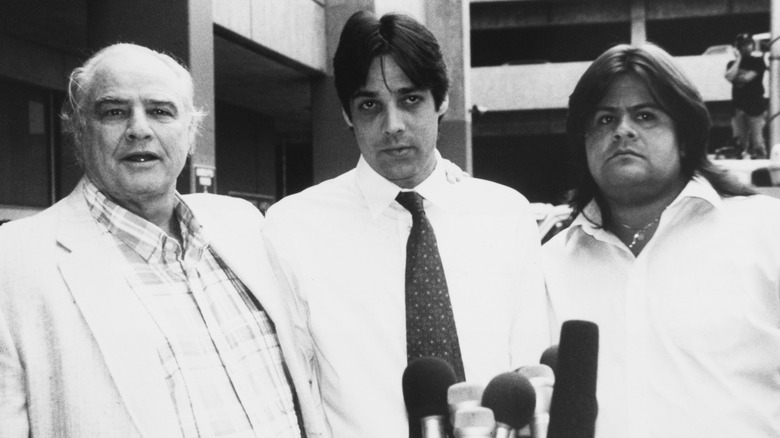 Michael Ochs Archives/Getty Images
"The messenger of misery has visited my house," Marlon Brando solemnly stated at a press conference outside of his home the following day. After hearing the shot, Brando — who was asleep upstairs — reportedly raced down the steps and, upon seeing him sprawled on the floor and covered in his own blood, tried to revive Drollet with CPR. Sadly, it was too late. The gunshot had killed Drollet then and there, and Brando's own son was the perpetrator (via GQ). According to IMDb, Christian Brando pleaded guilty on charges of voluntary manslaughter and was sentenced to 10 years behind bars for the death of Dag Drollet, though he only ended up serving five. 
Unfortunately, the compounding tragedy didn't end there. Cheyenne later admitted to fabricating the allegation that Drollet was abusing her, and in the years following her paramour's death, she reportedly spent time in both drug rehabilitation facilities and psychiatric hospitals and was ultimately diagnosed with schizophrenia. She also lost custody of her son, Tuki Brando, who was turned over to the care of his grandmother (Tarita Teriipaia), and on April 16, 1995, Cheyenne hanged herself at the age of 25 (per IMDb). Christian Brando died 13 years later when pneumonia took his life on January 26, 2008. According to IMDb, he spent two weeks in a coma before finally passing away.