Why Did David Byrne Of The Talking Heads Wear A Large Suit?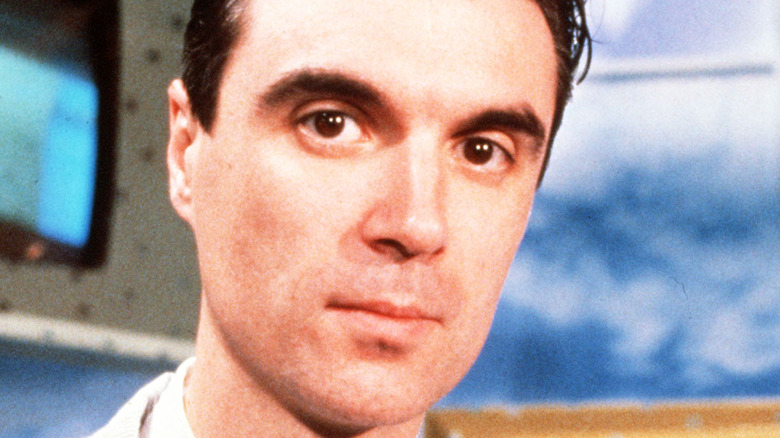 Luciano Viti/Getty Images
The Talking Heads' lead singer, David Byrne, is a figure as controversial as he is accomplished. He boasts an Oscar, a Golden Globe, a Grammy, and a Tony, yet his own bandmates have spoken out about his egotism, according to The Guardian. "He doesn't know where he ends and other people begin," drummer Chris Frantz told the Guardian in 2020. "He can't imagine that anyone else would be important."
But maybe it takes a vainglorious ego to buck the rules of fashion, which is another thing that Byrne is known for. His trademark oversized suit remains a cultural reference point to this day. The broad-shouldered ensemble first drew notice on the band's 1983 tour and in the Talking Heads' 1984 documentary, "Stop Making Sense," per Put This On.
So what was the rationale behind Byrne's getup? Obviously, it served to set the band apart. But Byrne, who considers himself a music theorist, also had a more intellectual concept in mind when he began sporting those particular threads.
Was there a highbrow concept behind the suit?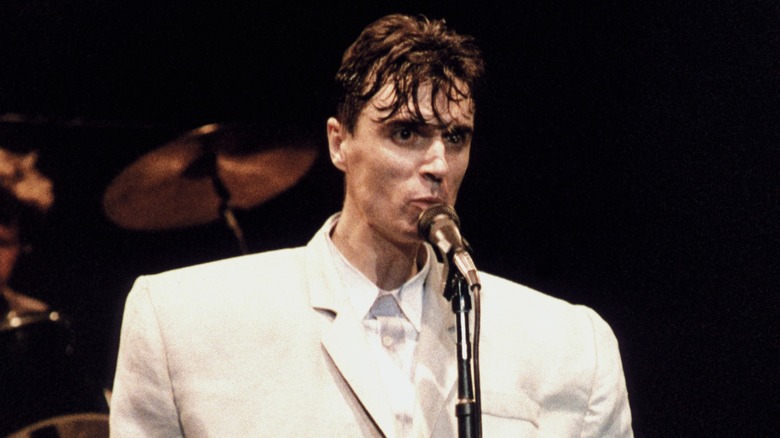 John Atashian/Getty Images
In a long-ago interview that Byrne conducted with himself — in which he dressed up in his trademark suit to answer questions and donned a variety of disguises to ask them — the musician explained the genesis of his oversized suit (via YouTube). He suggested that the suit was a visual cue underscoring not only his personal aesthetics, but also his conception of music.
"I like symmetry, geometric shapes," Byrne said. "I wanted my head to appear smaller, and the easiest way to do that was to make my body bigger. Because music is very physical, and often the body understands it before the head."
According to Put This On, Gail Blacker, the designer behind Byrne's oversized suit, has said the suit was "more of an architectural project than a clothing project." And that's certainly in keeping with Byrne's arch conceptual framework. The original suit was also light grey, a hue reportedly chosen to fit the stage lighting and to accentuate Byrne's dance moves.
An iconic suit turned spooky, just in time for Halloween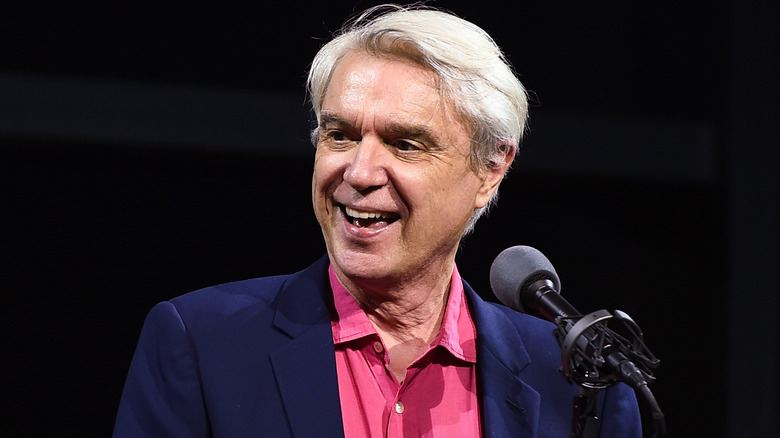 Ilya S. Savenok/Getty Images
Byrne's suit is certainly iconic, but is it scary? That's now a question for Halloween partygoers and trick-or-treaters to decide. Because Movie Jackets has made a Halloween costume based on Byrne's trademark suit.
With cotton fabric and a light grey color to match the original, the Halloween costume also includes a turn-down lapel collar with front-buttoned closure, hemmed cuffs and full sleeves. And it appears to garner good reviews from buyers, who praised its "vintage touch" and its "high quality."
Becoming a Halloween costume may be more than Byrne bargained for when he first put on that suit, but it's one more way of keeping the Talking Heads relevant years after the band peaked. So whatever drove Byrne to commission that suit — the need to make an artistic statement, the drive to seek attention, or just plain self-centeredness — it has become a cultural symbol that outlasted the era that birthed it. The band can only hope its music will have the same staying power.