Jeremy Irons' Relationship With His Wife Began With A Slap To The Face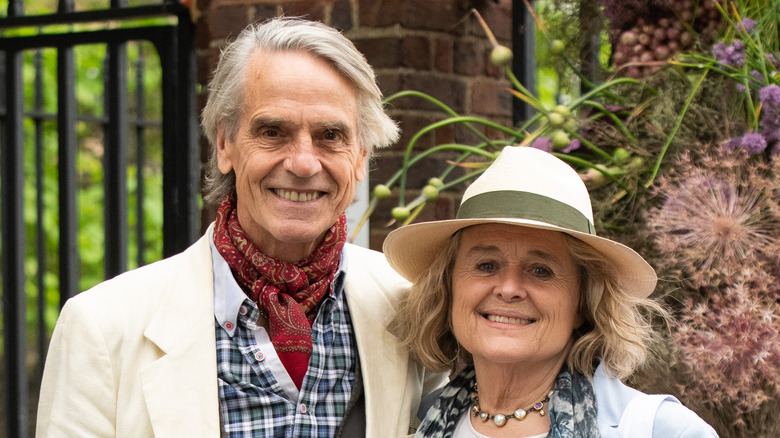 Kirstin Sinclair/Getty Images
Jeremy Irons has had a long and prolific career in Hollywood playing a wide range of characters in many films and TV series'. As stated on Turner Classic Movies, the renowned actor was born on September 19, 1948 on the Isle of Wight, England. From a young age, it was clear that Irons was going to become an entertainer; during his time as a boarding school student, he played drums for a band and often participated in comedy skits at school. Settling on his love of performing, Irons attended the Old Vic Theatre School in Bristol, which eventually led to him appearing in a 1971 production of "Godspell" playing John the Baptist.
Of course, it wasn't long before Irons made the leap to the small screen, and then the big screen shortly after. He starred in several BBC shows throughout the 1970s, but the 1980s was his real breakout decade, kicked off by his role in 1981's "The French Lieutenant's Woman," which also featured Meryl Streep. From then on, Irons starred in a wide range of films that demonstrated his versatility, from playing dual roles in David Cronenberg's "Dead Ringers" and doing voice work in Disney's "The Lion King" to playing the villain in "Die Hard With A Vengeance" and his Oscar-winning role in "Reversal of Fortune." He continues to act today in both massive blockbusters and smaller prestige pictures.
Love at first slap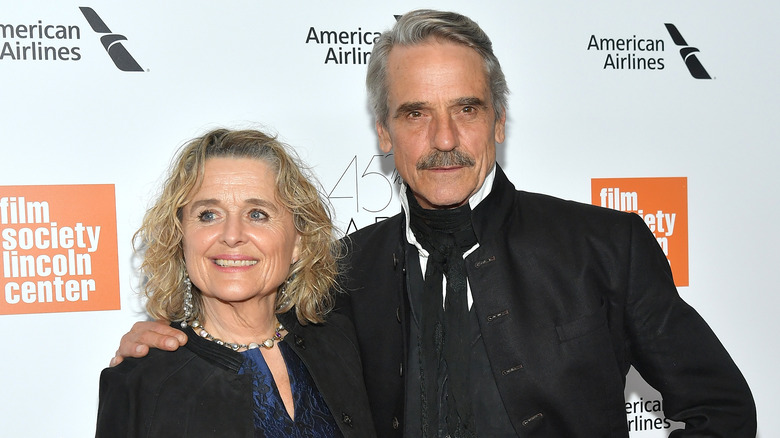 Mike Coppola/Getty Images
Jeremy Irons' relationship with actress Sinéad Cusack is almost as long as his career in acting. As stated in Independent, both he and his wife have had to endure the occasional rumor of one or both of them being involved in affairs outside of their marriage. However, these have largely been proven to be nothing more than gossip.
Irons met Cusack in 1971 at a party, and it was then that he accidentally called her Siobhan. Cusack then slapped him, but instead of being turned off by her extreme reaction, Irons was immediately taken with her. Apparently Irons' slight wasn't enough to deter Cusack, and so she invited him over to her home for coffee. The two got hitched in 1978, and while their marriage may have been far from perfect, it's one that has remained strong for all these decades. "It's a stormy marriage, I'm pleased to say," Irons said in an interview, per Independent. "I'm a difficult person, my wife's a difficult person. Living together is difficult, but that is precisely what we both need."
A difficult yet strong marriage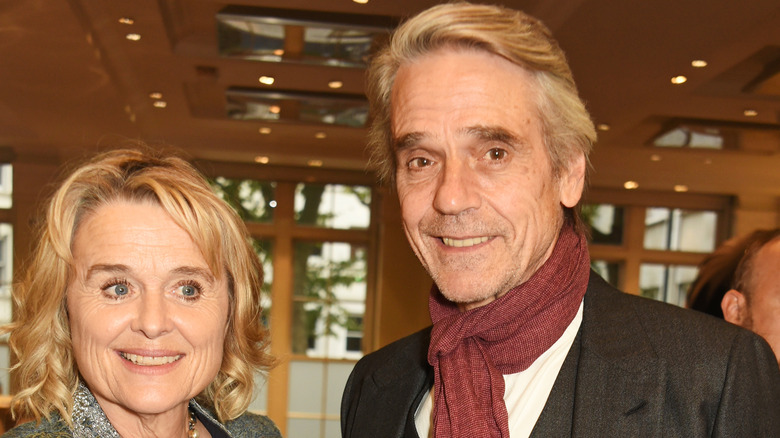 David M. Benett/Getty Images
Considering that both Jeremy Irons and Sinéad Cusack are professional actors, they must contend with the fact that their marriage will always be under scrutiny by the public, such as when hearsay of their supposed mutual infidelity (Irons with "Real Thing" co-star Glenn Close, and Cusack with RSC director Terry Hands) in the 1980s circulated, as per Independent. However, the couple have always shot down reports of any extramarital affairs, with the gossip having little effect on their relationship.
Of course, Irons' often-flippant remarks on marriage have often raised eyebrows about just how strong his commitment to his wife really is. For example, Independent reports that the actor once stated in an interview that "a modern couple give each other the freedom to flirt with new beginnings." But then again, this may simply be him playing the role of a Lothario that's closely associated with the Hollywood persona.