How Segway Company Owner Jimi Heselden's Act Of Kindness Led To His Tragic Death In 2010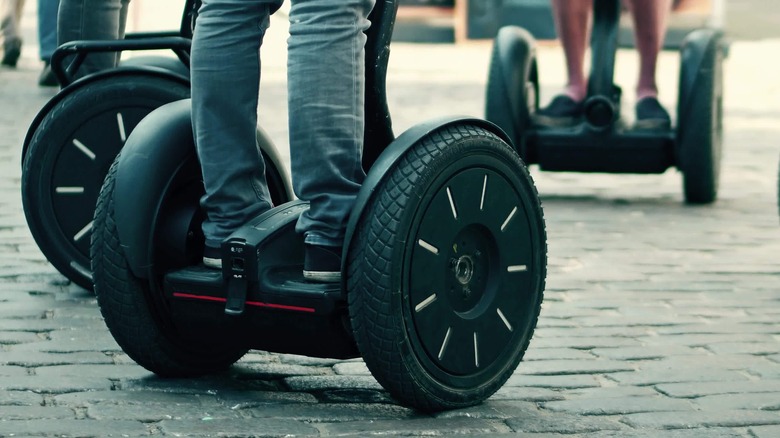 Novikov Aleksey/Shutterstock
Since its public unveiling in 2001, CNN writes that Segway has had a complicated relationship with consumers. HowStuffWorks explains that a Segway is essentially an upright two-wheel scooter. With their launch, inventor, Dean Kamen, stated (via USA Today) that Segway "will be to the car what the car was to the horse and buggy." As it is now known today, this is not what occurred. Insider states that the now-defunct Segway is remembered for all the wrong reasons. This includes jokes, accidents, and the death of owner Jimi Heselden. In December 2009, Heselden, a British businessman, purchased Segway from Kamen (per NBC News).
According to The Atlantic, Heselden was a self-made millionaire. The Leeds native dropped out of school at 15 and later became a coal miner (via The New York Times). When he lost his job in 1984, Heselden used the money he was given when he was laid off to create his own company, Hesco Bastion. In 1990, he invented the Hesco Barriers. The BBC notes that this is a basket-like contraption that is comparable to sandbags. These can be used for flood control and on the battlefield to protect soldiers. The Guardian reports that the Hesco Barriers made him a very wealthy man. Despite this, Heselden remained humble and polite to others. However, this may have also been what led to his demise.
Jimi Heselden rode off a cliff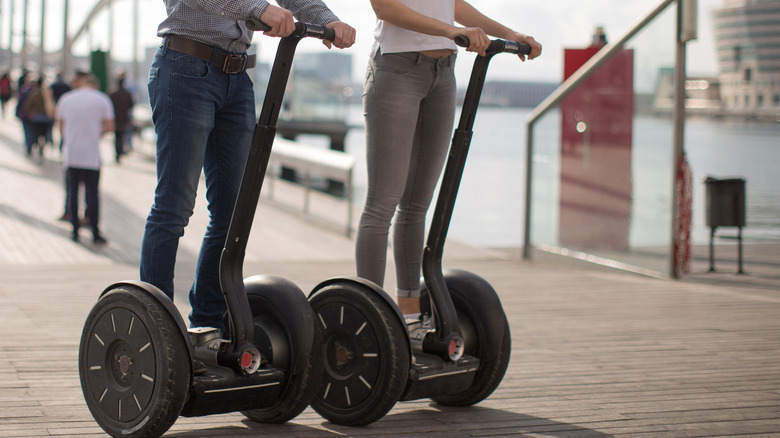 Caftor/Shutterstock
In September 2010, The Guardian writes that Heselden was riding a Segway near his Yorkshire home. While on the segway, Heselden toppled over a cliff and into a river below. The New York Times adds that he fell 30 feet. Tragically, the 62-year-old's body and his Segway were later found in nearby Boston Spa. Foul play was quickly ruled out (via NBC News).
Although the cause of the accident was not clear at first, the BBC reported that coroner David Hinchcliff came up with an odd but sentimental explanation for his death. The publication states that Heselden was on his Segway when he saw a man named Sean Christie walking his dog. As Christie got closer, he noted that he saw Heselden reverse, likely to allow him to comfortably pass by. At this moment, Heselden lost his balance and plunged to his death into the River Wharfe (per the Daily Mail).
Hinchliff explained (via the BBC) "I think it's probable, I think typical of Jimi and the type of man he was, he held back and waited as an act of courtesy to allow Mr. Christie more room. In so doing he's attempted to reverse the Segway back. As a result of that he's got into difficulty." Hinchliff added, "It's such a shame and tragedy that such a great man should have died in this way."
He donated a chunk of his large fortune to charity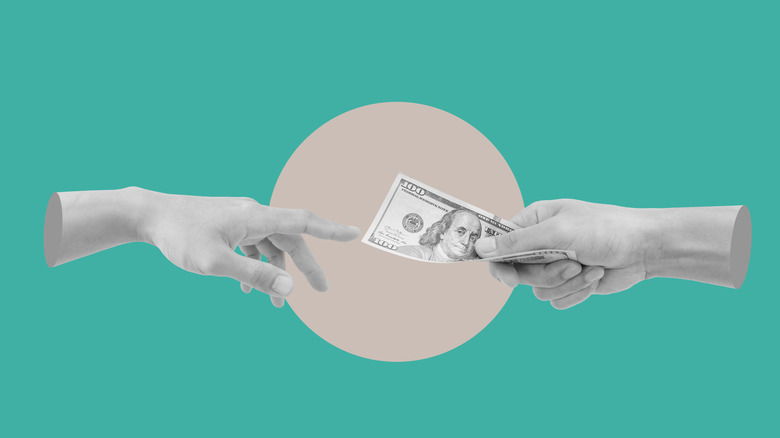 Sasin Paraksa/Shutterstock
With the coroner's conclusion, Heselden's lawyer released a statement that said, "The inquest today has confirmed what Jimi's family have understood for some time, namely that his untimely death was the result of a tragic accident. Today's proceedings bring some closure for Jimi's family on their tragic loss" (per the BBC). NBC News states that Heselden had owned Segway for less than a year before his untimely death. Moreover, Matt Dailida from Segway told The New York Times that Heselden was a "Segway p.t. owner long before he bought the company."Although his death has largely overshadowed his life, The Guardian reports that Heselden, whose net worth was in the hundreds of millions, is widely remembered for his charitable efforts.
According to The New York Times, he donated $36 million to charity, including to the Leeds Community Foundation. His wife, Julie Heselden, told The Yorkshire Post that she planned to continue his "spirit of giving" by donating to his favorite charities. Before his death, Heselden stated (via the Daily Mail), "I honestly believe people have a moral obligation to use their wealth to help others."