Why Metallica's Antarctica Show Changed Music History Forever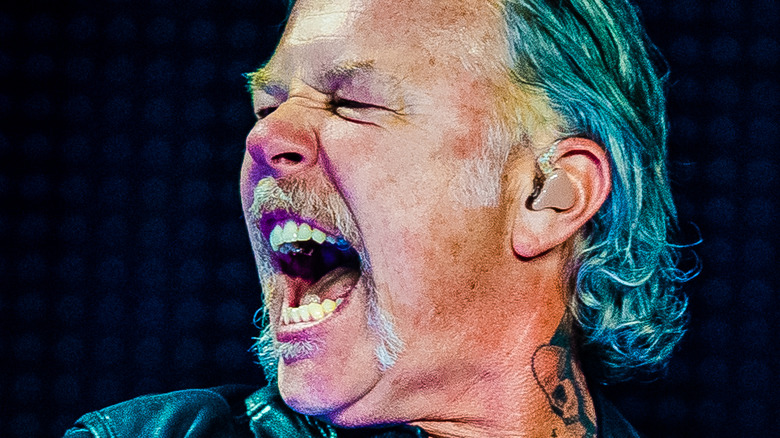 Ben Houdijk/Shutterstock
Metallica needs little introduction. The band was first formed on October 28, 1981 by drummer Lars Ulrich and guitarist/vocalist James Hetfield. While they went through some drama and lineup changes in their early years, Metallica persevered and released a string of albums in the 1980s that crystallized the burgeoning thrash metal genre. Their fourth album, 1988's "...And Justice For All," garnered the band their first Grammy Award nomination in the debut category of "Best Hard Rock/Metal Performance." While Metallica ultimately lost to Jertho Tull in a controversy that's still talked about today, their appearance at such a mainstream event helped to prove that heavy metal was a legitimate genre.
However, it was in the early 1990s that Metallica really exploded. Their 1991 album (whose unofficial title is "The Black Album" due to the cover's largely black design) went on to sell more than 16 million copies around the world, and produced such signature hits as "Enter Sandman" and "Nothing Else Matters." Since then, Metallica has remained an extremely popular band, regularly releasing hit albums and selling out stadiums around the globe.
What made this show so special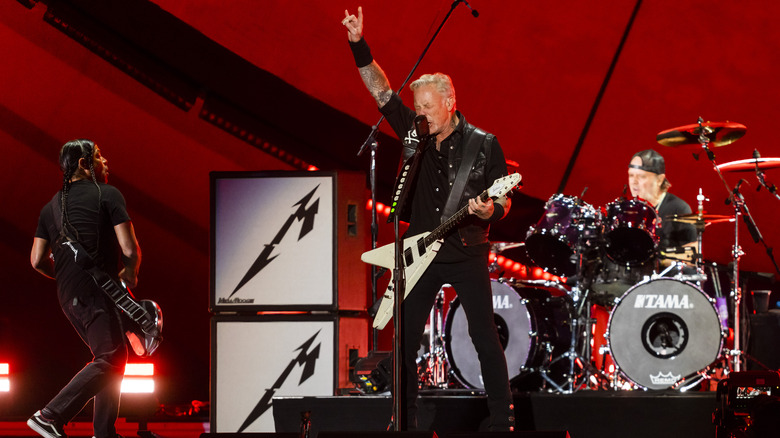 Gotham/Getty Images
Metallica has accomplished quite a bit throughout their long and storied career, and they show no signs of slowing down. However, one of their more amazing achievements occurred in 2013 when, according to Far Out Magazine, the band played a show on Antarctica, becoming the first band to perform live on every single continent, and breaking a Guinness World Record in the process.
Metallica typically plays at massive outdoor venues or sports arenas, but because Antarctica isn't exactly known for its large population, the band obviously had to play to a much smaller crowd. As stated in Far Out Magazine, the audience consisted only of about 120 people, mostly scientists and hardcore fans who won a contest to see Metallica play in one of the coldest places on the planet. To the surprise of absolutely no one, the frosty one-time concert was called "Freeze 'Em All," a play on the band's first album, 1983's "Kill 'Em All."
How the show came together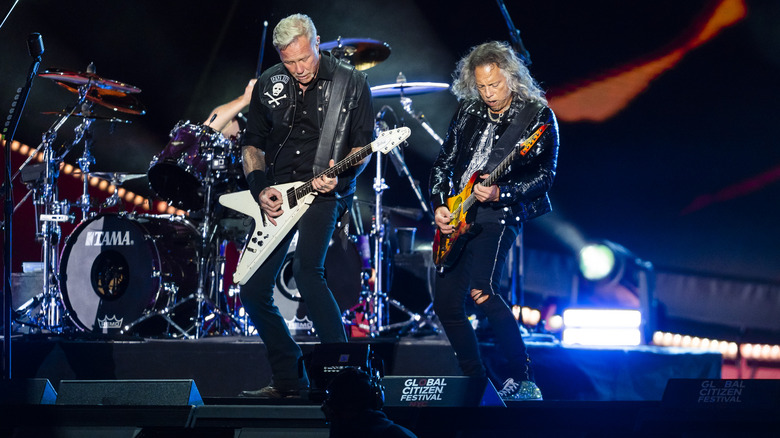 Gotham/Getty Images
If you think setting up a heavy metal concert at a large venue is tough, try setting up a heavy metal concert in Antarctica. Far Out Magazine lays out some of the more complicated logistical aspects of this show that were difficult even with the support of a major record label. Metallica performed in a transparent dome at the Carlini Station with their amplifiers stored in isolated cabinets, which transmitted the sound to headphones worn by the audience. This was done, as the usual amplification required for most concerts wasn't possible to be pulled off, due to the extremely low temperatures of Antarctica.
According to Far Out Magazine, this unique show was part of a collaboration between Metallica and Coca-Cola that involved a contest in which the lucky winners would go on a cruise around Antarctica and, of course, attend the show on the frozen continent. Making the show even more private was the fact that Carlini Station is on an incredibly remote part of Antarctica. Considering how risky this prize was, let's just hope that none of the audience members found themselves "trapped under ice," as it were.