In Bulgaria, You Can Bungee Jump To Look At The 'Eyes Of God'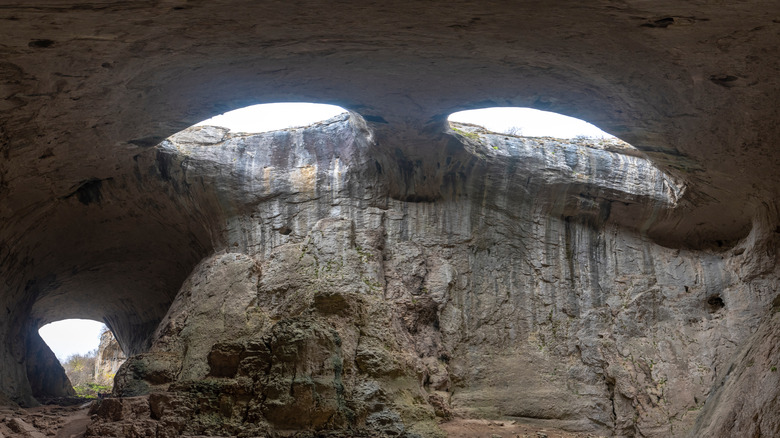 Mitzo/Shutterstock
There are numerous places across planet Earth that showcase nature's luminous and captivating essence in forms you'd never imagine. The marvels of the organic world are something ineffable to behold, and if you're lucky enough to see a good number of them before you die, you can count yourself among the most fortunate of ambitious travelers. Hakuri Murakami once described the sky's ethereal tapestry as "Not just beautiful, though — the stars are like the trees in the forest, alive and breathing. And they're watching me" (via Good Housekeeping). However, it's not just the stars and the trees that are keeping a watchful eye on you.
According to Unusual Places, the Prohodna Cave in Bulgaria contains a natural phenomenon that makes it seem as though some grandiose being is tearing right through the fabric separating our dimensions as it gazes straight into one's soul. Referred to as "The Eyes of God," the cave sports two massive symmetrical holes in its ceiling that look like gigantic eyes peering through the stone. When the sun beams through, it grants the openings a sort of otherworldly animation, and when it rains and the water streams down the inner walls, it appears as though the eyes are crying. So, if you're the kind of person who lusts for nature's unrivaled majesty located in those remote corners of the globe, you should consider paying a visit to the Prohodna Cave. 
Bungee jumping in the Prohadna Cave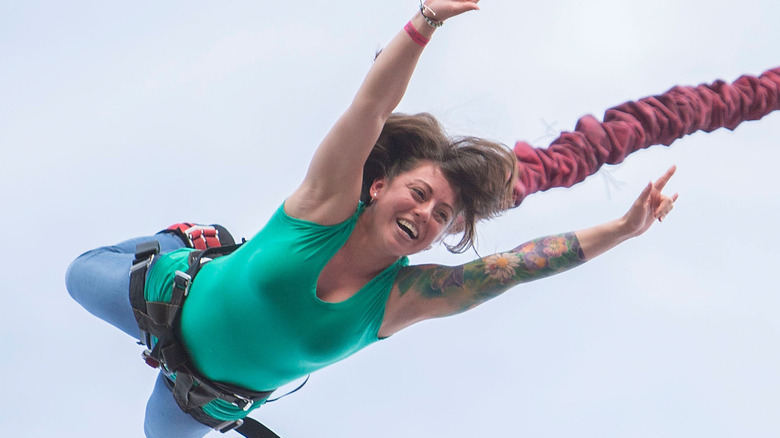 Daniel Knighton/Getty Images
Luckily for thrill seekers, the Prohodna Cave offers a venture in adrenaline as well. Unusual Places reports that "Today, the cave is mainly used as a tourist attraction for both nature lovers and thrill-seekers alike. The Big Entrance is known as a popular site for bungee jumping. Mostly, travelers would come to get a closer look of the unique sight of the Eyes of God." (You can view one such adventure captured on camera by adrenaline junkies at the Prohodna Cave on YouTube.) 
Imagine returning from a long vacation with a story to tell your coworkers and friends about how you jumped through the Eyes of God. That's certainly a solid conversation starter. According to Urbo, you can participate in a bungee jump at the Prohodna Cave between the months of April and October, weather conditions permitting. However, it's a relatively short jump. The distance between the floor of the cave and the rim of the upper platform is only 42 meters — not quite 140 feet — and there is a weight restriction for the jumper. Therefore, if you're already preparing for your grand Bulgarian bungee jumping adventure in your head, bear in mind that there are important safety parameters to adhere to for those who want to brave a leap before the harrowing Eyes of God.
More about the Prohodna Cave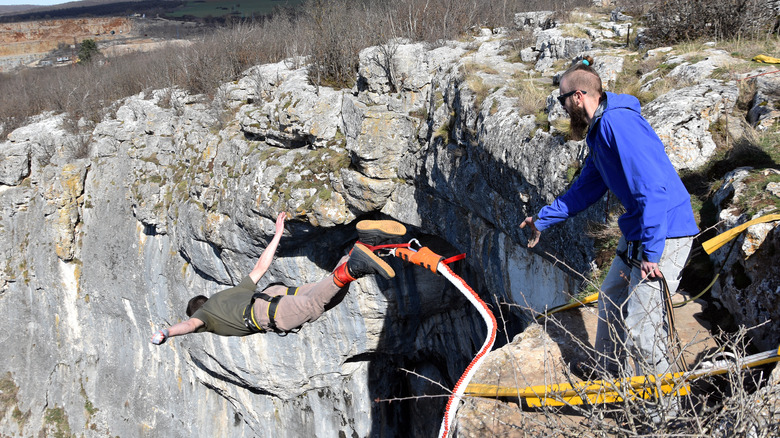 Dimitrina Lavchieva/Shutterstock
The famous "Eyes of God" that adorn the cave's ceiling are believed to have formed over time via erosion and natural geological decay. As Unusual Places reports, archaeologists and other scientists have carried out an abundance of research into the Prohodna Cave's vast history, and they've determined that prehistoric civilizations likely lived there at one point in time, though there's still a lot we don't know about it. 
Unlike many of those dark recesses in Mother Nature's stonework, the Prohodna Cave is rather easy to access. The Peter Tranteev National Speleological Society office building is close by, as well as the villages of Karlukovo and Sofia. Therefore, if disaster were to strike, you wouldn't find yourself too far away from civilization and readily available help. Also, if you're not one for camping, you can seek accommodation at the nearby Mountain Hostel instead (via Unusual Places).