Did Lorenzen Wright's Killer Ex-Wife Incriminate Herself In A Novel?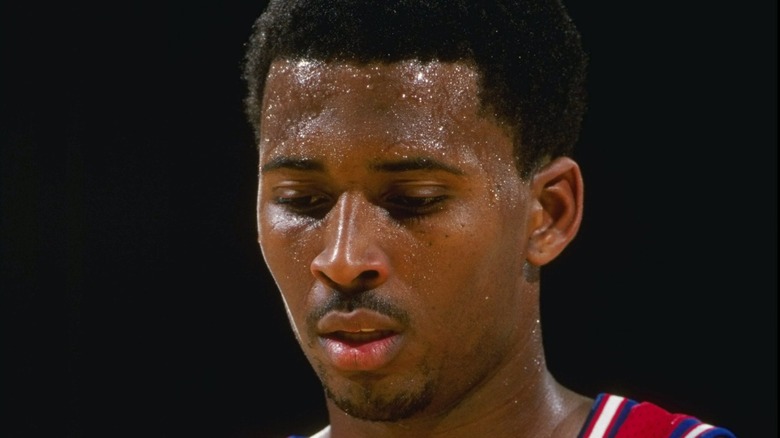 Todd Warshaw/Getty Images
The high-profile murder of an NBA star is always going to be a source of intrigue, but little did basketball fans know at the time that the 2010 killing of Los Angeles Clippers legend Lorenzen Wright would become one true crime story that would continue to unravel for the best part of the decade that followed.
Wright was 34 when he mysteriously disappeared on July 18 of that year and his family filed a missing person report. According to Local Memphis, his body was discovered 10 days later, which revealed he had been shot to death. Per the same source, it later transpired that on the night of the murder Germantown police had received a call from Wright himself, with the operator hearing multiple gunshots in the background before the line went dead, but for some reason, they failed to respond to the call. 
Per Commercial Appeal, Wright's ex-wife, Sherra Wright-Robinson — the mother of his six children, and from whom Wright had separated five months before his death — reportedly told police investigators that the recently-retired basketball player had been involved with drugs and that his death was likely a consequence of his illegal activities.
However, attention turned back to Wright-Robinson in 2017, when police charged her with facilitating her husband's killing. It transpired, too, that in the years following Wright's death had turned to writing fiction. Specifically, she had written a novel with a plot uncannily familiar to her relationship with her murdered husband.
The arrest of Sherra Wright-Robinson
Sherra Wright-Robinson was charged in connection to the murder of her ex-husband Lorenzen Wright alongside Billy Ray Turner, a friend from her local church. According to the Associated Press, Wright-Robinson was accused of conspiring with Turner to kill Wright, with Wright's mother later arguing that she had been motivated to do so simply to access his life insurance, which was valued in the region of $1 million, though Wright-Robinson's defense team disputed this.
In 2019, Wright-Robinson pleaded guilty to being involved in her ex-husband's murder, a surprise result for many involved in the case, who believed the case would go to a jury trial. She was sentenced to 30 years in prison (via Commercial Appeal), while Turner was sentenced to life in prison.
When asked in an interview with Commercial Appeal why she had made the surprise decision to avoid trial and plead guilty to the murder, Wright-Robinson explained: "I'm just going to say because of my children, I have made this decision, and because of them I'm not going to go into many more details right now, but I'm just going to say everything is not what it seems."
'Mr. Tell Me Anything'
At the time of writing, Sherra Wright-Robinson has failed to elaborate on the cryptic reasoning she gave for having pleaded guilty to the murder of her ex-husband, Lorenzen Wright. However, in the same interview she claimed that "Wickedness, evil, lies, secrecy, abuse," characterized her relationship with Wright. As noted by 20/20, many of her supporters have noted that the parallels between her relationship with Wright and that of the principal characters in her novel "Mr. Tell Me Anything" may give some insight into the dysfunctional marriage and potentially her motivation for organizing the murder beyond the $1 million life insurance payout she was in line to receive in the aftermath of Wright's death.
As noted by Action 5 News, "Mr. Tell Me Anything" is "eerie" in that its protagonist, Sharon Roberson, has a similar name to Wright-Robinson, and similar features, while the love interest, a basketball star like Wright, is the same height as her ex-husband. The novel is a story of multiple infidelities and domestic abuse, and of the NBA player's family's squabbles over the sportsman's riches. However, the novel makes no mention of murder or suggests how Wright-Robinson hatched her plan to murder her ex-husband.
The 20/20 report featuring many involved in the case — including the mother of the murdered Lorenzen Wright, and Wright-Robinson's later partner, Kelvin Cowans — shows the range of responses to the book, from those who believe "Mr. Tell Me Anything" is a work of complete fiction, to those who say that it is an insightful and accurate portrayal of the couple's horrifyingly dysfunctional relationship.