The Tragic 1941 Death Of 'Jelly Roll' Morton, One Of Jazz Music's Greatest Innovators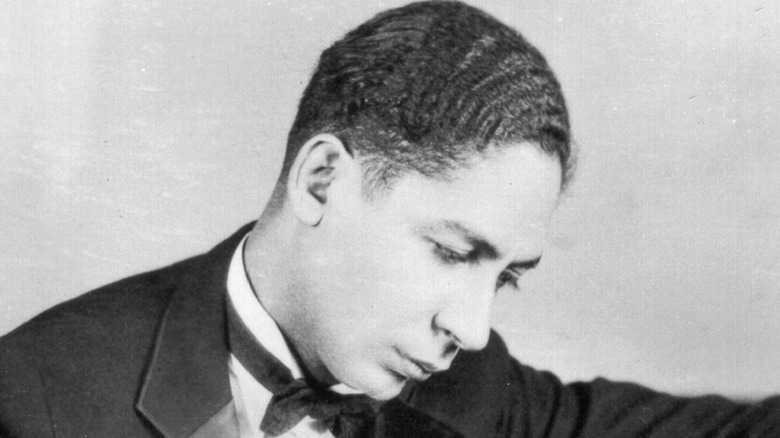 Michael Ochs Archives/Getty Images
Although "Jelly Roll" Morton is a name that perhaps not many have heard of, the Library of Congress explains that the musician was — and continues to be — an influential, innovative jazz figure. Early on in childhood, Morton mastered a variety of musical instruments (via Blackpast). However, he especially excelled in piano. Born in New Orleans in 1890 as Ferdinand Joseph La Menthe (though various sources give various spellings of his last name), Biography writes that he began to play piano when was 10 years old. It wasn't long before he was making a living by playing in New Orleans brothels. Soon, Morton began traveling and performing around the south. In addition, he played in minstrel and vaudeville shows across the U.S. between 1904 and 1917.
According to 64 Parishes, Morton blended ragtime music with classical and blues elements. This prompted him to claim that he had invented jazz. Morton once stated, "It was I, that's the originator of jazz ... It was in the year of 1902 that I conceived the idea ... It was a style which I had that grabbed the world by the throat with a strangle hold." Although these remarks peeved many, Morton's career continued to thrive over the years to come. In 1917, he moved to California to play in nightclubs, per Britannica. By 1922, Morton had left the West Coast for Chicago (via New Orleans).
He never recovered from being stabbed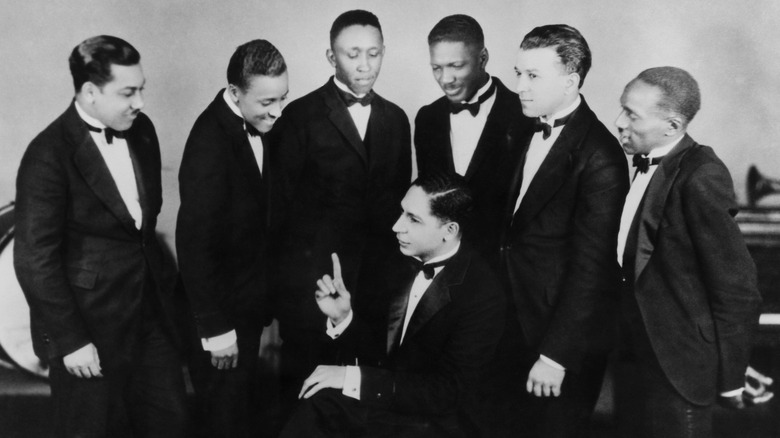 Michael Ochs Archives/Getty Images
In Chicago, the Library of Congress writes, Morton found success with a band known as the Red Hot Peppers (pictured above). Britannica relates that the band recorded several songs between 1926 and 1930. Per 64 Parishes, this includes "Black Bottom Stomp" and "Grandpa's Spell." Ultimately, this led to Morton's widespread notoriety. Biography explains that during this time, he was at the height of his fame and career. However, by the early 1930s, Morton's luck had run out. His music, although impressive, was viewed as dated. Morton moved to New York but his career continued to flounder. The Great Depression likely contributed to his failures.
According to 64 Parishes, Morton moved to Washington D.C. in the late 1930s. The Library of Congress states that he found work managing a jazz club. Morton continued to perform and in 1938, he was doing exactly that when he was attacked. Although the details of the incident are sparse, it's known that Morton was stabbed in the head and the chest (via KPCC). Although he survived, the injuries led to chronic respiratory problems. Morton then made the decision to return to Los Angeles. Despite his ill health, he was on a mission to revive his dying career.
Sadly, KPCC reports, Morton never got the chance for a comeback. Shortly after booking a venue to perform in Los Angeles, he was hospitalized. "Jelly Roll" Morton died 11 days after he was admitted on July 10, 1941. He was only 50 years old.
'Jelly Roll' Morton's legacy
Despite his New Orleans roots, Morton was buried in East Los Angeles at Calvary Cemetery (per Find a Grave). Prior to his death, the Library of Congress writes, Morton had been interviewed by musicologist Alan Lomax (per The Association For Cultural Equity). Lomax also recorded hours of Morton's music. The institution notes that this likely would have positively contributed to his attempt at a career revival.
Although Morton's music got lost with time, it eventually made a resurgence in the 1990s, per The New York Times. Records that he recorded with Lomax were released. In addition, "Jelly's Last Jam," a Broadway play about Morton starring Gregory Hines, debuted in 1992 (per Playbill). The publication goes on to say that Morton faded into obscurity long before his death due to a variety of reasons. For one, many believed Morton to be too conceited for his own good. Furthermore, he was unable to collect royalties on his music.
Morton, however, blamed his downfall on a voodoo curse that was placed on him by his rivals (via The New York Times). If it weren't for his early death, 64 Parishes notes, Morton's career would have likely been rejuvenated in the 1940s. Nevertheless, Morton is now considered to be a jazz legend. Bruce Raeburn from Tulane University told The New York Times, "Morton took a kind of rough communal music based in New Orleans, then polished it and created a coherence that had never been there before. He was extremely flamboyant as a composer and arranger, but it always works."