Why Some Football Fans Believe Gisele Bundchen Has Cursed Tom Brady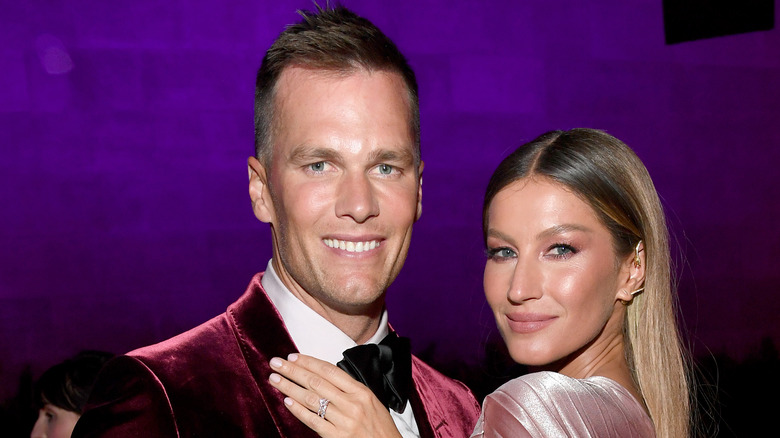 Kevin Mazur/mg19/Getty Images
Seven-time Super Bowl champion and Tampa Bay Buccaneers quarterback Tom Brady is reportedly undergoing a rough time on and off the field. ABC News reports that Brady and his wife, Gisele Bundchen, officially divorced on October 28, 2022. According to social media posts by Brady and Bundchen, the two have split amicably. 
Speculation about why their marriage ended is just that — speculation. However, many think that Brady's short-lived retirement was the straw that broke the proverbial camel's back (via People). In September, Bundchen touched on the subject in an interview with Elle, when she said that she would like Brady to "be more present," adding that she had those conversations with him "over and over again." She also said that ultimately everyone must do what they think is best for them, and that includes Brady, who is considered one of the greatest athletes of all time. Surely, Brady's health regimen is part of the reason for his long-lived success, but could there be more to it?
Did Gisele Bundchen help Tom Brady win games?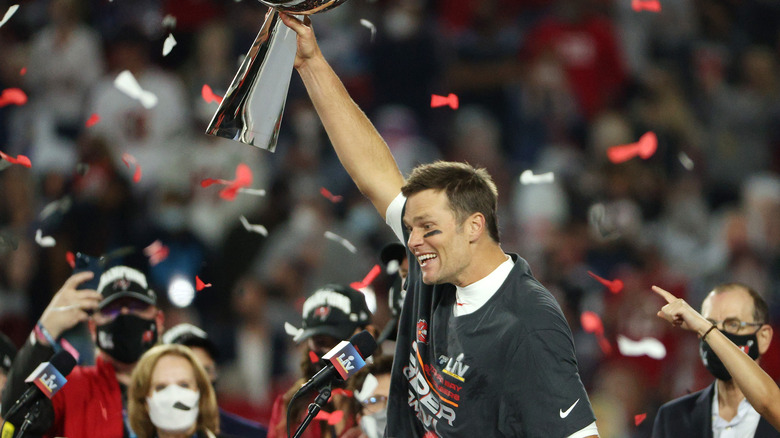 Patrick Smith/Getty Images
Gisele Bundchen was apparently somewhat superstitious about Tom Brady's games. In 2019, Brady explained in an interview with WCVB that his wife would make an "alter" for him at every game that included pictures of his children. He said that she is very much into the "power of intention, and believing things that are really going to happen ... because she just wills it so much." 
But that's not all — apparently, there were pre-game rituals that involved wearing healing and protection stones as well as ingesting drops and saying certain mantras. Brady admitted the ideas seemed crazy to him at first. However, after winning games following her advice, he became a believer. In addition, she was able to predict when he would win and lose games. He admitted that he "stopped questioning her a long time ago," adding, "I just shut up and listen." 
Is she a 'good' witch?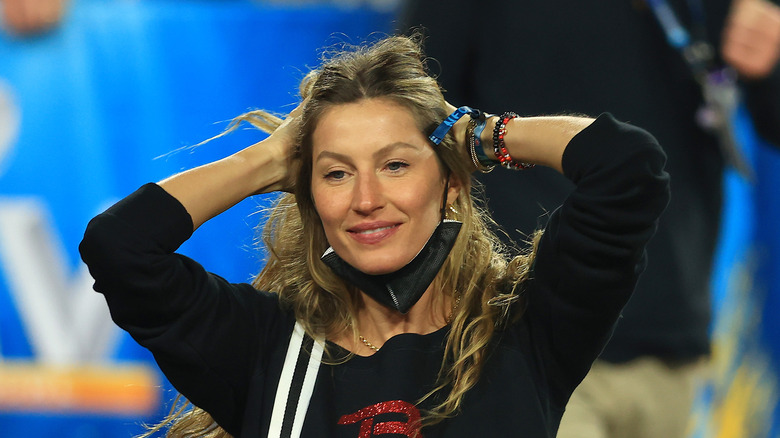 Mike Ehrmann/Getty Images
Mantras, alters, special stones, and potions have some people thinking Gisele Bundchen is a witch, but a good one, of course. And the idea isn't too far-fetched, considering that Brady himself all but admitted it. In the 2019 interview with WCVB, Brady said that Bundchen reportedly told him he was lucky that he married a "good witch." When the New England Patriots won the Super Bowl in 2019, Brady said, "Right after the game, she said, 'See, I did a lot of work. You do your work. I do mine.'"
According to SB Nation, there are reportedly hundreds of #WitchesOfTikTok posting about how Brady is being punished for breaking his promise to retire at the age of 45, a move they suggest effectively put football above his family. The good news is that Bundchen is supposedly a good witch and won't cast spells to hex Brady. Instead, the goodness bestowed upon him through her rituals will fall away and lead to a not-so-happy ending — in life and in football.