The First Murderer To Ever Be Sentenced On TV In England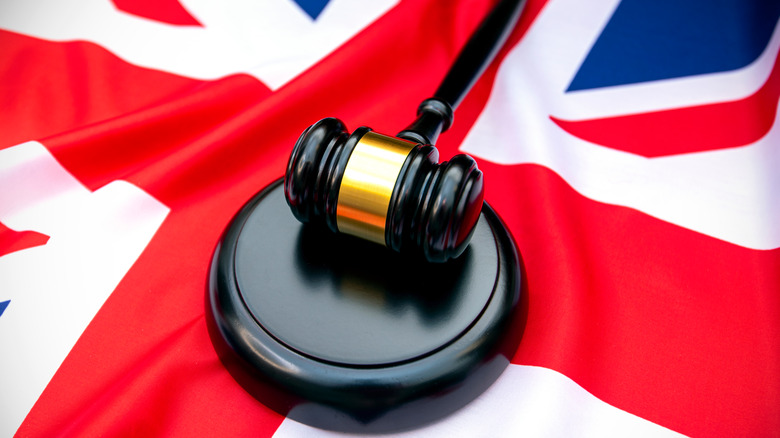 Savvapanf Photo/Shutterstock
In 2022, a law was passed allowing the recording and broadcasting of serious criminals to take place in some courtrooms throughout England and Wales. Courtrooms like Old Bailey will now allow cameras to broadcast the sentencing of convicted criminals. However, according to an article in BBC, cameras are not permitted to film jurors, victims, or witnesses, for fear of sensationalizing the cases. The new law allows each recorded sentencing to be available on YouTube for viewers to listen to the reasoning behind the sentencing and gain a better understanding of the law.
On October 28, the first murder sentence was broadcast. Jemma Mitchell was handed a life sentence for murder, with a minimum of 34 years in prison (per Sky News on YouTube), her fate heard by millions. According to The Guardian, Judge Richard Marks KC said to Mitchell while sentencing, "I am driven to the conclusion that you are extremely devious. There is the chilling aspect of what you did to and with her body after you killed her."
Mitchell committed murder when a friend wouldn't give her money
In June 2021, 67-year-old Mee Kuen Chong changed her mind about giving Jemma Mitchell (above, during her arrest) a significant amount of money to repair her family home. This decision proved to be fatal. Mitchell was convicted of murdering Chong and decapitating her. Mitchell then kept the remains hidden in her garden for two weeks before eventually driving around 200 miles to Salcombe on June 26, 2021, to dump Chong's body and decapitated head, according to The Guardian.
Chong's body was found the next day just off an overgrown trail by a couple on vacation. Her head was located nearby. Mitchell even stopped to repair a flat tire on her way to dump the body, and it wasn't long after the discovery of Chong that Mitchell was the No. 1 suspect. She was arrested for suspicion of murder on July 6, 2021. The fact that Mitchell and Chong were considerably close friends and that Chong had recently changed her mind about giving Mitchell a lump sum of money is only the start of the mountain of evidence that pointed authorities to Mitchell as the killer.
Chong's family was able to watch the sentencing via live stream
The two women met in a church group, and Mitchell helped Chong through means of spiritual healing before murdering her. Chong's roommate reported her missing. However, Mitchell had thought of that too and messaged them. Pretending to be Chong, Mitchell wrote that Chong was spending time with family close to the ocean and would be gone for a year. After killing her friend Mee Kuen Chong, Mitchell forged a will stating that she would inherit almost all of Chong's estate (per BBC).
With so much evidence against her, it took the jury a mere seven hours to convict Mitchell of murder (per BBC). Because of the recent change in the laws regarding broadcasting, Chong's family was able to watch the sentencing via a live stream. Though it won't repair the damage done or bring back their loved one, perhaps there's comfort in knowing the person who committed such a crime is now incarcerated.