The Time When Jerry Lee Lewis Accidentally Shot His Bassist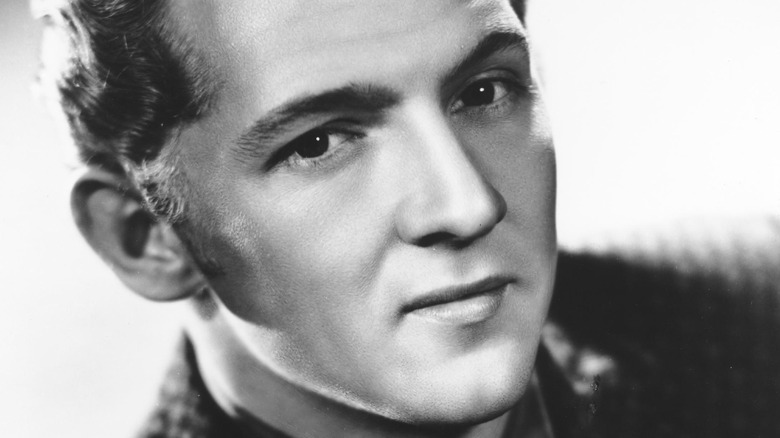 Michael Ochs Archives/Getty Images
From the time he was a child, early rock music pioneer, Jerry Lee Lewis — who died at the age of 87 on October 28 — was nicknamed "The Killer," according to The New York Times. As New York radio station Q104.3 explains on their website, the nickname allegedly came from a childhood fight Lewis was in during which time he attempted to choke an adult male. And given Lewis' exuberant and reckless performance style as a musician later on in his life, the Killer nickname simply stuck. (Another version of the story says the nickname was given to Lewis by his mother early on in his performance career, per the BBC.)
Lewis-related myths and legends aside, it's known that Lewis never did kill anyone, though as Reuters mentions, in 1976, the late rock star came close once. That's also just one example of when Lewis behaved irresponsibly with a firearm in his lifetime. Also in 1976, Lewis was arrested, drunk, outside Elvis Presley's mansion, Graceland, waving a loaded pistol and refusing to leave. Thankfully no one lost their life in either situation. Details of what happened on that day in 1976, though, when Lewis shot and could have killed someone, as well as what happened in the accident's aftermath, certainly redefines what it means to work in unsafe conditions. 
His life was marred by tragic deaths
As Vulture notes, by the mid-1970s when the shooting incident happened, Lewis' career was in a downward spiral, hastened by his own headline-stealing behavior. In the late 1950s, Lewis caused controversy when he married his 13-year-old first cousin once removed. (Lewis was 22.) Lewis was married seven times in his life, and there are even some unconfirmed theories Lewis played a part in the overdose death of his fifth wife, Shawn Stephens, according to Rolling Stone.
Some say Lewis' fourth wife, Jaren Pate, also may have died under suspicious circumstances, according to the BBC. Though it's not known that Lewis was ever directly involved in killing anyone — a grand jury cleared him in the case of Stephens' death, as the BBC goes on to note — there were several instances of tragic death in the controversial rock musician's life: In 1962, his young son, Steven Allen, drowned at the age of 3, and in 1973, his son, Jerry Lee Lewis Jr., died in a car wreck at just 19 years old.
The accident happened on Lewis' birthday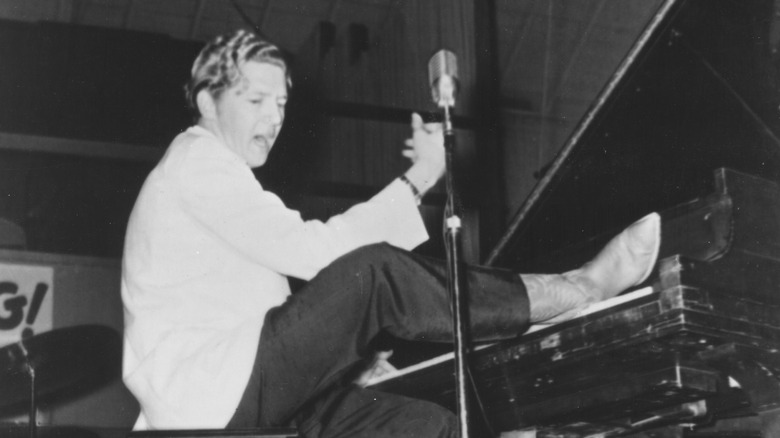 Michael Ochs Archives/Getty Images
Three years after the death of his son, in 1976, Lewis was celebrating his 41st birthday by doing a little indoor target practice (via The Current). At that time, Lewis said (via The New York Times), "I'm going to shoot that Coca-Cola bottle over there or my name ain't Jerry Lee Lewis." As The Current goes on to note, Lewis missed his target and shot his bass player, Norman Owens twice in the chest, as The Guardian reports.
Reports vary as to exactly what Lewis was aiming for. According to Lewis himself (via The New York Times) he attempted to shoot a Coca-Cola bottle with a .357 Magnum, while other reports say he used that same gun to blast holes in office doors just for fun (per The Current). Either way, Norman survived but went on to sue his boss. Lewis was arrested at the time and later charged with shooting a firearm within city limits.